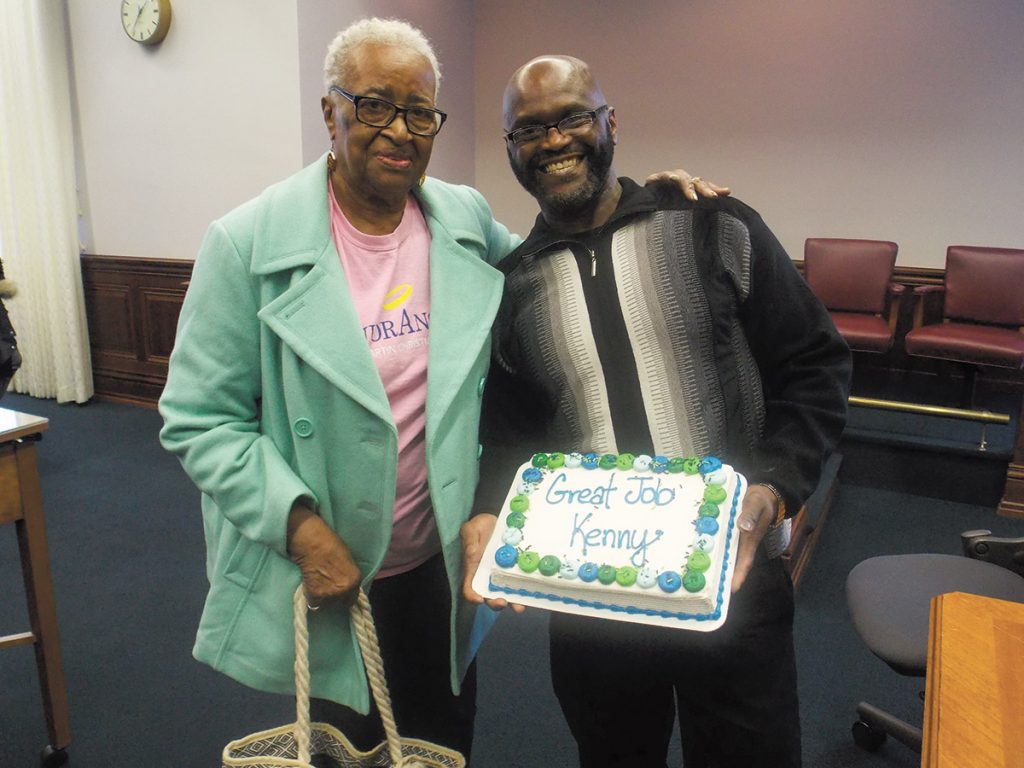 When he started to speak, Kenny Lewis was able to say just a few words about his mother before the emotion of the moment forced him to stop.
He was again standing in a federal courtroom with a judge towering before him, his mother sitting in a gallery behind him and all eyes on him. However, unlike the last time he had appeared in court and been given a life sentence, Lewis was marking a milestone on his journey to redemption.
The Indiana man, formerly incarcerated for nearly 24 years, began by telling the court he wanted to thank his mother, who was his very first teacher. Then he paused, dropped his head and stared at the floor.
His mother, Lizzie Thomas, looked at him peacefully and quietly offered encouragement. "Tell them about Jesus," she cooed. "Tell them about the Lord."
Lewis stood still. He removed his glasses and wiped a hand over his face. "My mother," he whispered, "she's why I'm here. She stood by me."
The exchange between mother and son came during Lewis' graduation from the Re-Entry And Community Help (REACH) program. For 12 months, Lewis, along with the other participants, had dutifully appeared before Southern Indiana District Magistrate Judge Tim Baker on the first Thursday of every month to recount his accomplishments and frustrations of the previous 30 days.
Between court sessions, he worked closely with Melissa Broaddus and Sundeep Singh, students at Indiana University Robert H. McKinney School of Law. A team of law students and their professor, Lahny Silva, are an integral part of REACH, tirelessly advocating and helping the participants get the essentials they need, like shelter, food and employment, after being released from incarceration.
Lewis, who had been serving a life sentence for a drug crime, got a reprieve under the First Step Act of 2018 and was freed in February 2019. A short time later, he was on the phone with Broaddus.
Calling REACH "a beautiful program," Lewis credited the initiative with giving him the perseverance to stay at his job and teaching him to speak louder so others could hear what he had to say. Baker and the other members of the REACH team described Lewis as a model participant who not only exhibited tremendous character and did everything expected of him, but also encouraged and supported his fellow participants.
Broaddus and Singh noted they benefited as well from working with Lewis. As they were mentoring him, helping him navigate the Bureau of Motor Vehicles and understand employer-provided health insurance, Lewis was teaching them what kind of lawyers they want to be.
"This is the experience I wanted when I came to law school," Broaddus said. "The kind of impact that I thought I was going to do as a lawyer, I got to do now."
Transformation
Lewis' graduation from REACH was a relaxed, joyous affair. Assistant U.S. attorney Nick Linder and assistant federal public defender Dominic Martin praised Lewis, Baker cracked jokes, and a chocolate sheet cake with white icing was brought into the courtroom.
The atmosphere was starkly different from when then-26-year-old Lewis had been in a federal courtroom getting sentenced to life in prison. He had been convicted of drug dealing, and even though the amount he had in his possession at the time of his arrest was small, his two previous drug convictions mandated he be locked away for good.
His public defender, James McKinley, worked to get a plea deal of 15 years. Lewis, who McKinley remembered as being "defiant, distrustful, scared, (and) confused," did not want to spend that long behind bars. Attorney and defendant proceeded to trial and got a guilty verdict.
"Kenny was no Pablo Escobar or El Chapo Guzman. He was a street dealer charged with dealing two ounces of crack, and a life sentence was a savagely cruel price to pay," McKinley said. "… Since then, there has seldom been a week go by when I didn't think about Kenny sitting in a federal prison cell for 40 to 50 years waiting to die."
Lewis was first sent a federal prison in Leavenworth, Kansas, then spent time in the federal penitentiaries in Terre Haute and Memphis, Tennessee. While incarcerated in Indiana, Lewis began enrolling in programs that enabled him to change his thinking and, subsequently, his behavior. He also joined the Mentor for Life program, offering guidance and friendship to younger inmates.
Upon his release, he was visibly nervous and anxious, but the gregarious Broaddus kept up a banter as she begin collecting and filing the documents needed for him to get his driver's license. She initially spoke for Lewis in court because he was too apprehensive to say much to Baker, but eventually he became more comfortable. Indeed, when he finally got his learner's permit, he asked for permission to approach the bench so he could show off the slip of paper.
Lewis was able to turn to Singh when a clerical error delayed the start of his health coverage at work. The law student, the first in his family to go to college, grew up seeing people in his community get trapped in the cycle of incarcerate, release and recidivate.
"My desire to help Kenny was not because I'm afraid he'll go back in," Singh said. "I just want him to reach his fullest potential, and I know that he can do that because he has been."
Reunion
Arriving at Baker's courtroom in December 2018 to observe a REACH session, McKinley encountered Lewis. The retiring attorney had noticed a man glaring at him before finally walking over, flashing a broad smiling and saying, "It's me, Kenny Lewis."
"He was calm, thoughtful and insightful, almost the antithesis of the man I had last seen so many years before," McKinley said. "Seeing Kenny free from the Bureau of Prisons and dressed in civilian clothes was an experience I never thought I'd see, and one I'll never forget."
To honor Lewis and keep his legacy alive in the REACH program, Baker unveiled the Kenny Lewis Challenge Coin. The heavy metal coin carries the seal of the Southern Indiana District Court and will be given to all future REACH graduates as a reminder of their achievements and an encouragement to accomplish even more.
Before his graduation, Lewis had been worried about his mother again having to go through metal detectors. She had to take off her bra and remove her sandals to enter the Memphis prison to visit him, and he did not want to put her through more hardship.
However, Thomas said returning to the federal courthouse was not painful. She had been praying for her son and wanted to be part of his special day.
She beamed as Lewis thanked Baker and all the REACH team members who supported him. And when he turned again to her and said, "I love you," she replied, "I love you, too, baby."•
Please enable JavaScript to view this content.