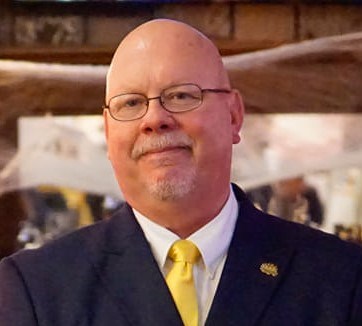 Libertarian Donald Rainwater announced his intention to run for governor in 2024 after netting an historic 11.4% in the 2020 gubernatorial election as a third-party candidate.
Running again as a Libertarian, Rainwater vowed to focus on education, tax and administrative reform in an announcement on his website, which followed his Friday declaration to run on WIBC's The Kendall and Casey Show.
"Hoosier parents, not the government, deserve to make the choice where their children go to school," Rainwater's statement said. "We need to shrink government responsibly and provide Hoosiers a leaner more efficient government."
Rainwater said the purpose of government is to protect people's rights and provide a system of justice, but "Hoosiers don't need the government to run their lives."
According to Rainwater's biography, the lifelong Hoosier works in project management and as a software engineer. His blended family includes six children and three grandchildren.
Unless another Libertarian candidate emerges, Rainwater will likely face the eventual Republican nominee.
The three Republican nominees are: U.S. Sen. Mike Braun, Lt. Gov. Suzanne Crouch and Fort Wayne businessman Eric Doden.
No candidate has announced their intention to run as a Democrat in the 2024 gubernatorial election. In the 2020 election, Dr. Woody Myers netted just 32.1% of the vote to Gov. Eric Holcomb's 56.5%.
The Indiana Capital Chronicle is an independent, not-for-profit news organization that covers state government, policy and elections.
Please enable JavaScript to view this content.