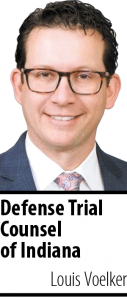 I suppose this column is ultimately directed at the younger members of our profession. Although I prefer direct mentoring and lack the qualifications to author a column providing broad advice, I had to write about something. So, here it is: "Don't take it personally." Now, please do not mistake this as a call for civility. Although I value, commend and endeavor (with mixed success) to practice civility, my intent here is more practical. I settled on this subject after a meandering reminiscence. It goes like this:
Nearly 30 years ago, between college and law school, I spent a year of my life in prison — working that is — as a correctional officer for the Indiana Department of Correction. While the work was anything but glamorous, I have always appreciated that experience. I took pride in doing my job well. I worked with some excellent people. I got more than a couple of colorful stories. And I learned more than a couple of important lessons. Although it took a bit more time to recognize it, one such lesson resulted from what was at that point my first encounter with an attorney.
The prison at which I worked was Indiana's "maximum control complex" (MCC). It was a "supermax" facility that had only recently been opened, and it was the destination for offenders who got into further significant trouble after already being incarcerated. Inmates were housed in individual cells and the custody and control measures were careful and strict. As you might imagine, this manner of incarceration was not well received by inmates who found themselves transferred there. Although we correctional officers were following the rules and procedures of the facility, those incarcerated understandably didn't care for those rules. The results included hunger strikes, letters to Amnesty International and more than one lawsuit. That brings us to the lawyers.
In any group of people there can be "bad apples," and one co-worker comes to mind from my time as a correctional officer, but I otherwise worked with a group of good people and the bad apple didn't last. The command staff was no-nonsense but fair. The attitude was perhaps best captured by the sergeant who gave me my on-the-job orientation after I had completed formal training. He said, "Voelker, this is how you stay out of trouble. If they have it coming it's theirs, if they don't have it coming don't give it to them, treat everyone the same and don't take anything personally."
In contrast to that advice, the young lawyers from the organization that was representing one such inmate in his litigation took things very personally. When they arrived, I escorted them to the secure area designated for attorney-client consultations. I was surprised that during this brief encounter they looked at me with open disgust. At the time it made me angry. Later, when I stopped taking it personally, I could laugh about it. Eventually I recognized the lesson to be learned: taking it personally impaired their judgment.
You may be thinking that this is where I translate the lesson to politics, masks or some other highly charged subject. But I have never liked reading preachy articles and that is not my point. Rather, my point is practical and self-interested. You likely have — right now — at least one opponent who you know will try to get under your skin at your next encounter. Maybe they succeeded at your last encounter. Sometimes it is simply a function of their personality, but it may be an effort to "get you off your game." Always it is a threat to your effectiveness as an advocate. Sun Tzu wrote: "Use anger to throw them into disarray." The commentary in the translation by Thomas Cleary explains that if the military leadership is obstreperous, drawing them into a response based upon anger will cause them to "abandon their original strategy." We as lawyers (whether litigators or otherwise) spend a great deal of time preparing strategy. If we can be drawn from that strategy by taking things personally, we have wasted that time and effort and we risk doing ourselves and our clients a disservice.
Groucho Marx may have said it best: "Speak when you are angry and you will make the best speech you will ever regret."•
• Louis W. Voelker III is a partner in the Hammond office of Eichhorn & Eichhorn and sits on the DTCI board of directors. Opinions expressed in this article are those of the author.
Please enable JavaScript to view this content.