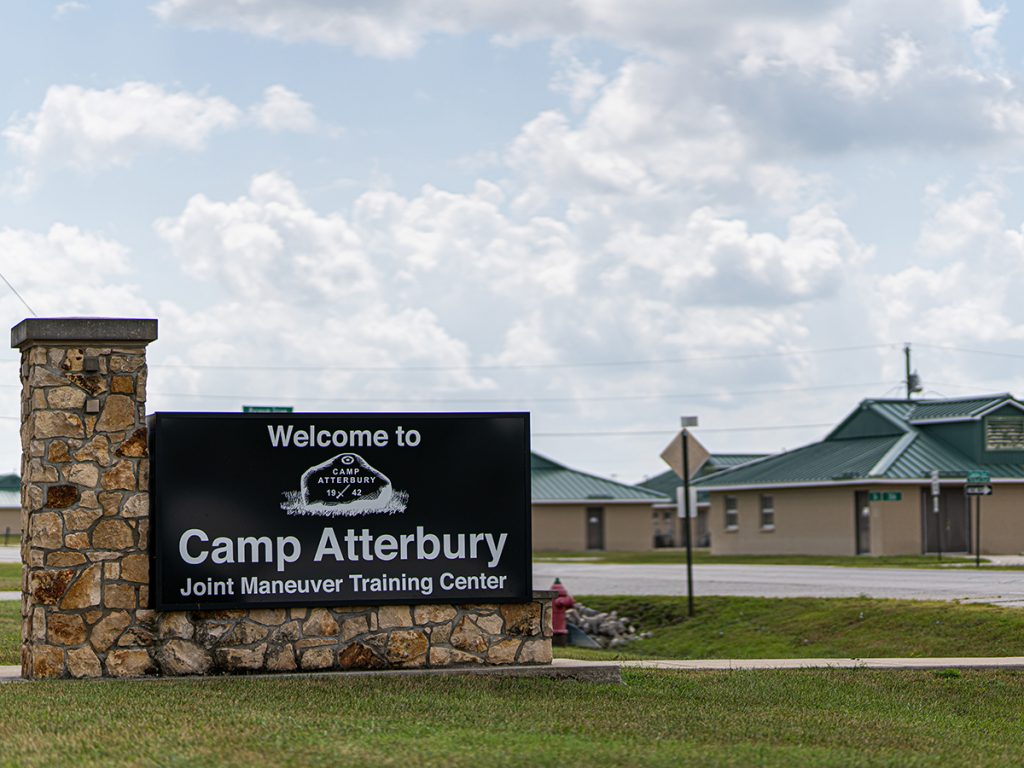 Thousands of Afghan evacuees will live on the same Hoosier military base over the next several weeks, but soon their journeys to permanent resettlement will move on a case-by-case basis.
Late last month, Indiana Gov. Eric Holcomb announced that an estimated 5,000 evacuees would be transported to Camp Atterbury, located 40 miles south of Indianapolis near Edinburgh in Johnson County.
Atterbury, which sits on 46,000 acres of federally owned property, was selected as one of eight military facilities across the United States to house up to an estimated 50,000 evacuees following the American withdrawal, and Taliban takeover, of Afghanistan this summer.
All evacuees entering Indiana have been screened both abroad and in the U.S. through a "multi-layered" vetting process done by the Department of Homeland Security, Department of Defense, FBI and National Counterterrorism Center, among other agencies. The first 1,000 evacuees arrived in Indiana on Sept. 2.
The entire operation at Atterbury is supported by federal funds, and Afghans can start their resettlement process following a 14-day medical hold at the base, according to Holcomb. At this time, it's unclear how many Afghans plan to stay in Indiana and how many will move across the country to reconnect with family, he said.
With that two-week window now closing for the first group of evacuees, nongovernment humanitarian agencies and immigration lawyers are preparing to meet the multitude of legal needs ahead for the Afghans.
Hoosier immigration attorneys say they haven't seen an influx of evacuees into the state like this in more than 30 years, and the complicated legal statuses the evacuees hold could create roadblocks to immigration if further action isn't taken by Congress or the president.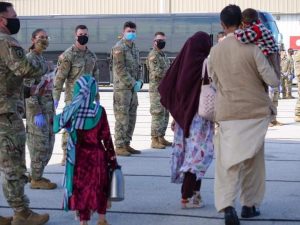 Complex situation
Due to the "chaotic nature" in which many Afghans left their country, not every evacuee has entered the U.S. with the same legal status.
Lisa Koop, adjunct professor at Notre Dame Law School and associate director of legal services for the National Immigrant Justice Center, said there are three primary statuses evacuees hold upon arrival in the U.S.
Some of the Afghans coming into the country have already obtained, or have started to acquire, special immigrant visas, which are given to those who have worked for the U.S. government for a specified amount of time during the 20-year war in Afghanistan. These individuals are already in the process of becoming permanent citizens and are eligible for benefits under the U.S. Refugee Admissions Program.
While maybe the smoothest way to navigate legal waters, the process of obtaining an SIV can take several months or longer.
Afghans not eligible for SIVs may qualify for a new government program called Priority 2, according to the U.S. Department of State, which expands the SIV by granting U.S. Refugee Admissions Program access for certain Afghan nationals and their eligible family members. P-2 gives those not meeting the minimum time in service eligibility for the SIV program extended protection.
Those wishing to obtain P-2 status, however, must risk leaving Afghanistan on their own before coming to the U.S., as the U.S. can't start processing them as refugees until they are in another country.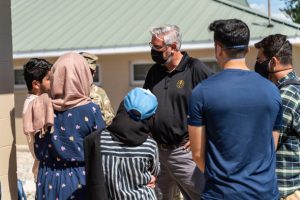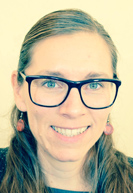 The third group, which have the steepest climb to immigrating and are most at risk, are considered "humanitarian parolees." These Afghans don't have SIV or P-2 status but were able to escape Afghanistan during the conflict and were cleared by security.
Parolees, many of whom entered the country with nothing but the clothing on their back, will be eligible for a limited assistance program for up to 90 days but will not have the same public benefits — such as medical, counseling and resettlement services — provided to SIVs and P-2s.
Under the Operation Allies Refugee parole program, Afghans are granted protection from deportation for two years and are eligible to apply for work authorization, according to the National Immigrant Forum.
Koop said right now it costs $410 for a parolee to apply for employment authorization. She said she hopes an automatic fee waiver will soon be enacted.
In addition to the three groups, there are Afghans who have already started, or are missing, paperwork to immigrate via the SIV or P-2.
"This looks and feels a lot like a refugee situation, but it's not — and that's where confusion and legal complexity comes in," Koop said. "If they were refugees, which potentially would've been an ideal situation here, they would've come into the United States already having basically permanent legal immigration status or have authorization to work and benefits, and really move into the resettlement phase of their lives. Instead, because of the chaotic nature of how they left Afghanistan, they are coming in this mix of different statuses."
Bogged down
Over the last four years, the number of refugee admissions into the U.S. reached its lowest numbers since the refugee program began in 1980, down from a maximum of 110,000 to 15,000.
During former President Donald Trump's term, many refugee agencies saw their federal funding reduced and, according to The Associated Press, more than 100 U.S. resettlement offices closed from 2016 to 2020.
Exodus Refugee Immigration in Indianapolis has served the needs of refugees and asylees since Cuban refugees came into the country as part of the Mariel boatlift in 1980. In 2019, the organization served 394 new refugees representing 11 different countries, including Afghanistan.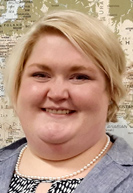 Rachel Van Tyle, director of legal services for Exodus and Indiana chapter secretary for the American Immigration Lawyers Association, said Exodus is in the process of "staffing back up." She said that over the last two years, Exodus' staff shrank to 25 workers but is now back up to 41 — six short of its previous high of 47 — and is still looking to hire.
Van Tyle said she's concerned the process of helping the evacuees achieve permanent status will take much longer than it should, and while some have suggested the asylum system could be an alternative option for Afghans not eligible for SIV or P-2, it's not an ideal option given the depleted resources and growing number of asylees coming from the U.S.-Mexico border.
"If you file for asylum, even if you're one of the 50,000 the U.S. has promised, I think it's going to severely backlog the system," Van Tyle said. "It's concerning, what that looks like. If we continue to have a surge at the southern border, and we divert resources, it will stretch immigration even further."
Koop echoed Van Tyle's concerns.
"All of the other asylum seekers from other countries also need attention," Koop said. "I think there's a real concern … the system is going to buckle under all these additional cases. That's not to say there's any blame to be cast on the Afghan nationals seeking attention.
"… These (Afghans) are people not coming in as refugees and are coming in with really complex legal cases that need nuanced legal attention. I think there's a lot of concern that there needs to be action by the government and an infusion of resources and work toward a better legal solution opposed to what we're seeing right now."
This month, President Joe Biden asked Congress to pass $6.4 billion in funding to aid efforts. Of that money, $1.3 billion would go to help with refugee resettlement and $1.7 billion would be allotted to the Health and Human Services Department. Congress had not passed the measure as of IL deadline.
Preparing to help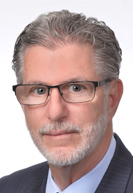 Thomas R. Ruge, a director with Indianapolis-based law firm Lewis Kappes, has an extensive background in immigration and international law.
Ruge has worked on multiple cases involving visas, including past cases with Afghan refugees. While he hadn't worked with any evacuees prior to his interview with IL earlier this month, he anticipated lawyers will need to fill in a lot of the gaps for the evacuees.
"… (Evacuees) will need to prove they're eligible for either SIV or refugee status; it's tricky and difficult to get documentation and write your story out in a way that's compelling," Ruge said. "A lawyer really helps and improves chances for success on those applications.
"… I've had some really strong asylum cases where you know you're going to win, and it's still a ton of work. It's still difficult to fill in all the blanks and document everything well. I'm an old guy with gray hair, doing this since 1976, I don't think it has gotten any easier."
COVID-19 will also play a role in processing immigrants moving forward, Ruge said, adding that some lawyers are already planning to volunteer their services to help.
"Things are unbelievably slowed down in this area of getting cases through the immigration agencies, and some of no fault of the agencies — they literally had to shut down for months last year," he said. "… The sheer numbers are scary to me as far as getting things processed in a reasonable amount of time."
Koop said she hopes it isn't just immigration attorneys that will help evacuees with navigating their complex legal needs as they arise.
"I think there's a really important space for non-immigration attorneys who do pro bono work to step in if there is some kind of program passed by Congress, or if there is a temporary protective status initiated by the executive branch," Koop said. "Those cases really lend themselves well to pro bono representation. I've heard from attorneys in this state who are former members of the military who are eager to help with those types of efforts if we get the opportunity to do that."•
Please enable JavaScript to view this content.