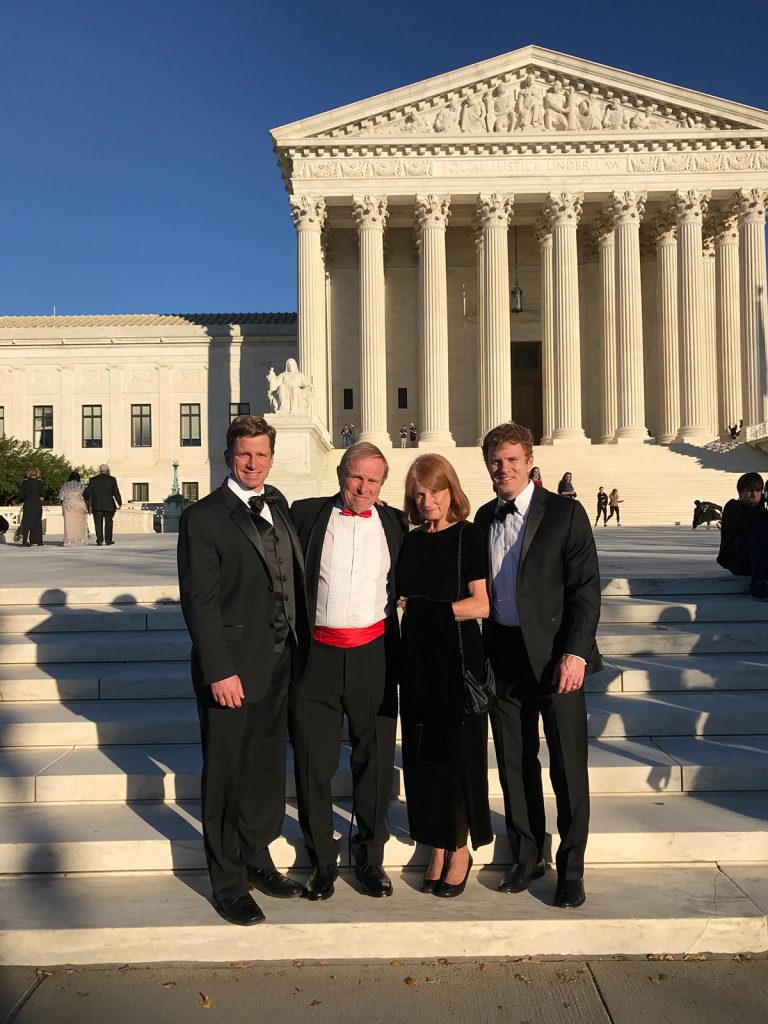 Committed, energetic, intelligent and, arguably most importantly, a friend to all, are qualities repeatedly used to characterize the man who has maintained the 7th Circuit Court of Appeals for the past half-century.
Collins Fitzpatrick, who initially served as a law clerk at the 7th Circuit in 1971, would later become the federal judiciary's longest-serving circuit executive to date.
After serving in that position for 45 years, Fitzpatrick retired Sept. 28 — leaving behind a legacy that both judges and attorneys alike argue will be hard to replicate.
Leaving a legacy
Upon graduating from Harvard Law School in 1969, Fitzpatrick received a fellowship to work in legal aid services for two years.
"But I wanted to work on my writing and research ability, which is why I came here," he said of the 7th Circuit, where he clerked for Judge Roger Kiley before being asked by then-7th Circuit Chief Judge Luther Swygert to be his law clerk and administrative assistant in 1972.
"I thought that sounded like a good deal," Fitzpatrick said. "I went home and told my wife that it would be another year."
Little did he know it would be another 40-plus years at the federal appeals court. He even had the freedom to carve out the job description for circuit executive as the first and only person to hold that position at the 7th Circuit since its creation.
In 1976, Fitzpatrick received his certification from the Judicial Council to accept the new position, where he remained the country's youngest circuit executive for the next decade.
As circuit executive, Fitzpatrick was charged with providing professional administrative assistance, including maintaining a budget and accounting system, analyzing data on the court and its members, and acting as a liaison between the court system and the public, among other duties.
He has served under nine chief judges, appeared at nearly every court function in the 7th Circuit during that time, assisted in appointing all the court's bankruptcy judges and always remembered to ride his bike to work.
"Four days out of the five," Fitzpatrick, noted. "It's a great way to keep in shape."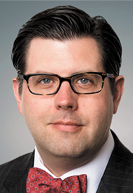 In the 15 years they've known each other, Brian Paul, a partner at Faegre Drinker Biddle & Reath in Indianapolis and 7th Circuit Bar Association president, said Fitzpatrick has had the demeanor of a CEO — calm under fire, ready to figure things out and come up with a plan to get things done.
Paul recalled one instance from a decade ago when he relied on Fitzpatrick to calm his own nerves. Paul was nervous after having been invited as young attorney to discuss good writing habits at a panel including Judges Frank Easterbrook and now-retired Judge Richard Posner.
"I made a cold call and (Fitzpatrick) somewhat to my surprise accepted me into his office," Paul said. "The bottom line is, I was just looking for some advice from him on how to handle this panel position. 'Just prepare and you'll be fine.' He instilled in me lot of confidence that I could do it.
"It's a small thing but you never know what kind of influence you can have on someone," Paul added.
Immediate past president of the 7th Circuit Bar Association Michael Scodro described Fitzpatrick as tireless and generous of spirit with a selfless commitment to others. Fitzpatrick also displayed a commitment to the bar association, foundation and other bar initiatives, Scodro said, pointing to the "depth and breadth of the work that he did for bench and bar."
"He shows up to every planning meeting for the biannual bar foundation's programs. He is so committed to the bench-bar relationship and to quality programming and events for lawyers as well as judges," Scodro, of Mayer Brown in Chicago, said. "I think the time he devoted to those matters might come as a surprise to some folks.
"He was the institutional memory and this extraordinary resource for the court," Scodro continued. "Think about having someone who has been at the very core of the institution for 50 years, the kind of advice, memory and institutional knowledge that he had to offer, on top of all of his other great qualities."
Chief Judge Jeffrey Graham of the Indiana Southern District Bankruptcy Court likened Fitzpatrick to the Wizard of Oz, keeping the 7th Circuit running smoothly from behind the scenes.
"From a distance he is quiet, and you see him watching everything with those intelligent eyes. But when you meet him, he is incredibly warm and engaging and not the distant mythical figure he might seem," Graham said.
The bankruptcy judge also praised Fitzpatrick for his tireless involvement in the appointment of each bankruptcy judge serving in the 7th Circuit.
"His dedication in trying to find the right women and men to serve in this role has resulted in a strong bankruptcy bench that will benefit both the bar and the public for years to come," Graham said.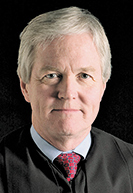 Recalling a fond memory with Fitzpatrick, retired 7th Circuit Judge John Tinder reminisced on the times they would go on runs together during circuit conferences.
"Like everything else, he made running seem effortless. And he could keep talking while running full speed," Tinder said. "When he could see that I was struggling to keep up, he would ease up his speed to take pity on me."
Equally compassionate outside the job as he was in the office, Tinder noted Fitzpatrick fostered a level of trust and communication among the judges that helped make difficult jobs more manageable.
"The federal court system is fortunate to have many good, dedicated and talented people supporting and assisting its judges. There is none better, more dedicated or talented than Collins," Tinder said. "He is a true 'amicus,' or friend of the courts."
The friendship and working relationship between Fitzpatrick and Indiana Southern District Court Senior Judge Sarah Evans Barker began back in 1984. He was, as Barker described, "a particularly helpful colleague and adviser" during the years she served as chief judge.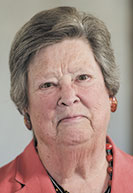 Calling him "one of the most iconic personalities in the federal judiciary," Barker said Fitzpatrick was personally known and greatly respected far and wide by virtually everyone engaged in judicial governance "for the highly effective, deeply principled and widely beloved person he is."
"His experience and wisdom were sought on a wide variety of issues and problems by court leaders and judges throughout the country, and his willingness to give his all for the good of the federal courts was legendary," she said.
A new chapter
Stepping back from his lifelong career won't leave a gaping hole in Fitzpatrick's life. His retirement plans include serving as a mediator and part-time teacher at an inner-city high school where he plans to encourage future lawyers.
In reflecting on his time at the courts, Fitzpatrick said there wasn't anything he hoped to achieve that he wasn't able to. Among his favorite aspects of those decades, he said, were his close friendships with judges and staff within the federal courts.
Sarah O. Schrup has succeeded Fitzpatrick as circuit executive for the 7th Circuit. •
Please enable JavaScript to view this content.