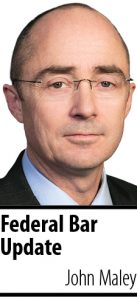 Article III, Section 2 of the Constitution "confines federal courts to the decision of 'Cases' or 'Controversies.'" Arizonans for Official English v. Arizona, 520 U.S. 43 (1997). "No principle is more fundamental to the judiciary's proper role in our system of government than the constitutional limitation of federal-court jurisdiction to actual cases or controversies." DaimlerChrysler Corp. v. Cuno, 547 U.S. 332, 341 (2006).
This limit on federal judicial power is set forth in the text of Article III as follows: "The judicial Power shall extend to all Cases, in law and equity, arising under this Constitution, the laws of the United States, and treaties made, or which shall be made, under their authority; -to all Cases affecting Ambassadors, other public Ministers and Consuls; -to all Cases of admiralty and maritime Jurisdiction; -to Controversies to which the United States shall be a party; -to Controversies between two or more states; -between a State and Citizens of another State; -between Citizens of different States; -between Citizens of the same State claiming Lands under Grants of different States, and between a State, or the Citizens thereof, and foreign States, Citizens or Subjects." (emphasis added).
Case or controversy limitations on judicial power have permeated U.S. judicial history and include standing, ripeness and mootness. Although these core concepts have been fundamental to and well developed in federal court jurisprudence, they continue to arise and evolve, with the Supreme Court taking up and issuing opinions on these case or controversy topics in recent years, and the district and appellate courts addressing these topics repeatedly. Standing issues in particular have seen frequent attention in recent years.
To have standing to bring an action in federal court, a plaintiff "must demonstrate (1) that he or she suffered an injury in fact that is concrete, particularized, and actual or imminent, (2) that the injury was caused by the defendant, and (3) that the injury would likely be redressed by the requested judicial relief." Thole v. U.S. Bank N.A., 590 U.S. ___, 2020 WL 2814294 (June 1, 2020). The burden to establish standing is on the party invoking federal jurisdiction. DH2, Inc. v. U.S. S.E.C., 422 F.3d 591, 596 (7th Cir. 2005).
A recent example of the Supreme Court's focus on standing is California v. Texas, 593 U.S. ___, 2021 WL 2459255 (June 17, 2021). The Supreme Court ruled that standing was lacking in a challenge to the Affordable Care Act. The Court wrote, "The Declaratory Judgment Act alone does not provide a court with jurisdiction. … Instead, just like suits for every other type of remedy, declaratory-judgment actions must satisfy Article III's case-or-controversy requirement. … At a minimum, this means that the dispute must 'be 'real and substantial' and 'admit of specific relief through a decree of a conclusive character, as distinguished from an opinion advising what the law would be upon a hypothetical state of facts.''"
In the Southern District of Indiana, Chief Judge Tanya Walton Pratt recently issued an opinion on standing in Pucillo v. National Credit Systems, Inc., 1:19-cv-00285 (S.D. Ind. March 19, 2021). Plaintiff there brought a Fair Debt Collection Practices Act case, but the court dismissed for want of standing.
Chief Judge Pratt started by writing, "'Article III standing is jurisdictional and cannot be waived.' Nettles v. Midland Funding LLC, 983 F.3d 896, 899 (7th Cir. 2020). 'The plaintiff must establish standing at the time suit is filed and cannot manufacture standing afterwards. The Article III standing inquiry remains open to review at all stages of the litigation.' Pennell v. Glob. Tr. Mgmt. LLC, No. 20-1524, 2021 U.S. App. LEXIS 7126, at *4 (7th Cir. Mar. 11, 2021)." She added, "'[A] plaintiff does not automatically satisfy the injury-in-fact requirement whenever a statute grants a person a statutory right and purports to authorize that person to sue to vindicate that right. To the contrary, Article III standing requires a concrete injury even in the context of a statutory violation.' Id."
Plaintiff alleged confusion and concern by defendant's actions. But Chief Judge Pratt wrote, "The Seventh Circuit has been clear that, without more, confusion, stress, concern, and fear are not enough to support a concrete injury in FDCPA Section 1692e and Section 1692c cases. This is all that Pucillo has alleged. Therefore, his claims must be dismissed because of a lack of injury in fact and lack of standing."
In some cases, federal district courts have issued orders to show cause or to require briefing on Article III issues. For instance, in Sharp v. Hogsett, No. 1:20-cv-01584 (S.D. Ind. June 9, 2020), Judge James Patrick Hanlon ordered plaintiffs to file a jurisdictional statement addressing standing, writing: "Under Article III of the Constitution, the ' 'judicial Power of the United States' … extends only to 'Cases' and 'Controversies.' ' Spokeo, 136 S. Ct. at 1547 (quoting Art. III §§ 1, 2). 'No principle is more fundamental to the judiciary's proper rule in our system of government' than that constitutional limitation 'to actual cases or controversies.' Id. at 1547 (quoting Raines v. Byrd, 521 U.S. 811, 818 (1997)). 'Standing to sue is a doctrine rooted in the traditional understanding of a case or controversy.' Id. To have standing, a plaintiff must have '(1) suffered an injury in fact, (2) that is fairly traceable to the challenged conduct of the defendant, (3) that is likely to be redressed by a favorable judicial decision.' Id. at 1547; Lujan v. Defenders of Wildlife, 504 U.S. 555, 560 (1992)."
His order continued, "Plaintiffs' claims are (1) unlawful destruction of United States government property, and (2) deprivation of a property interest without due process of law. Dkt. 1 at 6. They have not explained how they have suffered an injury in fact by the 'destruction' of United States property, or by the deprivation of any specific property right. Nor have they shown redressability, because they have not explained how any property right they may have would be preserved by the relief that they seek. A federal court always has the responsibility to ensure it has jurisdiction. Hukic v. Aurora Loan Servs., 588 F.3d 420, 427 (7th Cir. 2009). The Court's obligation includes knowing the details of the underlying jurisdictional allegations. See Evergreen Square of Cudahy v. Wis. Hous. and Econ. Dev. Auth., 776 F.3d 463, 465 (7th Cir. 2015)." Notably, within two months of the order, the plaintiffs had voluntarily dismissed their claims without prejudice.•
• John Maley — [email protected] — is a partner with Barnes & Thornburg LLP, practicing federal and state litigation, employment matters and appeals. He clerked for Judge Larry McKinney from 1988-90. Opinions expressed are those of the author.
Please enable JavaScript to view this content.