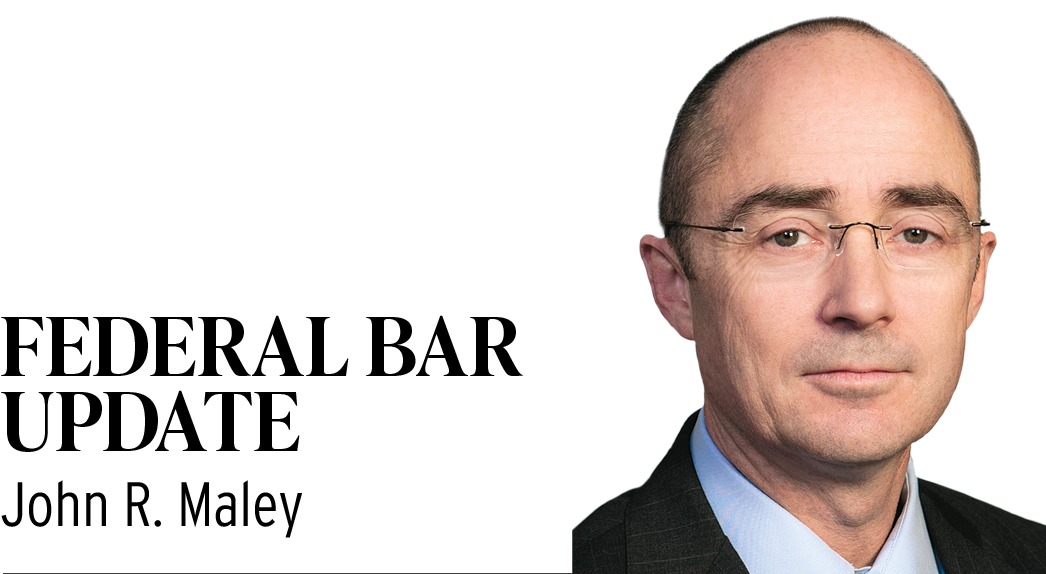 Pursuant to the Rules Enabling Act, 28 U.S.C. § 2074, amendments to federal rules that have been approved by the Supreme Court by May 1 of each year take effect Dec. 1 unless Congress takes action to prevent the amendment. This year the number and scope of amendments that will take effect Dec. 1 is modest.
Disclosure statements: There are only two amendments to the Federal Rules of Civil Procedure. Rule 7.1(a)(1) addressing disclosure statements is amended to require a disclosure statement by a nongovernmental corporation that seeks to intervene. This amendment conforms Rule 7.1 to similar recent amendments to Appellate Rule 26.1 and Bankruptcy Rule 8012(a).
Also, Rule 7.1(a)(2) is further amended to require a party or intervenor in an action in which jurisdiction is based on diversity under 28 U.S.C. § 1332(a) to name and disclose the citizenship of every individual or entity whose citizenship is attributed to that party or intervenor. The disclosure does not relieve a party that asserts diversity jurisdiction from the Rule 8(a)(1) obligation to plead the grounds for jurisdiction, but is designed to facilitate an early and accurate determination of jurisdiction.
Social Security actions: A set of Supplemental Rules for Social Security Actions has been passed and will take effect Dec. 1, as well. These supplemental rules include eight new rules, which establish a simplified procedure that recognizes the essentially appellate character of actions that seek only review of an individual's claims on a single administrative record, including a single claim based on the wage record of one person for an award to be shared by more than one person.
The Federal Rules of Civil Procedure continue to apply to actions for review under § 405(g) except to the extent the civil rules are inconsistent with the supplemental rules. Supplemental Rules 2, 3, 4 and 5 are the core of the provisions that are inconsistent with, and supersede, the corresponding rules on pleading, service and presenting the action for decision.
The supplemental rules establish a uniform procedure for pleading and serving the complaint; for answering and making motions under Rule 12; and for presenting the action for decision on briefs. These procedures reflect the ways in which a civil action under § 405(g) resembles an appeal or a petition for review of administrative action filed directly in a court of appeals.
Anyone handling these types of Social Security actions will need to follow these supplemental rules. Local rules addressing these Social Security actions are likely to be rescinded or modified as a result of the detailed supplemental rules. Indeed, the Southern District of Indiana issued notice on Sept. 12 of its proposed deletion of Local Rule 5-12 on Social Security appeals. One amendment proposed is for a plaintiff to have 56 days from the date of the court's scheduling order to file a brief in support of the complaint. The defendant will have 56 days after service of the plaintiff's brief to file a response, and the plaintiff will have 28 days after service of the response brief to file a reply. Motions for extension are disfavored absent compelling circumstances.
Appellate rules: Only two appellate rules are amended, with only Rule 42's amendment having broad significance. The amendment restores the requirement that the circuit clerk dismiss an appeal if all parties so agree. The amendment also clarifies that the fees that must be paid are court fees, not attorney fees. The amendment clarifies that any relief beyond dismissal of an appeal — including approving a settlement, vacating or remanding — requires a court order.
Federal Rules of Evidence: No amendments to the Federal Rules of Evidence are in this rules package.
Indiana Northern District Local Rule 56: As noted earlier this year in this column, effective Feb. 25, Local Rule 56-1 was amended requiring numbered statements of fact by the movant, with the nonmovant responding to those numbered asserted facts and also setting forth any additional material facts in a numbered statement. The movant is to then reply to any such additional material facts.
The amendment also requires any disputes about evidence to be addressed in the summary judgment briefs, not by a motion to strike. And, Local Rule 56-1(d) provides that after the opening, response and reply briefs, no additional briefs may be filed without leave of court.
In Gillaspy v. Club Newtone, Inc., 2022 WL 4235014, at *3 (N.D. Ind. Sept. 14, 2022), Judge Holly Brady denied a motion for a surreply, citing Local Rule 56-1(d). She ruled that the proposed surreply and additional exhibits would not change the court's analysis and result.•
__________
John Maley — [email protected] — is a partner with Barnes & Thornburg LLP, practicing federal and state litigation, employment matters and appeals. He clerked for Judge Larry McKinney from 1988-90, serves as chair of the Local Rules Advisory Committee, S.D. Indiana, and is a member of the Local Rules Advisory Committee, N.D. of Indiana. Opinions expressed are those of the author.
Please enable JavaScript to view this content.