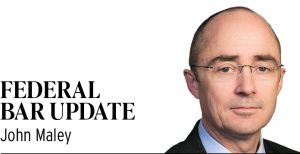 Magistrate Judge Kellie Barr has created a unique program for attorneys with less than seven years in practice to gain in-court experience. Judge Barr encourages the participation of newer attorneys in proceedings, particularly at oral arguments on motions drafted by newer attorneys.
To that end, she has adopted the following procedures for newer attorneys (less than seven years practicing) for all motions in full-consent cases and motions referred to her in nonconsent cases:
1. While a motion is being briefed or promptly thereafter, a party may file a Request for Oral Argument for Newer Attorney and alert the court that, if oral argument is granted, it intends to have a newer attorney argue the motion or a significant portion of the motion. The request shall state whether there is a preference that the oral argument be conducted in person in Indianapolis or via Zoom.
2. If such a request is made, the court will:
a. Grant the request and hold oral argument on the motion if it is at all practicable to do so, although the decision of whether to hold oral argument is ultimately still within the court's discretion.
b. Consider allocating additional time for oral argument beyond what the court may otherwise have allocated if a newer attorney was not arguing the motion.
c. Permit more experienced co-counsel of record to provide some assistance to the newer attorney who is arguing the motion, but only as appropriate during oral argument.
Additionally, Judge Barr's new procedure contains the following additional components (the full document is available on the court's website on the link to Judge Barr):
3. Expectations:
a. All attorneys, including newer attorneys, will be held to the highest professional standards. Specifically, all attorneys appearing in court are expected to be adequately prepared and thoroughly familiar with the factual record and the applicable law.
b. The court recognizes that there may be circumstances in which it is not appropriate for a newer attorney to argue a motion. The court draws no inference from a party's decision not to have a newer attorney argue any particular motion before the court.
c. The court will draw no inference about the importance of a particular motion, the merits of a party's argument regarding the motion, or from a party's decision to have or not have a newer attorney argue the motion.
This is a fantastic new program that should benefit the development of oral advocacy skills in the bar.
Federal Civil Practice Seminar on May 3: A three-hour federal civil practice program will be held from 9 a.m.-12:15 p.m. on May 3 both live in Indianapolis and virtually. Panelists include Judge Damon Leichty (Northern District of Indiana), Magistrate Judge Michael Gotsch (N.D. Indiana), Magistrate Judge Barr (Southern District of Indiana), Magistrate Judge M. Kendra Klump (S.D. Indiana), Indiana Solicitor General Tom Fisher, and Kathleen Anderson and the undersigned from Barnes & Thornburg.
Topics to be covered include jurisdiction, case management, discovery, experts, hearings, trial and appeals. Registration is available online at iclef.org.•
__________
John Maley — [email protected] — is a partner with Barnes & Thornburg LLP practicing federal and state litigation, employment matters and appeals. He clerked for Judge Larry McKinney from 1988-90, serves as chair of the Local Rules Advisory Committee, S.D. Indiana, and is a member of the Local Rules Advisory Committee, N.D. of Indiana. Opinions expressed are those of the author.
Please enable JavaScript to view this content.