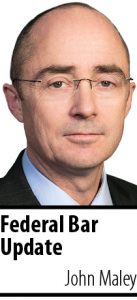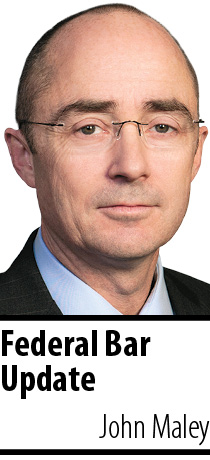 Effective Dec. 1, several local rule changes will take effect in the Southern District of Indiana. All the amendments are practical, common-sense changes reflecting current practice or otherwise simplifying procedure.
Of interest to federal criminal practitioners, Local Rule 1-1(b) is amended as follows: These rules, as amended from time to time, take effect February 1, 1992. They govern all civil and criminal cases on or after that date. They also govern all criminal cases except where they are inconsistent with the local criminal rules. However, in cases pending when the rules take an amendment takes effect, the court may apply the former local rules if it finds that applying these rules the amendment would not be feasible or would be unjust.
Next, Local Rule 5-7(c) is deleted and subsection (d) takes its place. Prior subsection (c) had a cumbersome and rarely followed requirement when filings were made with multiple attorneys' signatures. It formerly read but is now deleted as follows:
(c) Documents with Multiple Attorneys' Signatures. A document signed by more than one attorney and electronically filed must:
(1) include a representation on the signature lines where the handwritten signatures of the non-filing attorneys would otherwise appear that the non-filing attorneys consent to the document;
(2) identify in the signature block the non-filing attorneys whose signatures are required and be followed by notices of endorsement filed by the other attorneys within three business days after the original document is filed; or
(3) include a scanned document containing all necessary signatures.
Separately, Local Rule 41-1, which addressed dismissal for failure to prosecute, is deleted to enhance judicial discretion pursuant to the court's inherent power as recognized in case precedent. See, e.g., Link v. Wasbash R. Co., 370 U.S. 626 (1962). As written, the prior local rule set limitations on this power as follows:
Local Rule 41-1 – Dismissal of Actions for Failure to Prosecute
The court may dismiss a civil case with judgment for costs if:
(a) the plaintiff has not taken any action for 6 months;
(b) the judicial officer assigned to the case or the clerk has given notice to the parties that the case will be dismissed for failure to prosecute it; and
(c) at least 28 days have passed since the notice was given.
Local Rule 83-7 is also amended to simplify substitution of counsel from the same firm or agency. The concept of a "Notice of Substitution of Counsel" is created, with new Local Rule 87(c) providing:
(c) Substitution of Counsel.
When one attorney seeks to replace another attorney from the same firm, agency, organization, or office as counsel of record on behalf of a party, a Notice of Substitution of Counsel may be filed in lieu of an appearance and motion to withdraw under sections (a) and (b) above.
Annual Federal Civil Practice Seminar: This annual three-hour CLE program will be in downtown Indy on December 20 from 1:30-4:45 p.m. Speakers include Chief Judge Jane Magnus-Stinson, District Judge Richard Young and clerk Laura Briggs from the Southern District of Indiana; District Judge Damon Leichty from the Northern District of Indiana; and Donald Wall, counsel to the 7th Circuit executive. Register online here.•
__________
• John Maley — [email protected] — is a partner with Barnes & Thornburg, LLP, practicing federal and state litigation, employment matters, and appeals. He clerked for Judge Larry McKinney from 1988-90. Opinions expressed are those of the author.
Please enable JavaScript to view this content.