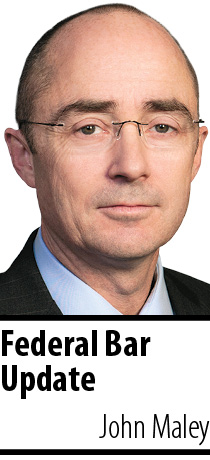 With all the challenges facing bench, bar, and litigants in this difficult time, reflecting on something or someone good seems particularly appropriate for today's column, rather than the usual nuance of jurisdiction and procedure. Laura Briggs is, by all means, someone good, indeed extraordinary. Most federal practitioners in the Southern District know this well, having benefited from Laura's dedicated service as clerk since 1998.
The youngest federal district court clerk in the nation when she took on the important role, Laura became the best, helping lead the second-busiest federal court in the country through an era of remarkable change. Quietly, humbly, calmly, and behind the scenes, Laura kept the court on track.
She and the court encountered many challenges during her tenure — courthouse-wide renovations, the ramp up to Y2K, the centennial celebration of the courthouse, government shutdowns, technological evolution after technological evolution, ECF, sealed filings, recession, federal death penalty cases in the only district in the nation with a federal death row, multidistrict litigation based in the Southern District, two experienced, distinguished judges elevating to the Seventh Circuit, the courthouse somehow becoming the city's primary bus stop, losing Judge Larry McKinney and Magistrate Judge Denise LaRue within six weeks of each other, and to top it off, the first pandemic since 1918.
But Laura always had a positive, can-do attitude, and made lawyers feel like they were welcome. She was the true public servant, working tirelessly to enhance the litigation process in the Court, and understanding that the practice of law is challenging, often stressful. She was an innovator and a problem solver, a strategic planner while also a taskmaster.
Outside of the Southern District, Laura was nationally recognized. Most notably, she served on the Civil Rules Advisory Committee of the United States Court, holding the sole clerk representative seat on that important committee.
Active federal practitioners considered Laura a friend, and she was. Those of us fortunate enough to serve on the court's Local Rules Advisory Committee, for instance, enjoyed her subtle humor in the midst of nerdy rules discussions. Personally, working with Laura has been one of the great joys of the last 23 years while she served as clerk. Laura also blessed our family at my father's graveside service playing the bagpipes (one of her many talents), something I will forever be grateful for.
So as Laura has retired after a dedicated career of public service, let's celebrate her and all she has done for the court, for us, and for the public. Thank you, Laura. Enjoy the next stage of life. You deserve it. •
• John Maley — [email protected] — is a partner with Barnes & Thornburg LLP, practicing federal and state litigation, employment matters, and appeals. He clerked for Judge Larry McKinney from 1988-90. Opinions expressed are those of the author.
Please enable JavaScript to view this content.