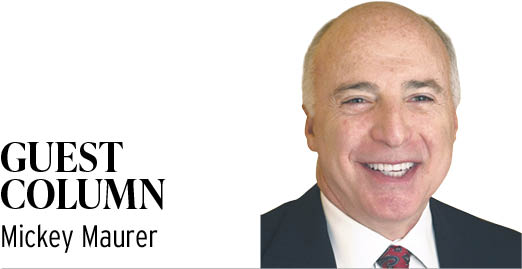 "Say it ain't so, Joe. Say it ain't so." -Tearful little boy to baseball cheat Shoeless Joe Jackson, circa 1920
Please don't misunderstand this column. I am not writing about the Supreme Court's decision in the Dobbs case, which obliterated the longstanding precedent of Roe v. Wade, nor am I discussing whether the right to obtain an abortion should be protected by the Constitution.
My view leans pro-choice, but I understand and appreciate the philosophy espoused by friends who disagree. Indiana statesman Sen. Richard Lugar viewed abortion as murder. Enough said. We will not be talking about that today.
I am not dissecting the diabolical plan hatched by Kentucky Sen. Mitch McConnell and former president Donald Trump to pack the court with pro-life justices in exchange for election support from the radical right, nor am I remarking further on McConnell's subsequent role in the abusive treatment of Merrick Garland, an outrageous misuse of government power. Perhaps that will be for another day.
Let's focus on one man, Supreme Court Justice Brett Kavanaugh, who besmirched the very institution on which he serves by misleading Maine Sen. Susan Collins and the American people about his determination to overturn Roe v. Wade.
Kavanaugh was deceitful. His clear intent was to convince Collins and others who trusted him that he was no threat to that 50-year precedent. According to Collins, Kavanaugh told her, "Roe is 45 years old, it has been reaffirmed many times, lots of people care about it a great deal, and I've tried to demonstrate I understand real-world consequences. I am a don't-rock-the-boat kind of judge. I believe in stability and in the Team of Nine."
Collins was conned and risked her senatorial career when she voted to confirm Kavanaugh. She cited his commitment in her endorsement, which may have been the difference in a close confirmation vote. Kavanaugh stomped on all of us who respect the integrity of the Supreme Court — all of us except his compadre McConnell, who condoned Kavanaugh's detestable behavior.
In a class on constitutional law at Indiana University in Bloomington, I studied opinions of legendary jurists including John Marshall, Louis Brandeis, Hugo Black and Oliver Wendell Holmes.
Our Supreme Court, although at times controversial, was held in high esteem and our justices distinguished themselves as honest and intelligent. In that class we encountered no instances of fraud or deception committed by Supreme Court justices either during confirmation or from the bench. (I do now believe that Anita Hill was the more honest party during the Clarence Thomas confirmation.) Today, public opinion of the Supreme Court is at its lowest ebb in the modern age.
As an alumnus, I was privileged to join colleagues for dinner with Ruth Bader Ginsburg. During her tenure on the court, she was lauded as a fierce fighter who was totally incorruptible.
Based upon my education and experience, I felt the last thing we should have expected on the court was a flim-flam man. We got Kavanaugh. I feel like that teary naive schoolboy who confronted Shoeless Joe in the wake of the Black Sox scandal. Betrayed.
Is it ever justifiable to defraud the American people, undermine the reputation of the Supreme Court and cripple its credibility as an institution of our democracy? Is it ever justifiable to sacrifice personal integrity and forfeit the respect of colleagues and others who bestow their trust?
Say it ain't so, Brett. Say it ain't so.•
__________
Mickey Maurer is an attorney and a shareholder in IBJ Corp. He can be reached at [email protected]. Opinions expressed are those of the author.
Please enable JavaScript to view this content.