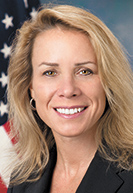 By Judge Marissa McDermott
You can mark your calendars now: in about a year, attorneys across Indiana will be getting frantic calls from untold numbers of people who are suddenly unable to fly on an airplane. The cause of this commotion will be the Real ID law, set to finally take full effect Oct. 1, 2020. With some preparation, lawyers and judges can help ease the pain of this implementation, but no matter how much work we all do, there will be people caught off guard and desperate for legal help.
What is the Real ID Law?
While the Real ID law is getting a lot of recent publicity, it is not actually new. Signed into law in 2005, this federal law requires states to comply with increased identification standards in an effort to combat terrorism. By October 2020, you will not be able to board a commercial airplane or enter a federal building without a Real ID (or a valid passport).
How can someone tell if their Indiana license or ID card is already compliant? If the card has no star in the upper right-hand corner, it does not meet the Real ID requirement and its holder will need to prove his or her identity to the BMV to get a compliant ID.
How hard can it be to prove who you are?
It may not be as easy as you think to prove someone's identity. From what we in the courts have seen, those having the most difficulty are the elderly (born when births may not have been as carefully documented), women (who often have changed names with marriages and divorces) and those born in foreign countries or Puerto Rico (who may have originally been given surnames from both mother and father).
Problems arise when the identifying documents don't line up. For example, a name on a Social Security card and current driver's license may not exactly match. Or, a birthdate on a marriage certificate may not be the same as the one on a birth certificate. These discrepancies are somewhat common, but until now, they have not kept citizens from getting Social Security cards, driver's licenses or passports. With the Real ID law, that has changed, and people are looking to fix these discrepancies with the help of the courts.
Just in our own court, we have seen countless people caught by surprise when they tried to get a Real ID, such as the middle-aged woman who just learned her birth certificate lists her first name as "baby girl." Or the 80-year-old woman whose now-deceased parents believed their church records were legally sufficient. Or the elderly man who came to court after discovering his birth certificate lists his mother's name where his should be. Or the petitioner who was told her entire life that her stepfather had adopted her, only to learn that no legal adoption ever occurred. Each of these people, and many others like them, thought getting a Real ID would be much easier than it was.
How can lawyers help prepare for Real ID?
The earlier people begin gathering their "proof of identity" documents, the better. Many individuals do not have all of those documents already in their possession. Birth certificates may have to be obtained from other counties, other states or even other nations. Marriage and divorce records may need to be tracked down. It is surprisingly common for people to have never actually looked closely at these documents before. When they finally gather these documents, they may come to realize they will be forced to go to court to correct errors and omissions.
As with any legal matter, individuals petitioning a court to fix their documents are best served by having a lawyer. First, a lawyer can advise exactly what type of petition should be filed: name change, birth certificate correction or marriage record correction. And depending on the proper type of petition, a lawyer can explain other requirements, such as where the petition should be filed (where the client lives versus where they were born) and whether the notice of hearing needs to be published in a newspaper.
Despite all the potential pitfalls, most people try to muddle through these proceedings without a lawyer. It seems they either don't believe they need a lawyer, or they cannot afford one. This results in petitioners often failing to bring necessary documents to court, failing to publish notices and improperly asking the court for legal advice.
There is a tremendous need for members of the bench and bar to bring the impending Real ID requirements to the attention of the public. For lawyers, Real ID-related petitions can provide an opportunity to provide free or reduced-fee legal services in what is normally a relatively short-lived and finite matter. Enterprising lawyers might also succeed in creating a professional niche offering much-needed and timely advice.
If the past year is any indication, the number of people coming to court to fix their identifying records will continue to increase dramatically between now and October 2020. Records may take time to obtain and publication requirements may delay the scheduling of a hearing. Lawyers and their clients would do well to review their identifying documents sooner rather than later; mistakes and discrepancies are more common than you imagine, and fixing them may be harder than you think.•
__________
• Judge Marissa McDermott is judge of the Lake Circuit Court. Nothing in this column should be interpreted or used as legal advice. Opinions expressed are those of the author.
Please enable JavaScript to view this content.