When Rep. Greg Steuerwald, R-Avon, started work on House Enrolled Act 1006 last year, he began in the early summer and fall to try to get answers on how the state could put a system in place to better help people with mental health issues — specifically those in the criminal justice system.
There's been a great need to divert people from prisons and jails to community treatment centers to get the help they need and take the burden off law enforcement, Steuerwald said.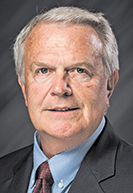 "It's extremely difficult and expensive for jails to guard these people and hold them," he said.
Signed into law earlier this month, HEA 1006 is designed to allow Hoosiers experiencing a mental health crisis to get treatment in a local hospital, rather than in prison or jail. Currently, the Indiana Department of Correction is the state's largest mental health provider, according to the Indiana Capital Chronicle.
The legislation specifies the circumstances under which a person may be involuntarily committed to a facility for mental health services, and establishes a local mental health referral program to provide treatment for certain persons who have been arrested.
It also allows for insurance and Medicaid to be used to pay for mental health treatment, ensuring hospitals receive payment and the individual receives help.
Steuerwald said he expects it will take three to five years to fully implement the legislation's goals.
There is $100 million in the state's budget allocated for mental health services and resources over the next two years.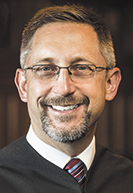 Indiana Supreme Court Justice Christopher Goff said HEA 1006 and Senate Enrolled Act 1 will be keys in building the capacity of state's behavioral health system.
SEA 1, also signed earlier this month, allows for Medicaid reimbursement for eligible certified community behavioral health clinic services. It also requires the Family and Social Services Administration's Division of Mental Health and Addiction to establish and maintain a 988 crisis line.
"I hope and I expect it's going to represent a significant improvement in our criminal justice system," Goff told Indiana Lawyer.
HEA 1006 highlights
Goff said Steuerwald had a real interest in creating a pathway out of jail and into treatment.
He said the legislation will help the state begin to alleviate the burden on jails and law enforcement and address mental health issues on a statewide level.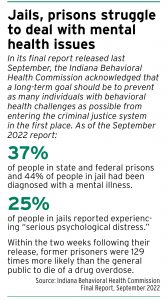 "This has taken years to put together. This is really a national problem, not just an Indiana problem," the justice said.
Goff noted the nationwide push from the federal Substance Abuse and Mental Health Services Administration to require all states to have a suicide prevention hotline, with an emphasis on three pillars: every community needs someone to call, every community needs someone to respond and people with mental health issues need somewhere to go.
According to Goff, the "somewhere to go" aspect is tricky because it's the most expensive.
HEA 1006 seeks to address that pillar. Steuerwald said his work on the bill began with a request from the Indiana Sheriff's Association, which stressed to him the problems law enforcement face with the high number of mentally ill inmates in the state's jails.
People with severe mental health issues in jails need around-the-clock segregation, Steuerwald explained, which requires additional manpower and doesn't give them the best treatment options. He said he took input and got support from a number of different groups on HEA 1006.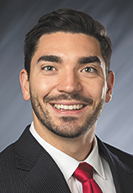 Brock Patterson, legislative counsel for the Indiana Prosecuting Attorneys Council, said IPAC worked with Steuerwald on HEA 1006, particularly on the mental health referral programs component
Patterson said there are two particularly important pieces to HEA 1006.
First is the involuntary commitment piece, which specifies when a person can be committed involuntarily to a mental health facility for services.
Second is the mental health referral programs, which Patterson said will allow people with mental health issues to be held longer and allow for better treatment.
If someone is a defendant in a criminal case, they can be referred to a mental health program in their community or a Department of Correction facility while their case is pending, Patterson explained. That means the defendant will be able to get services while the state is able to address the needs of victims in those cases.
"We're having a good result on both ends," he said.
Funding for mental health services
Stephen McCaffrey, president and CEO of Mental Health America of Indiana, said his group was also supportive of HEA 1006 and worked with Steuerwald.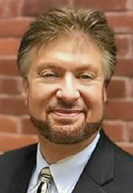 McCaffrey was a member of the Indiana Behavioral Health Commission, which came up with recommendations on how to better serve people with mental health and addiction issues.
"We need to provide services to people based on what they need," he said. "The jails are not meant for behavioral health needs."
In its final report released last September, the Behavioral Health Commission recommended more than $100 million a year in annual funding for mental health resources.
McCaffrey said the $50 million a year — or $100 million over the two-year budget — is a good start. He also said there's some short-term federal funding available to states.
"We're not going to be able to build this out tomorrow," he added.
But long term, the state's mental health services are going to need a dedicated funding stream, McCaffrey said.•
Please enable JavaScript to view this content.