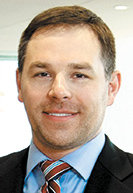 By Nicholas P. Mollmann
Following Indiana Gov. Eric Holcomb's March 23 stay-at-home order, tenants, landlords and lenders have been scrambling to review what rights, remedies, and obligations they have under their respective real estate documents.
As part of their review, most tenants are likely asking themselves the following, "Am I still obligated to operate under my lease if my business operations have been severely limited by government order due to the COVID-19 pandemic; and regardless, am I still obligated to pay full rent to the landlord, even though my space has been partially or completely closed due to the COVID-19 pandemic?" Similarly, most landlords are wondering, "What rights do I have to collect rent if my tenants cannot fully operate from their leased premises, and if I cannot collect rent from the tenants, do I remain obligated to make my mortgage payment?"
As a preliminary matter, leases, mortgages, and other real estate documents are interpreted in the same way as any other contract under Indiana law. Chesterfield Management, Inc. v. Cook, 655 N.E.2d 98, 102 (Ind. Ct. App. 1995), reh'g denied, trans. denied. See also First Fed. Bank v. Greenwalt, 42 N.E.3d 89, 94 (Ind. Ct. App. 2015).
Therefore, standard contract law rules of construction and interpretation shall apply to the interpretation of leases and mortgages. More on mortgages later.
Regarding leases, a tenant who wants to terminate a lease due to the COVID-19 pandemic should look for an express right to terminate ("termination rights") or, if none, an express right to offset, withhold or abate rent ("offset rights") due to tenant's inability to access, use and/or operate its leased premises pursuant to the lease. Termination rights are unlikely to be found in most leases unless the parties originally contemplated the leasehold to be short-term despite a longer stated expiration date. Conversely, landlords will be quick to point out that most offset rights, even if they exist in a lease, are of limited applicability and only apply in the event the specific lack of access, use, and/or inability to operate is caused by landlord's negligence or intentional misconduct. Assuming that most (if not all) of a tenant's inability to perform is due to governmental order, and not the negligence or intentional conduct of the landlord, then typical offset rights in a lease likely are inapplicable for the majority of tenants in connection with the stay-at-home order.
Tenants also should review any force majeure provision(s) in the tenant's lease. The phrase "force majeure" is French for "a superior force" (Black's Law Dictionary (11th ed. 2019)). A force majeure clause is defined as, "a contractual provision allocating the risk if performance becomes impossible or impracticable, especially as a result of an event or effect that the parties could not have anticipated or controlled." Speciality Foods of Ind. v. City of S. Bend & Century Ctr. Bd. of Managers, 2013 Ind. Cir. LEXIS 12, *7.
However, "the scope and effect of a 'force majeure' clause depends on the specific contract language, and not on any traditional definition of the term. In other words, when the parties have defined the nature of force majeure in their agreement, that definition dictates the application, effect, and scope of force majeure with regard to that agreement and those parties." Specialty Foods of Ind., Inc. v. City of S. Bend, 997 N.E.2d 23, 27 (Ind. Ct. App. 2013). Following well-established Indiana common law, the court noted that reviewing courts are not free to rewrite a contract or interpret it in a manner which the parties never intended. Id.
Therefore, if a force majeure provision exists in a lease, then the express terms of that provision, such as the inclusion of specific events of force majeure, such as acts of God, governmental orders, strikes, change in economic conditions, etc., will heavily impact whether or not the subject event (here, the inability to perform due to the COVID-19 pandemic) qualifies as a force majeure event.
The party seeking to excuse its performance under a force majeure clause also bears the burden of proof of establishing that defense. For example, "[n]onperformance dictated by economic hardship is not enough to fall within a 'force majeure' provision. A mere increase in expense does not excuse performance under a 'force majeure' provision unless there exists an extreme and unreasonable difficulty, expense, or injury." Force Majeure Clauses, 30 Williston on Contracts § 77:31 (4th ed. 2004) (footnotes omitted) (collecting authorities) Rexing Quality Eggs v. Rembrandt Enterprises, Inc., 360 F. Supp. 3d 817, 841 (S.D. Ind. 2018). The Rexing court, however, was an Indiana court interpreting Iowa law, and the court in dicta left open a possible scenario where a substantial change in market conditions such as the avian flu epidemic "may plausibly constitute an unforeseeable event precipitating a dramatic change in market conditions …" and therefore plausibly qualifies as a force majeure event. Id.
While force majeure provisions could arguably excuse any obligation of a tenant to be open and operating from the leased premises during a governmental closure order or the stay-at-home order, these same provisions may not excuse the tenant's obligation to pay rent due to a financial hardship associated with few/no patrons to the store. Notwithstanding the analysis above, and very importantly, most landlords include within their standard force majeure clauses a caveat that even if a force majeure event occurs, it does not excuse tenant's ongoing obligations to pay rent.
Alternatively, with regard to leases or mortgages without a force majeure clause (most mortgages do not include a force majeure clause), "a party may be excused from performance of contractual obligations if the performance has become impracticable or impossible by the occurrence of a supervening event. See, Restatement [*10] (Second) of Contracts, §261. Impracticability or impossibility occurs "where (1) an unexpected contingency occurs, (2) the risk of which was not allocated either by agreement or custom, (3) the occurrence of the contingency has made performance impossible. Speciality Foods of Ind. v. City of S. Bend & Century Ctr. Bd. of Managers, 2013 Ind. Cir. Lexis 12, *9-10 (Ind. Ct. App. February 20, 2013). Therefore, the same elements of force majeure requiring unforeseeability and more than a financial hardship apply here as well. As a result, landlords will find it difficult to be excused from making mortgage payments, and a tenant's obligation to pay rent likely will not be excused solely as a result of the stay-at-home order.
Tenants and landlords are also advised to examine their leases or mortgages for any notice requirements to avoid any arguments by the opposing party that any rights and remedies therein have been waived. Remember that the COVID-19 pandemic remains an evolving situation and litigation is likely in the future regarding the legal concepts identified in this article; therefore, nothing above is a substitute for thorough and competent legal representation.•
• Nicholas P. Mollmann – [email protected] – is an attorney in Taft Stettinius & Hollister's real estate and business practice groups. Opinions expressed are those of the author.
Please enable JavaScript to view this content.