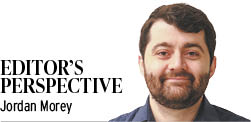 Disgraced former Indiana Attorney General Curtis Hill has an opinion on women's bodies.
He should keep his thoughts, like his hands, to himself.
In March, Hill's name resurfaced in the news after months of silence. The Times of Northwest Indiana first reported Hill had emerged from wherever he has resided since losing his job as the state's top attorney and had joined conservative think tank Center for Urban Renewal and Education as a senior fellow.
CURE, founded in 1995 by Star Parker, describes its mission as "aim(ing) to fight poverty and restore dignity through scholarship supporting faith, freedom, and personal responsibility."
The move wasn't surprising; in fact, it was predictable. Hill often treated his former office as a political body — like current Indiana AG Todd Rokita still does today — and it has been reported that he has floated the idea of running for office despite getting booted out by his fellow Republicans.
I, perhaps foolishly, believed we wouldn't hear from Hill again until he settles into his new position. Hill has an upward climb to regain public, and party, favor.
But he just couldn't help himself.
Before going into more detail, it's worth recalling — for the umpteenth time — why Hill no longer holds office in Indiana.
In 2018, Hill, then described as a "rising star" in the Republican Party, was accused of drunkenly groping four women without their consent at a legislative party in Indianapolis.
A special prosecutor declined to press criminal charges, but the Indiana Supreme Court suspended Hill's law license for 30 days with automatic reinstatement in 2020 after determining he had violated the Indiana Rules of Professional Conduct.
Former Indiana Supreme Court Justice Myra Selby, who wrote Hill's damning 36-page hearing officer's report, had recommended a 60-day suspension without automatic reinstatement for the former AG. While Hill was not criminally charged, Selby determined he had committed Class B misdemeanor battery by touching the four women.
Prior to the 30-day suspension, Indiana lawmakers had tried to remove Hill from office but failed.
Hill has since been named in federal and state lawsuits by his four accusers. The state case will go to jury in September, but Hill was dismissed as a defendant in the federal case in June 2020.
He has continued to deny any wrongdoing ever since the incident.
With his current track record, it would be easy to assume Hill would stay as far away from issues regarding women and sex as possible.
You know what they say about people who assume.
On March 24, Hill wrote an op-ed for the conservative website The Federalist.
In his piece, titled "Indiana's Republican Governor Loves Women's Sports, He Just Won't Protect Them," Hill attacked Indiana Gov. Eric Holcomb for his veto of House Enrolled Act 1041, which would effectively ban transgender girls from participating in girls' K-12 sports in Indiana. GOP lawmakers have vowed to override the veto on May 24 on technical corrections day.
There's plenty of difficult conversation and debate to be had over competitive fairness as it relates to transgender athletes, and the topic should be handled with nuance. Hill failed to do so on all counts while continuing to perpetuate a false narrative.
In Hill's piece, where he doesn't name a single instance of a cisgender female athlete in Indiana losing out to a transgender girl, he uses the buzzword "woke" while describing Holcomb and claims women's athletics are under siege.
Rather than offering an informed opinion, Hill, not unlike many of those in support of the bill, is just targeting transgender teens to help score cheap political points.
You don't have to venture past the second paragraph to discover the absurdity of the piece and how shameless Hill still is:
"In vetoing House Bill 1041, a bill to ensure female athletes would not be required to compete against males in female sporting events," he wrote, Holcomb is unwilling to stand up to protect the integrity of women's sports, although he claims to support the integrity of women's sports." (Emphasis added.)
The reality is, this isn't a pertinent issue in Indiana.
When the bill was going through the Legislature, the Indiana High School Athletic Association told reporters there have only been two instances of transgender athletes seeking approval to play in their preferred-sex sport since 2018. One of the teens never participated.
In my view, giving the IHSAA control over its policies — rather than the Legislature creating a law to police transgender participation in sports — is more conservative; that's smaller government. But that's getting away from the point.
I would call Hill's blog post ironic, but that would imply it's humorous.
His targeting of a marginalized group, proven to be at higher risk of self-harm and suicide, is reprehensible.
If Hill believes he's a staunch defender of the integrity of women, he needs a reality check.•
__________
Jordan Morey is managing editor of Indiana Lawyer. Opinions expressed are those of the author.
Please enable JavaScript to view this content.