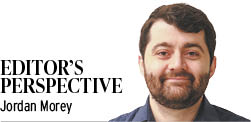 Throughout the Dec. 21 issue of Indiana Lawyer, you'll find our rankings for the "top" stories of 2022.
While I'm not a fan of listicles, I realize it's important to highlight the most noteworthy and most-read stories of the year and to think about how these stories have shaped our lives today — and maybe even get a glimpse of the year to come.
Going through this past year's newspapers, I was reminded of the tremendous work done by our small but mighty staff.
These days, news cycles come and go faster than ever, and it's often hard to sit down, take a deep breath and reflect on the work accomplished. I once had a previous editor at another newspaper tell me, "You're only as good as your last story." While I don't believe that to be entirely true, the idea of continually doing impactful, relevant, high-quality work is important.
Our publication is unique in the fact we are hyper-focused on law-related matters. This could be seen as either specific or broad, as the law encompasses so many areas of society that we could write about hundreds of different issues in any given year.
Upon review, I think I can safely say Indiana Lawyer offers stories you won't find on most other news sites.
Before a story goes to print or on our website, we make every attempt to speak with sources from both sides of an issue and to get an impartial take from a third party to ensure fair, accurate coverage. Our readers understand that words matter, and while we pride overserves on our ability to break news, getting a story right will always take precedence over being first.
For me, when I think back to 2022, I first remember our comprehensive coverage of abortion issues, the changes in Indiana appellate courts, the struggles in power between the different branches of state government, and the numerous law firm mergers and acquisitions that took place around the state.
But I will also remember breaking the news that an immigration court is opening in Indianapolis next year, and all the stories on bail reform and the continuing opioid crisis.
I will remember traveling to Indiana University Maurer School of Law in Bloomington to meet with new Dean Christiana Ochoa and going up to Notre Dame Law to cover an international discussion after Russia invaded Ukraine.
And I will remember waking up in the early hours and driving out to rural areas like Brazil, Indiana, to report on issues affecting everyday Hoosiers.
(As a side note, I will also never forget our largest-ever Leadership in Law event we hosted and the brilliant speech by Indiana Southern District Court Senior Judge Sarah Evans Barker. Go watch her presentation on our website if you haven't seen it.)
This past year, like many of you, our staff has reviewed thousands of court documents — sometimes hundreds at a time … at 4:30 p.m. on a Friday.
If you subscribe to our daily newsletter or check on our website daily, you've seen that, every day, we go through all the appellate court opinions, including the memorandum decisions, to keep up with the issues coming before the judiciary.
We've even traveled outside the state to report on issues affecting Hoosiers, including senior reporter Marilyn Odendahl's trip to the U.S. Supreme Court this fall to follow a case that started right here in Indiana.
But it's not just "hard news" that's important to report — we also find value in putting humanity behind the names and job titles in our stories.
For instance, former reporter Katie Stancombe was recognized in front of dozens of judicial officers at the Indiana Judges Association's annual conference in September, when she was honored with the media award for her series of profiles on rural judges.
This past year, we also made a big push toward getting you the news in a different format, as our podcast turned a year old in November. Since its launch, we've had federal judges and attorneys, the leader of the Indiana Senate, the Indiana chief justice, law school deans and other influential leaders in the legal profession on the show to share their expertise and stories.
Thank you for being a loyal reader of Indiana Lawyer. We look forward to continuing to serve you in 2023.•
__________
Jordan Morey is the managing editor of Indiana Lawyer. He can be reached at [email protected] Opinions express are those of the author.
Please enable JavaScript to view this content.