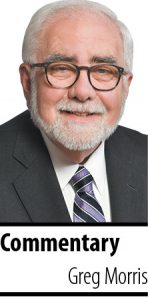 In just a few short days, Dec. 31, 2020, will mark my last official day with IBJ Media. I'm calling this occasion my "first retirement." Nate Feltman, president, CEO and co-owner, will pick up publisher duties upon my departure.
On that date, I will have worked for the company that publishes Indiana Lawyer and Indianapolis Business Journal just shy of 30 years. It has been an honor and privilege to work for local entrepreneurs Mickey Maurer and Bob Schloss for almost half my lifetime. With Mickey as managing partner most of those years, I've been privy to a priceless education on business, management and ethics and have been treated like family since day one.
And with the arrival of Nate Feltman 3½ years ago as an equal co-owner, now majority co-owner, it has been a great experience working closely with Nate. I greatly appreciate his allowing me to co-manage with him what has been rapid change and disruption designed to position IBJ Media for continued success well into the future.
Today, everything at IBJ Media is in capable hands, so I feel really good and at peace with my decision. I know this is the right move at the right time for me and the company.
As I prepare to head out the door for the last time, I reflect on how I could not be more pleased and proud to have worked with so many outstanding professionals at this company along the way. As you all know, a company can't be great without great people. IBJ Media has been endowed with an abundance of great people who deeply care about their work, the company and our community.
I also reflect on the hundreds of businesspeople and not-for-profit and government people I've had the privilege of knowing and working with to help them accomplish their goals and objectives. In many cases, these are lifetime relationships and friendships that have been developed.
I have to be honest. It's taken me quite a while to warm up to the idea of being retired. Actually, I'm not a fan of the word. The Merriam-Webster Dictionary's definition of retired is: withdrawn from one's position or occupation — having concluded one's working or professional career. This does not represent my vision of the future.
So, after working 30 years at IBJ and 43 years total in Indy media, I'll say this is my first retirement. I'm sure there will be other careers and retirements after a brief break and "detox" period. I just don't know yet what those will be.
What I do know is that I will be a lifetime advocate for IBJ Media and its endeavors. I truly believe the Indianapolis Business Journal is one of the finest regional business publications in the country.
IBJ and Indiana Lawyer's hyper-local/regional news and information — provided day in and day out, week in and week out — cannot be found or matched anywhere else. As such, it makes sense that the number of IBJ and IL subscribers has been increasing. Look for an announcement by year-end regarding IBJ's remarkable paid print/digital subscriber growth over the past two years that is nearing a publication record level — a 40% increase.
I want to highlight that IBJ celebrated its 40th anniversary this year, highlighted in the just-published 2021 Book of Lists. The book is loaded with powerful information you'll want to reference all year.
In closing, I want to sincerely thank all our readers, contributors, advertisers, sponsors, vendors and friends that support IBJ and IL. Your business is greatly appreciated.
And on a personal note, thanks for all your kindness to me over the past several decades. I am grateful beyond words and wish you a healthy and prosperous 2021.•
• Greg Morris — [email protected] — is publisher of IBJ and IL. Opinions expressed are those of the author.
Please enable JavaScript to view this content.