The quiet rhythm of feet pounding on pavement after a long day became a daily habit Libby Roberts had no idea would become a lifestyle 20 years later.
Roberts, a partner at Church Church Hittle & Antrim in Noblesville, began running every Monday and Wednesday evenings once she completed law school to clear her head.
She bought her first pair of running shoes and signed up for a half marathon in 2003, running 13.1 miles. Once she crossed the finish line, Roberts decided that was enough running for one lifetime.
"People in my running group said that they wanted to run a marathon," Roberts recalled. "And I said at the time, 'No, I'm never running a marathon.' I put it all out there for 13.1 and there is nothing more than this."
Five months later, she ran her first full marathon. Roberts has run 47 marathons since then — nearly one in every state, to be exact.
The Indianapolis attorney has made it a personal goal to run one marathon in all 50 states. After nearly 20 years, she's almost done. In 2022, she's set to cross off the last three states on her list — Vermont in May, Minnesota in June and Maine in October.
"That will complete my 50-states mission," Roberts said.
Lacing up
Running was never on Roberts' list of enjoyable extracurricular activities. She was a fitness major during her undergrad at Franklin College and loved to exercise, but she never had an appetite for lacing up and going for a jog.
"I just thought it was boring and tedious," she said.
Once Roberts finished law school at Indiana University Robert H. McKinney School of Law and began to practice, she found a sweet spot in her day where she was free to decompress before heading home.
So, she tried a run.
"I found it was a really good way to stop my brain from thinking about work," Roberts said. "And then over the years, I continued running longer distances. I think I've really fallen into this because it's just the time alone, clearing your head and not having to think about anything."
In 2003, Roberts met a new group of running buddies at a local YMCA. They trained together, abiding by a strict schedule of three runs per week that eventually amped up to four.
Roberts remembers getting in shape and increasing her endurance was challenging, "without a doubt."
After successfully finishing the half, Roberts still had reservations about committing to racing a full marathon. But she kept running with the group and saw her mileage increase.
"Until finally I thought, 'Yeah, at this point I've run 16 miles with them. There's no reason I'm not going to run a marathon,'" she said.
Enter Marcy Buis, Roberts' running buddy-turned-best friend. The women met while training in 2003 and have remained close friends for nearly two decades.
Roberts said she wishes she could pinpoint the exact moment she decided she wanted to run a marathon in all 50 states. She thinks it started back when Buis invited her to run out-of-state marathons in Ohio, Arizona and South Dakota.
"She said, 'Oh, maybe we'll go up and do a half marathon.' And I said to her, 'I'm not going to travel for a half. But I would do it for the full marathon,'" Roberts said.
Eventually, Buis suggested they run in all 50 states. Initially, Roberts wasn't in favor of the idea until 2006.
"I have to admit, at that point I committed to it," she said. "Because that was the first year that I ran four marathons in one year, and all four of them were in different states."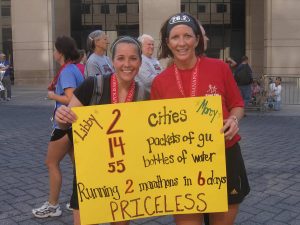 The long-haul
Roberts has raced at least two marathons every year since then. Some years she's run up to four or five marathons.
"There were a couple of years where my body was just tired or my schedule didn't permit it," she said.
Roberts and Buis continued racing across the country together until Buis hit her 22nd marathon and decided she was ready to retire from running.
"I said, 'You can't be done, there's 50 states,'" Roberts said.
Although Buis had resolved on putting away her racing shoes, Roberts was determined to see the goal through. She trained alone, running occasionally with others here and there, marking off state after state.
"She's very driven. I mean, I'll give her that," Buis said. "She had the goal in mind and she really wanted to finish it."
In December, Roberts raced in Hawaii — her 47th state. Now she's gearing up for her 48th marathon next month in Burlington, Vermont.
Roberts said her running journey has been a fabulous way to travel and see different cities. Marathon organizers often do a good job of showcasing their cities, she said.
"Being a resident of Indianapolis, I was on the roads frequently, and you don't pay a whole lot of attention to your surroundings," she said. "But they created a great (Monumental Marathon) course that takes you through the best parts of the city. And so I see that in other cities that I travel to."
In San Antonio, her race began at the Alamo and passed historic churches and missions. She particularly loved the race in Big Sur, California, which started in the Redwood Forest before opening up to the breezy, flowered coastline. A marathon in Las Vegas was especially unique, she said, as some 25,000 runners raced at night under the lit-up Strip.
Other races weren't as exciting, like one flat, paved trail in Oregon that lived up to the name of its host city: "Boring."
When she and Buis ran together, the two bonded by talking as they ran mile after mile. For Buis, the friendship she's gained with Roberts was the best part of her racing days.
"When you're so tired from running, especially long distance, you can't put up boundaries. You can't put up a wall, so you just tell them everything," Buis said. "That's how our friendship has become so solid."
Forging ahead
Like the hills and valleys of the marathon courses they trekked, Buis said she and Roberts encouraged one another in the lows and highs of each race.
At some point, Roberts said it's common for people to hit a wall with physical and emotional exhaustion.
"I've actually said to myself before in a marathon, 'What are you doing, you don't have to prove this to anybody. You don't have to power through this,'" she said. "I think there's a strength and character that I learned about myself in being able to push through those really hard times, because they'll pass."
Although Buis is officially retired from marathons, she said she would be at the 50th race to cheer Roberts on in her final leg of the journey this fall.
"She's proud to be able to show her family or tell her friends, like, 'Hey, look what I did,'" Buis said. "She's proud of her accomplishment, and she should be."
Roberts said that while she usually gives an offhanded comment that she'll eat a lot of cookies after finishing her 50-state goal, in all seriousness, she will keep running and use it as a reason to travel the world.
"Marcy has promised to come out of 'running retirement' to run a marathon in Rome if I decided to hit the European countries next," Roberts said. "So my next marathons may require my passport."•
Please enable JavaScript to view this content.