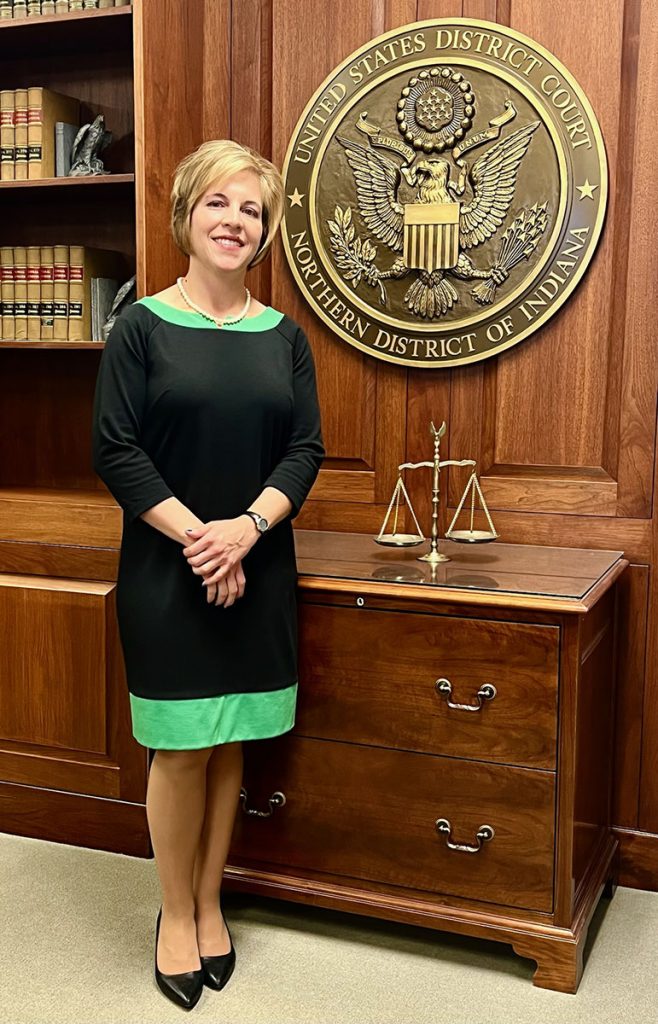 There's a vital role in every court that can often be overlooked in pop culture because it isn't a judge or litigator: the clerk.
In the U.S. District Court for the Northern District of Indiana, that role is now being filled by Chanda Berta, who became clerk on May 8.
The South Bend native said she is thrilled to officially be the clerk of court, rather than serving in the role of "acting clerk."
"I absolutely love it. It's a dream come true," Berta said. "I still get that direct interaction with the public and the community that I grew up in, and I just think I get to be blessed in the sense that I get to work with so many amazing people."
Berta succeeds Gary Bell, a former acting U.S. attorney, who in 2021 succeeded Robert N. Trgovich.
After Bell left the clerk position, the Indiana Northern District Court was trying to decide whether to hire an internal candidate to replace him.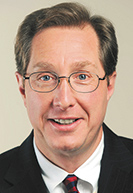 "When (Berta's) predecessor left, I think all the judges felt strongly that (Berta) should be given an opportunity to prove herself in the role of acting clerk, and she did so wonderfully, performed very well," Chief Judge Jon DeGuilio said. "I think that just reconfirmed to everyone that she was the right person for the position."
Bell worked out of the court's Hammond office until 2023, with Berta serving as his deputy in South Bend. But his love for litigation kept calling.
"I came from the U.S. Attorney's Office, and even when I served as clerk of the court, I missed litigation and being involved in court cases," Bell said. "I've returned to the Department of Justice Antitrust Division."
As for Berta, "I could tell that the employees liked working for her in South Bend, and I could also tell that she had a great interest in making sure that the court system was functioning properly, which is one of the core responsibilities of working in the clerk's office," Bell said. "I was very impressed with her on many levels."
The path to clerk
Berta, being the energetic, confident and positive person that she is, said she was ready to become clerk. But originally, she wanted to do something much different.
"I was looking at possibly becoming a federal agent with the FBI or Secret Service," she said. "I ended up going into litigation, and then that led me back to the federal court, where I will say I always wanted to be a public servant, and specifically get back to the federal court after I had the opportunity to be a federal judicial extern."
Berta said she knew early on that she wanted to follow the path of law. Following that path made her a first-generation college graduate.
"I think even early on as an adolescent I had a really fundamental and strong belief in justice and that I truly felt that all people — and I still feel this way — all people deserve to be treated with respect and dignity and that due process exists to protect our legal rights," she said. "I really just wanted to be someone who could help advance and protect those rights and liberties. And so, becoming a lawyer was the best path to do that."
After graduating from Valparaiso University School of Law in 2005, Berta worked as an associate at the firm now known as Hunt Suedhoff Kearney LLP before joining the Indiana Northern District Court in 2007 as a clerk for the late Judge Allen Sharp. She went on to work in several positions for the court, including for DeGuilio as his law clerk in 2010. Other positions included acting clerk, chief deputy and divisional manager.
"I think her experience as a law clerk and as a lawyer gives her a strong understanding of how the courts operate, and then having worked in the clerk's office as a division manager and as the chief (deputy) has given her a strong background regarding the activities of the clerk's office, so she has a very strong and unique experience and perspective about both the clerk's office and the courts," DeGuilio said. "I think that's going to be invaluable."
The job
In her role as clerk, Berta oversees a variety of services that encompass legal, administrative and operational duties for the district and court community. She said she didn't always know that was a role she wanted — until she got a taste of it.
"Once I did transition from my chambers position to a position in the clerk's office, then absolutely I knew my ultimate goal would be to hopefully one day become the clerk of court," Berta said. "I ended up going from division manager to the chief deputy and then to acting clerk of court. Once I became the division manager, I saw the potential in our court for the possibility of a promotion. I didn't know if it would work out that way, or the fact that it would happen as quickly as it did.
"… (Trgovich) and (Bell) were great mentors," she added. "To treat our employees with respect, they handled situations with a calm demeanor, and I just really learned a lot from them — how to just really remain calm even where things are moving fast and we've got to act quickly and just really to have trust."
As for her legacy, Berta said she hopes to be remembered as caring for her community.
"I hope they always think of me as someone that was always true and kind. No matter what role I'm in — whether it's my role with a judiciary or the other roles that I play, such as a coach for Little League — I just hope that people who I'm surrounded by, my family, my friends, my colleagues, all think of me as someone who cares more about them than myself," Berta said.
"Being a hard worker, being true to yourself, being good to those around you," she added, "I think that's the foundation that my success is built on."•
Please enable JavaScript to view this content.