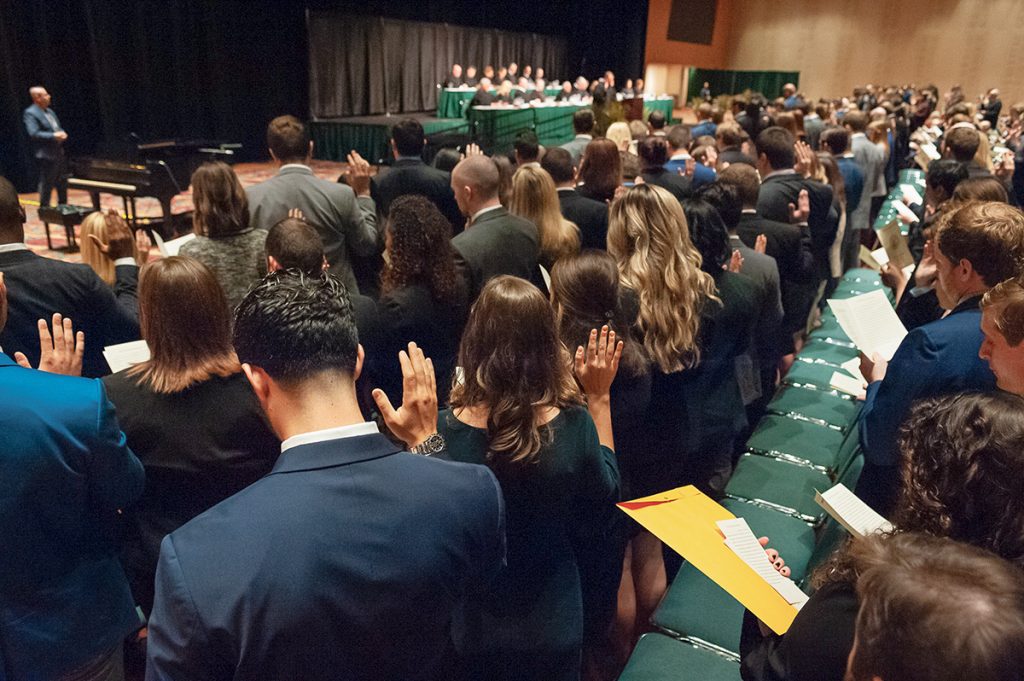 More than 275 people passed the Indiana Bar Exam in July and were eligible to be admitted to practice law in Indiana. Many took their oaths at the Indiana Supreme Court Admission Ceremony on Oct. 2. Here are Indiana's newest lawyers.
Jamal Essex Jumua Ibn Abdulrasheed
Courtney Lyn Abshire
Lindsay Nichols Adams
Adam Matthew Alexander
Joana Opokua Ampofo
Nicholas Brian Andre
Bailey Lane Anstead
Julie Christine Ardelean
Ahmad Lutfi Badaruddin
Jolene Kaye Bailey
Alec Leland Baker
Ingrid Jeanette Barce
Joshua James Basham
Joseph Gregory Bauer
Zachary Lee Beaver
Kyleigh Nicole Beeker
Clark Austin Belanger
Joel Andrew Benson
Amanda Christine Blake
Nicholas James Bognanno
Bradley Steven Boswell
Vienna Marie Bottomley
Adrian Davis Bottomley
Rachael Louise Bouwma
Luke Benedict Brahm
Michael David Brazil II
Catherine Elizabeth Brizzi
Michael Alexander Brockman
Corttany Dean Brooks
Sarah Elizabeth Brown
Devin Dion Brown
Steven Andrew Brown
Erika Lynn Harris Bryant
Thomas Christopher Buchanan
Emily Rose Bueno-Imel
Andrew Curtis Buis
Chelsea Deann Button
Justin Tyler Callahan
Cassandra L. Cassidy
Jacob Alexander Catt
Mary Eileen Christ
Jason Donald Clark
Mason Richard Clark
Christine Marie Clark
Hannah Margaret Clendening
Payton Evelyn Cole
Scott Jeffry Collins
Quentin James Collins
Sarah Krysten Correll
Michael Rowan Couch
Kady Nicole Coulon
Jordan Thomas Crabtree
Daniel James Curtin
Ryan T. Dahlquist
Alexis M Daniel
Lauren Rochelle Daugherty
Taylor Ann Decker
Stephen Michael Deeg
Jessa Irene DeGroote
Lauren Olivia Devereux
Cassidy Lynn DeVore
A. Shashan Deyoung
Sarah Katherine Dickey
Frederick Charles Dobson V
Grace Joanne Drascic
Megan Ann Effner
Thomas Maximilian Everett
Kyle Joseph Farris
Robert Clarke Fine
Carolina Flores
Thomas Joseph Flynn
Taylor Lindsey Fontan
Jackson Gregory Ford
Danielle Kay Fortin
Christopher Michael Frank
Katherine Azure Gambill
Sara Jean Ganter
Morgan Webber Gerolimos
Amanda-Cristina Celeste Gonzalez
Jason S Gray
John Jacob Gray
Zachary Robert Griffin
Tiffany Ruth Guthrie
Devra Tamar Hake
Sarah Anne Hanson
William Elliott Happel
Grayson Frank Harbour
Tyler Jay Hardcastle
Madison Taylor Hartman
Will Garver Haseman
Justin Alexander Hay
Robert Wesley Haywood
Andrew William Head
Jordan Michael Heck
Tara Teresa Heign
Michelle Diane Heinz
Preston Keegan Henry
Rachel Nicole Herbert
Cleo Luisa Hernandez
Luis Daniel Hernandez
Brittany Caitlyn Hewitt
Michael Denali Hoffmann
Brendan Andrew Hogan
Samantha DeeAnne Horn
Steven John Hosler
Joshua Marion Hutcheson
Adam Garrett Hutchinson
McKenzie Elise Hutchinson
Elizabeth Merrill Hyde
Victoire Iradukunda
Jessen Aurora Jesse
Gustavo Angel Jimenez
Hannah Marie Johnson
Trevor Daniel Johnson
Cody Robert Jones
Amy Marie Justus
Kristin Nicole Kane
Matthew William Kappus
April Theresa Keaton
Alexandra Kai Keller
Jack Logan Kiely
Tiffany Sue Kim
Leslie Lynn Kizziar
Katie Lynn Kopf
Mark Julius Koslicki
Jacob Robert Kovalsky
Austin Edward Krouse
Robert Phillip Lamey
Zechariah Steven Landers
Amanda Kay Landis
Andrew Robert Lang
Adam Michael Larimer
Mathew Richard Leonard
Elizabeth Jane Leonas
Lorin Michele Levitan
Gabriel Levy
Fallon Elizabeth Lilly
Courtney Alise Litchfield
Mark Richard Livingston
Brandon Jesse Loera
Steven Brett Lowery
Rebekah Faye Mackey
Lauren Elizabeth Madison
Ryan Edward Mann
Amelia Ann Marvel
Elaine Joy McCreery
Joshua Michael McDowell
Derrick Wayne McDowell
Patrick Ryan McGovern
Emanuel Lee McMiller
Sarah Elizabeth Poh-Ling Medlin
Heather Faith Mettert
Harrison Douglas Metz
Mary Jane Michalak
Zachary Tyrel Miller
Michael Thomas Miller
John Russell Millikan IV
Nicholas James Minaudo
Mason Andrew Moody
Kayla Danielle Moody-Grant
Ashley Renee Moore
Larry Wayne Morrison
Alexander Nathaniel Moseley
Rayasia Alexis Myles
Colleen Megumi Newbill
Veronica Renee' Nicholson
Justin James Norris
Tyler Thomas Ochs
Stevie Jean Pactor
Jordan Elliott Paicely
Jeffrey Wayne Parker Jr.
Shannon Marie Phillips
Jennifer Ellen Phillips
Delmas Philpot III
Jessamine Gail Pilcher
Carmen Rinae Post
Thomas Matthew Poulos
Spencer Eastman Rehn
Gary Owen Reynolds
Edward Ronald Ricci Jr.
Christopher William Riccio
Darin Alan Richart
Charles O'Neal Richert
Scott Michael Ridge
Carrie Danielle Risner
Chantal Brianna Robinson
Carta Harlii Robison
Henry Isaac Robison
Adin Rodgers
Stephen Gregory Rollins II
Steven Michael Ross
Alexander George Rosselli
Kailey Ann Ruggiero
Matthew Richard Rust
Evan Robert Rutter
Jacob Cochran Salathe
Katheryn Brooke Salazar
Seth Jacob Saler
Ryan Paul Scheele
Veronica Jo Schilb
Maximilian D Scholz
James Robert Schultz
Bradley Ross Schwimer
Sarah Elisabeth Sharpe
Nicole Marie Shelton
Sarah Jean Shores
Anthony Jerome Simonton Jr.
Nicole Christine Slivensky
Olivia Claire Slusher
Eileen Ruth Smart
Derrian Andre Smith
Phillip Walter Smith II
Kyle Davis Smith
Silas Finis Smith Jr.
Jacob Daniel Snodgrass
Joshua Ryan Spindler
LaShaila L. Spivey
Mary Patricia Stemnock
Ruthann Evelyn Meyer Stenger
Tammy Lee Steuerwald
Abigail Renee Stewart
Patrick Murphy Stone
Rema Sulieman
Alexandra Giselle Sumner
Sarah Beth Taylor
Scotty Nicole Teal
Lucero DeBelen Tennis
Linda Terron Bobadilla
Kayleen Marie Teufel
Dalton Allen Thieneman
Eric Trudrung
Elissa Ann Tucci
Richard Zachary Turnbull
Cory Louis Turner
Nicholas Lee Tuttle Jr.
Carla Michelle Uhlarik
Audrey Mariah Van Gilder
Shawna Marie VanHook
Sarah Nicole Vrabel
Amy Lynn Waite
Kelsey Maureen Walsh
Clarissa Lynn Walstrom
Gaius Goree Webb
Jay Alan Weddle
Rebecca Sue White
Evan Michael Wild
Logan Matthew Wilfong
Lindsey Nicole Williams
Troy David Willsey
Travis Nathaniel Wilson
Cory Robert Wintz
David Raymond Woolums
Robert Lewis Yates
Joseph Derek Yeoman
Samantha Mae Zawodni
Ying Zhu •
Please enable JavaScript to view this content.