The Judicial Conference of Indiana's strategic plan for the next decade, titled 2020 Forward, rededicates areas of achievement previously attained with past white papers while also setting new goals striving for greater accountability and access to justice.
Several areas up for improvement already have seen progress spurred on by the changes posed by the COVID-19 pandemic. Others are aligning with current events and issues, reinforcing an urgency to make long-lasting changes to Indiana's justice system.
In 2008, the strategic planning committee introduced its first white paper, a second following soon after in 2010. The most recent white paper, 2020 Forward, has been in the works since June 2017, said strategic planning committee co-chair Judge Mark Spitzer of Grant County.
The committee met regularly to hear input from outside partners and cleared the table for discussion on the major concerns judicial officers face statewide, narrowing them down to seven areas of improvement.
Those key areas are improving courthouse security, enhancing technology, clarifying clerk and court staff duties, streamlining court structure, refining judicial selection procedures, securing proper funding and providing access to justice for all Hoosiers.
"There was a consensus that these are things that we need to focus on," Spitzer said. "It was a winnowing process."
Advances, setbacks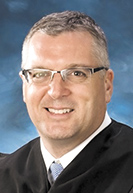 Members of the committee worked to piece together recommendations for improvement to Indiana's justice system long before the COVID-19 pandemic was on anyone's radar. But as the committee soon realized, the pandemic altered the future 2020 Forward seeks to address in significant ways — positively and negatively.
Improvements made to court technology, a recurring area for review, were pushed forward by the need to innovate during the pandemic, said committee co-chair Judge Richard Stalbrink of LaPorte County. Since his involvement with the first white paper in 2008, Stalbrink said older judges at that time spoke in jest about moving paper filings to an electronic system.
"But in the last decade, we have moved all of that forward. What seemed like an insurmountable task a decade ago has almost been realized," Stalbrink said.
Seeing that 92% of the state's court caseload is now handled on the Odyssey case management system, the strategic planning committee hopes to embrace more technology to enhance Hoosiers' prompt access to the judicial process. That includes rapidly expanding technology that allows courts to conduct hearings remotely via videoconferencing platforms like Zoom.
"Obviously, COVID-19 kicked that to the forefront and we have already reached some of those goals that we had out two years ago," Stalbrink said. "It was really kind of satisfying to the committee that, here we said this should be something we are looking at doing, and all of a sudden the pandemic has pushed us to the point where we have realized those goals."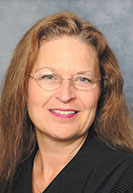 On the other hand, financial burdens faced by the deep economic impact of the pandemic have halted progress on the white paper's aim of moving toward centralized funding for the state's justice system.
Longtime strategic planning committee member Judge Fran Gull of Allen County said the committee's hope is that the state would one day fund all of Indiana's trial courts.
"The justice system in each of these counties represents a huge burden on the local taxpayer," Gull said. "These are services that we are offering as state employees and we should be offering this to everybody. Everybody should have the same opportunities, regardless of the fact that a small county may not be able to afford a problem-solving court, for example. So why shouldn't we aspire to have the state system be supported by the state dollars?"
Despite its desire to make that switch, the committee acknowledged now might not be the time.
"Right now with COVID-19, I think we need to take a step back and pause and look at where we can be now versus where we can be in 10 years," Stalbrink said.
Timely conversations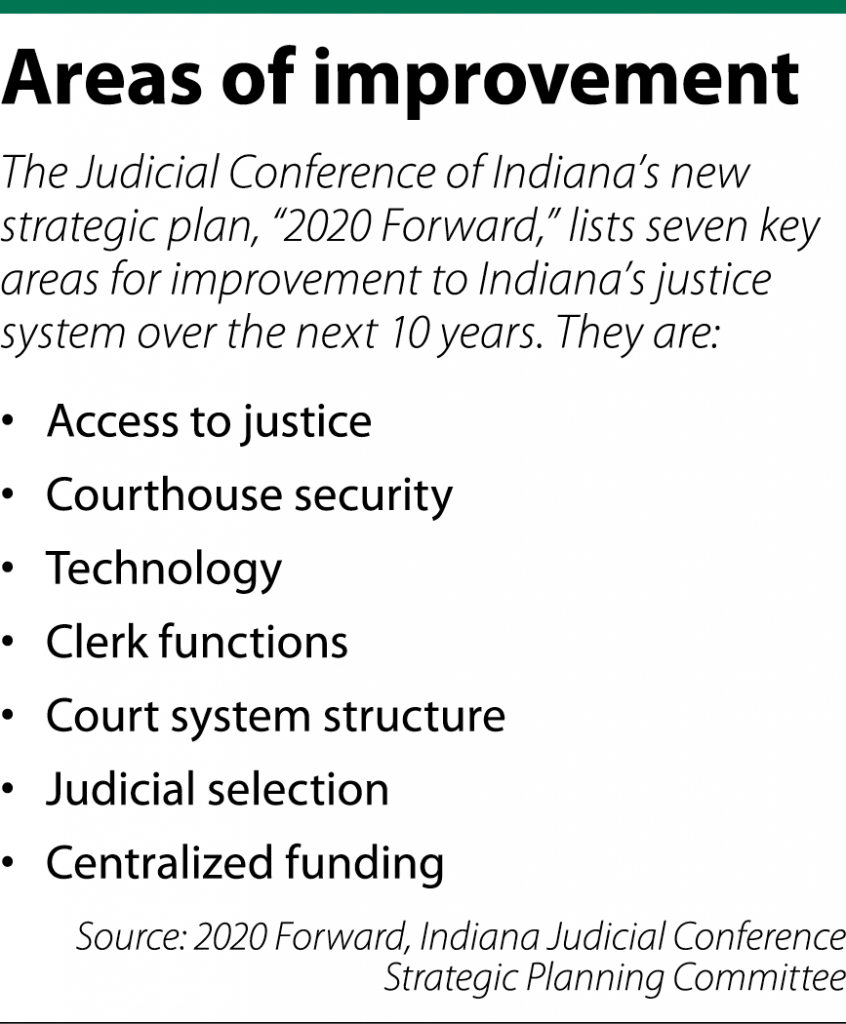 Other areas the white paper addresses will take more time to improve, such as access to justice, Spitzer said.
"This is another topic where it became much more timely over the first three quarters of 2020 when we started having national conversations over race and equity," Spitzer said. "The justice system is at the forefront of that conversation."
In order to engender the trust of Hoosiers in the state's justice system, the committee said Indiana "must undertake a serious look at race and equity, resources, legal aid, imposition of fines and jury selection."
"Regardless of what their situation is, their race, gender, social status, that they have an equal shot at a fair decision made in our justice system," Spitzer said, "to seek out and eliminate things that are unintentionally getting in the way of that objective."
The judges also emphasized urgency in making advancements on courthouse security, which Gull said is heartbreaking.
"I have colleagues across the state that are exposed to dangerous situations in their family, civil and criminal courts, and I sit in a well-protected courthouse. I happen to be in a county where I am in a secured building, but that isn't the case across the state. Why is it that our citizens aren't equally protected in all of our buildings?" she asked.
As to judicial selection, Spitzer said he has no question the topic will cause the most disagreement.
"First of all, much of the judicial selection process is a partisan election. We have seen in other states how that has devolved into concerns about PAC funding that results in political advertising that denigrates the judicial system or undermines the public's confidence in the judicial system as a partial player in the process," he said.
The second concern, Spitzer explained, is that the committee would like to see Indiana move to just one or two methods of judicial selection. The committee's recommendation and preference is to move toward nonpartisan selection.
Strategically planning the future
Outside of her court work, strategic planning is one of the most interesting things that Gull said she gets to do as a judge. She loves the task of digging into long-term aspirational thinking that will one day impact her successors long after she's gone.
But while the white paper's aims are aspirational, Gull noted they are not suggestions for the state's trial courts. Rather, they are blueprints for how to get things done moving forward.
"We should not be sitting in our little silos and thinking that what we do doesn't have an effect on anybody else. It absolutely affects us. We are all involved in the fabric of the system and we all have to participate to make it better," Gull said.
"You can't sit there and go, 'We're fine, we don't need to change.' Not in this day and age."•
Please enable JavaScript to view this content.