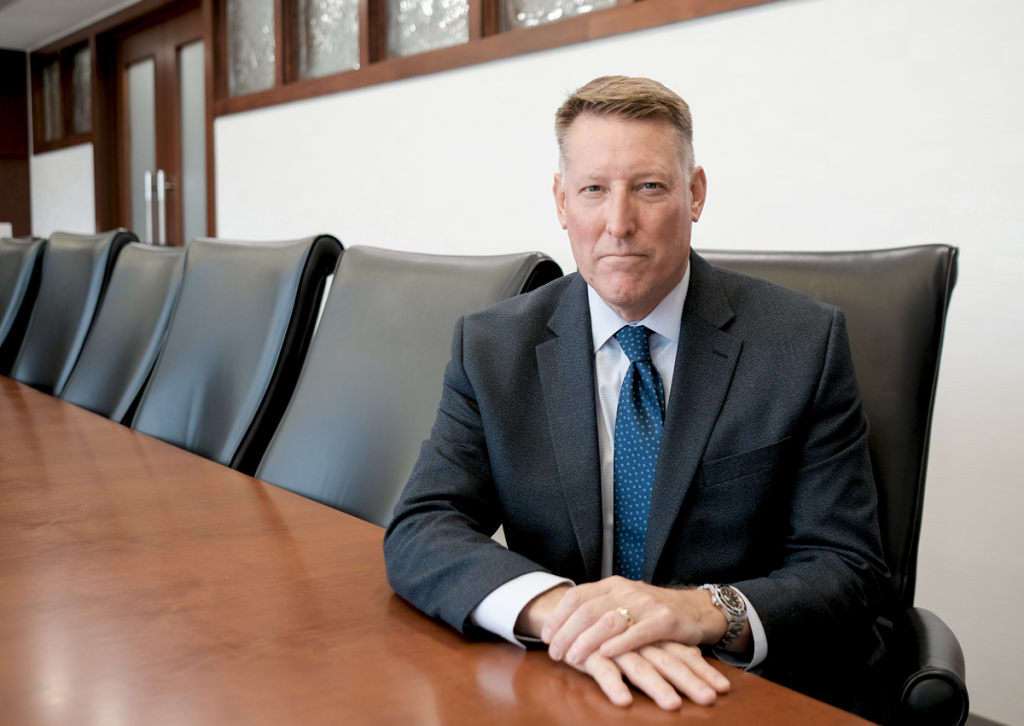 If you're hiring a civil defense attorney, don't hire someone who's not a member of the Defense Trial Counsel of Indiana.
That's the standard by which Christopher Lee wants clients to be able to measure their civil defense attorneys.
Lee, a partner at Dinsmore & Shohl LLP in Indianapolis, will soon lead the statewide defense organization as its 2023 president.
A graduate of DePauw University and the Indiana University Maurer School of Law, Lee has been a member of DTCI since after being admitted to the Indiana bar. His service to DTCI has only been disrupted by service to his country, as he was deployed multiple times to Afghanistan with the U.S. Army following the Sept. 11, 2001, terrorist attacks. Lee was also deployed during the Gulf War in the early 1990s, requiring him to take a year away from law school.
No longer on active or reserve duty, Lee's practice with Dinsmore now focuses on complex civil litigation. Although he's a defense lawyer, he credits relationships with plaintiffs' attorneys statewide as making him a better advocate.
To that end, Lee said he wants to spend his year as DTCI president focusing not just on defense issues, but on civil litigation issues that affect all parties. He also wants to continue to build up DTCI so that civil defense attorneys who want to excel in Indiana will have no choice but to join.
Indiana Lawyer recently spoke with Lee about his plans for his year as DTCI president. Here's what he had to say:
Tell me about your background and your practice.
I originally practiced law in Evansville, Indiana, and worked at a law firm, Bamberger Foreman Oswald & Hahn, that does not exist anymore. Then I worked with Kahn Dees Donovan & Kahn for a number of years and still keep in contact with all my friends in Evansville. Evansville is a great place to practice law. They've got a great bar, and I still keep in contact with all of them and have many close friends in Evansville. Then about 10 years ago, my practice really transitioned to more complex litigation and more multidistrict litigation, and a move to Indianapolis really helped develop that practice and offered more opportunities for me to pursue that type of practice.
Did you practice with Dinsmore in Evansville, as well?
Yes, briefly. And I still work in Evansville, but more of my practice is moved to Indianapolis and really the Midwest.
When did you first get involved with DTCI?
I first got involved in 1993, literally just after I was sworn in. So for 29 years I've been in DTCI as a member and as a section chair and as a board member and now as president-elect.
How did you get involved with the organization?
WhenI first started practicing law, a big part of my practice was insurance defense. DTCI at the time was IDLA, and the organization was tightly associated with the insurance industry. That's no longer the case.
What's on your agenda for your year as president?
It's an organization that I think is important for the defense bar because you develop friendships around the state of Indiana, you develop a network of high-quality attorneys and people. I have developed great friendships with attorneys that are from different parts of the state, and it is very rare when I'm involved in a piece of litigation now that I don't know my co-defense counsel in the case.
The Indiana Trial Lawyers Association is also a strong organization, and through my friendships with members of the plaintiff's bar, I think I can better serve my clients. So, being a member of DTCI has developed a network of defense attorneys and relationships, but also reaching across and developing friendships in the plaintiff's bar has helped me, I think, serve my clients better. There are many issues that I think impact our practice that we have common interest in getting resolved. One of the things I really want to do is partner up with the Trial Lawyers Association and work through issues that impact both the defense and the plaintiffs' side that can help facilitate our cases and our resolution of those cases.
I'll give you an example: Liens are a common issue for both — predominantly for plaintiffs' attorneys, but it's also a problem for defense attorneys. If a plaintiff's attorney cannot resolve a lien and the lien holder's being unreasonable, that impacts the defense side, as well. I think it is completely unfair to the plaintiff's bar that they're used as the collection agencies, so to speak, for third parties. So working through sensible legislation that helps both sides work through lien issues is just one example of how I think we can help the practice of law. Again, it's unfair to plaintiffs' attorneys to act as the collection agency for a third party and not be compensated for it. Real finality and being able to predict with certainty what a plaintiff will recover at a mediation is important, and a lot of times mediations end without that certainty because of lienholders.
What about specific issues within DTCI?
I don't see any alarming must-be-addressed-right-away (issues). I believe if it's a meaningful organization that provides tools to the practitioner and education to the practitioner and a network of other defense lawyers with similar issues, that attracts membership. I'm more interested in keeping our organization strong so that people need to join if this is the area of practice that they're going to practice in, versus a membership drive — those work, but I think just creating a great organization, and also an organization that gives value to its members. You can attend the annual conference (and) it's exceptionally reasonable — people can get good CLE for a reasonable price.
How is membership looking?
Obviously we always have to pay attention to membership. COVID, I think, had an impact on membership. But again, if we provide a strong organization, then people will want to join — we don't have to go look for members, members will find us.
Do you feel like the organization is starting to find its footing post-COVID?
Elliot (Pinkie) was fantastic as a president during COVID-19. But I think our organization, as much as it could, continued to function and function well during COVID-19.
What have you gotten out of DTCI?
The biggest takeaway I have is just my friendship with other lawyers that have practices just like mine that are outside my firm. Some of my best friends are lawyers who I practice with and against from around the state and that I never would have known but for DTCI. Really, if you are a company, a business, an insurance carrier, you should not hire someone who is not a member of DTCI. I want that to be a strong indicator of a practitioner's commitment — I want that to be a good standard for companies and businesses and carriers to consider.
What else should we know about DTCI?
The Women in the Law and Young Lawyer committees are quite strong now, and there's going to be a real emphasis in keeping them strong. We also had a real emphasis on diversity in the defense bar, and that is going to continue. It's not something that you focus on one year; you have to focus on it every year. That will continue to be a focus, giving opportunities to diverse members — not just opportunities, but leadership opportunities. One of the things I really want to do with young lawyers is put them in decision-making positions and positions of leadership.
What's your pitch to a young lawyer considering joining DTCI?
There is no better organization for an individual who practices in the defense bar than DTCI. Again, it's because you meet practitioners all over the state that have a similar practice as you that you can learn from. Many of the methods and techniques that I use today as a practicing attorney I've learned from other members of DTCI. So I just think there is no better organization that helps your practice over the long term.•
Please enable JavaScript to view this content.