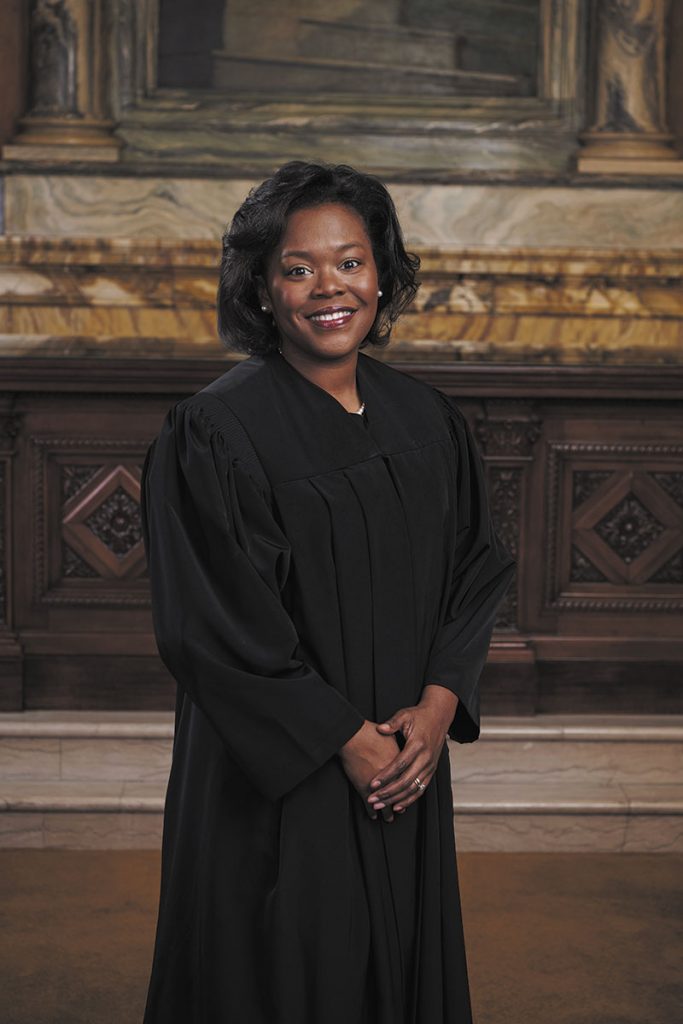 Doris Pryor has never been content to just do her job and go home.
As a magistrate judge for the U.S. District Court for the Southern District of Indiana, Pryor took on the extra task of launching the wellness committee to help her colleagues stay physically and mentally healthy during the most stressful days of the COVID-19 pandemic.
In the U.S. Attorney's Office for the Southern Indiana District, Pryor is credited with starting the REACH (Re-Entry and Community Help) program, which had its biggest champion in the late Southern Indiana District Court JudgeLarry McKinney.
The initiative continues to support and guide former inmates who are deemed at high risk for recidivating.
Moreover, Pryor corralled the U.S. Attorney team to partner with the Indianapolis Metropolitan Police Department to befriend and encourage the students at Daniel Webster Elementary School in Indianapolis. Part of the project included the adults and the youngsters exercising their artistic skills to draw self-portraits.
Josh Minkler, former U.S. attorney for the Southern Indiana District, said Pryor has always been very outgoing, very engaged and ready to do more than is required because she has a heart for her community.
"She's a wonderful person, very warm, very caring," Minkler said. "She's trustworthy, you can tell her things in confidence. And I don't say this lightly, people in the office like one another but they loved Doris."
The judges, clerks and support staff at the federal district court seem to feel the same way. The announcement of her nomination to the 7th Circuit Court of Appeals has elated her judicial co-workers and inspired at least one judicial assistant to scream for joy.
On May 25, Pryor was tapped by the Biden administration to fill the vacancy that will be created when Judge David Hamilton takes senior status later this year. The U.S. Senate Committee on the Judiciary has received the nomination, but had not scheduled Pryor's hearing as of Indiana Lawyer deadline.
If confirmed, Pryor will be the first woman of color from Indiana to serve on the 7th Circuit.
"We are definitely going to lose a very good member of our team but we're just so proud and happy and thrilled that Judge Pryor will still be with us on the 7th Circuit," Southern Indiana District Court Chief Judge Tanya Walton Pratt said. "We look forward to her grading our papers."
Pryor came to the Hoosier State to attend Indiana University Maurer School of Law. Graduating in 2003, she served as a law clerk for Chief Judge Lavenski Smith of the 8th Circuit Court of Appeals and then for Judge J. Leon Holmes of the U.S. District Court for the Eastern District of Arkansas.
After a stint as a deputy public defender for the Arkansas Public Defender's Commission from 2005 to 2006, Pryor returned to Indiana to become an assistant U.S. attorney in the U.S. Attorney's Office for the Southern Indiana District. She served from 2006 until 2018 when she was become a magistrate judge for the Southern Indiana District Court. Pryor filled the seat previously held by the late Magistrate Judge Denise K. LaRue.
"She's just going to do a fabulous job," Pratt said, noting Pryor has built a reputation of being very smart and able to handle very complex cases. "She's been an impressive magistrate judge, has done wonderful work in that capacity and I'm just confident that she's going to do a wonderful job. She's qualified, she's going to move into the transition easily."
Path to confirmation
With Democrats controlling the U.S. Senate, Pryor has a path to the 7th Circuit even if she does not get any bipartisan support.
Carl Tobias, professor at the University of Richmond School of Law, has studied the federal judiciary and has particular expertise in the judicial confirmation process. Pointing to Pryor's 12 years of service as an assistant U.S. Attorney which included four years as the National Security Chief for the Southern Indiana District office, he is "cautiously optimistic" Pryor will be confirmed by late summer or early fall.
"That dozen years in the Southern District's U.S. Attorney's Office … that's valuable and she's, I assume, had a pretty good mix of criminal and civil cases so she should know her way around both sides of the docket," Tobias said. "I just think that's a significant period of time to do that and I think that's a well-respected office. So, I think she brings a lot of relevant experience."
On the day Pryor's nomination was announced, Indiana Sen. Todd Young, a Republican, voiced his support.
"Judge Pryor is a public servant of the highest caliber," Young said in a statement. "Her legal experience and expertise would make her an asset to the Seventh Circuit. I look forward to introducing Judge Pryor to my colleagues and supporting her nomination once it comes to the Senate."
In a statement, Indiana Sen. Mike Braun was noncommittal.
"As I have done with every nominee presented to the Senate," Braun said, "I look forward to carefully considering the qualifications, legal record and judicial philosophy of Magistrate Judge Doris Pryor for her nomination to the Seventh Circuit."
Tobias viewed Young's support as a positive sign and speculated the support from the home state senator could draw other Republicans to vote for Pryor's confirmation.
"I think (Young's support of Pryor) will mean something to some of his colleagues, and maybe a number of them," Tobias said. "… My guess is he's done his homework and knows that he can trust her as a nominee and that it wouldn't come back to haunt him."
'Tremendous asset'
Just as she has done on the bench and in the U.S. Attorney's Office, Pryor has exerted a little extra effort in maintaining her strong ties to IU Maurer School of Law. She has readily returned to the Bloomington campus to help nurture the future lawyers.
In 2015, Pryor started teaching a pre-trial litigation course during the law school's Wintersession.
Pryor incorporates practical, hands-on experiences into the class, even bringing in FBI agents to pose as witnesses for the students to practice their interviewing skills.
"Her class was beloved," said IU Maurer School of Law dean Austen Parrish.
Most recently, Pryor delivered the keynote address at the August 2021 law school orientation and administered the oath of professionalism to the first-year students.
Retired 7th Circuit Judge John Tinder was able to see Pryor's lawyering skills when she was an assistant U.S. attorney practicing before him. Tinder remembered her as being thoughtful, very bright and having a very good sense of humor.
Also, Tinder said, Pryor's tenures as a public defender then as a federal prosecutor has given her an appreciation for the challenges the defendants and the victims face in criminal cases.
"She has such a wide range of work and life experiences," Tinder said of Pryor, "that she will be a tremendous asset to the 7th Circuit."•
Please enable JavaScript to view this content.