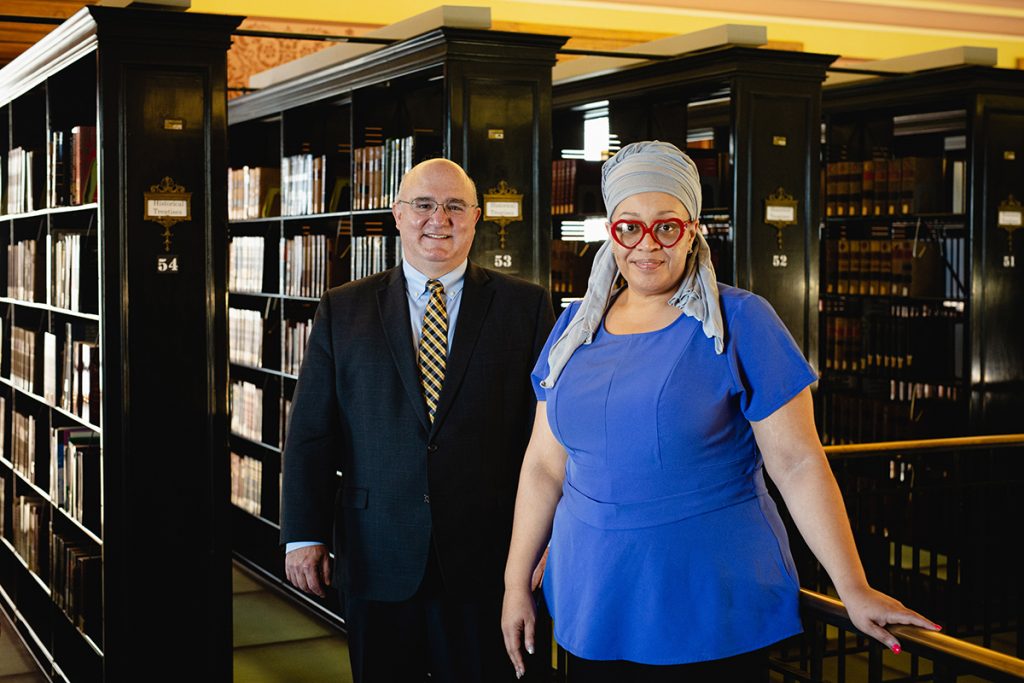 From a management perspective, the Indiana Supreme Court isn't satisfied with the status quo.
"It's quite the opposite of that," Indiana Supreme Court spokeswoman Kathryn Dolan said.
Rather, the Supreme Court has adopted a top-down philosophy that is also bottom-up. It continually questions itself in all facets of operation by asking, "How else we can look at this problem?," "What impediments exist?" and "What else can we continually do?"
"The people we hire indicate that they want to be a part of service, and that is not a check-box, 'we're done' mentality, it's a vision of what might the future hold that will prove even better," Dolan said.
As part of its efforts, the Supreme Court's Office of Judicial Administration recently opened two offices aimed at evolving the judiciary from the inside: the Office of Diversity, Equity & Inclusion and the Indiana Innovation Initiative. Indiana Lawyer spoke with the leaders of both offices to learn about what they do and who's taking charge of these efforts.
Office of Diversity, Equity & Inclusion
In all her years of educating and training in the DE&I world, Gina Forrest, PhD, said she never imagined leading the state's judiciary in its efforts toward equity and inclusion.
"I'm excited," she said with a laugh. "I'm honored and blessed to be here."
Forrest serves as the chief diversity officer of a new department designed to promote inclusivity in the judicial branch by offering resources to the high court and its staff, as well as judges and lawyers across the state.
Forrest, who took the reins of the DE&I office in June 2021 accompanied by DEI coordinator Princess Darnell, is an Indiana native with a background in training and facilitating discussions in areas of diversity, inclusion, equity and cultural awareness. She's spent significant time helping others navigate their DE&I journey in academia, nonprofits and for-profits with a focus on public health, public health disparities and health inequities.
Forrest's day-to-day grind in the judiciary's Office of DE&I can be compartmentalized into three areas: answering questions on inclusive language, hiring practices and distribution of resources; reviewing policy and procedures to pinpoint areas where the judiciary can be more inclusive and equitable toward the Hoosiers it serves; and listening both internally and externally.
One of the office's chief goals is to help increase the public's trust in the Indiana judiciary, Forrest said. An effort is already underway to foster that trust through the high court's Commission on Equity and Access in the Court System.
"That is huge," she said. "Hopefully those findings and action items we take from the commission's working groups will lead back into that increasing the public trust, to show that we are serious and we are trying to do something to show that equitability and accessibility is important to us."
Forrest said she hopes to see the fruits of her office's labor in the years to come.
"I'm hoping we will be able to actually see numbers and track that accessibility has increased, that we are more equitable, that more people, if they don't already, feel that they are treated fair, equal and equitable across the state."
Indiana Innovation Initiative
Established in 2019 as part of its Office of Judicial Administration, the Indiana Innovation Initiative is charged with developing projects aimed at making the Hoosier State's justice system more efficient, less expensive and easier to navigate while continuing to ensure justice is fairly administered and the rights of all litigants are protected.
To do that, Robert Rath, chief innovation officer, said the initiative has three subcommittees to carry out its work focusing on technology, family law and civil litigation. Its members consist of judges, lawyers and other legal and nonlegal experts who make recommendations to the Supreme Court for best practices surrounding Indiana's judicial structures and procedures.
Rath, who also chairs the Technology Working Group, said he staffs and coordinates the various innovation groups in his role as CIO. Those groups then review trends and novel ideas being tested in Indiana or across the country to find the best fit for Indiana's judiciary.
The issues of accessibility and using technology is one area being addressed, he said.
"If there is someone in a small claims case, instead of taking off work or spending a long time in court waiting for their case to be called, if they can take a break from work and participate remotely and then go back to work and not have to make their way to the courthouse, that's convenience to the participants," he said.
Looking down the road, Rath said he hopes the initiative can help find ways to be more accessible and convenient for Hoosier litigants while also ensuring that justice is served and rights are protected.
To meet that end, he hopes to provide feedback to the working groups from all interested Hoosiers.
"We would love to hear any suggestions, and they can come from the public, litigants, attorneys, paralegals, judges, etc.," he said. "Good ideas can come from anywhere."•
Please enable JavaScript to view this content.