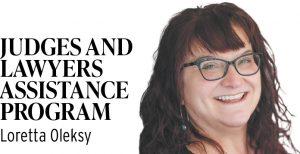 "But what is grief, if not love persevering?"
–Vision, WandaVision, episode 8, 2021
I was 17 when my dad died. It was a long illness, so it was expected. I didn't cry at first … was I doing it wrong? Knowing it was coming should have made it easier; what was wrong with me? Then I just got really, really mad. I withdrew into my anger and doubled down on the comfort of perfectionism, overachieving and some less adaptive coping techniques. Grieving? I wasn't grieving — I was angry and felt no one understood.
Fast forward to 2021. I was invited to speak at a statewide conference, the first in-person gathering for this group since COVID halted life as we knew it. I suggested the topic of grief and loss. After some awkward silence, the meeting planner politely suggested that perhaps we could come up with a more uplifting topic. After all, this gathering was to be a celebration of coming back together. Could we at least call it something else?
Loss is a part of life. We grieve all kinds of losses: death, the loss of a relationship, the loss of a job, a dream, a way of life. In 2020, we collectively grieved the loss of certainty, predictability and ritual. Why, then, do we shy away from talking about it? It's an ingrained reaction; the human body is wired to move away from pain, and so is our mind. The problem is that ignoring pain, pushing it away or fighting against it doesn't make it go away. Believe me, I tried.
My 54-year-old self looks back at 17-year-old me with compassion. She was doing the best she could with the skills and the situation she had at the time. What might it have looked like if 17-year-old Loretta had the skills and the language to meet her grief with self-compassion?
Kristin Neff, Ph.D., defines self-compassion as "responding in the same supportive and understanding way you would with a good friend when you have a difficult time, fail, or notice something you don't like about yourself." She outlines three elements of self-compassion: self-kindness vs. self-judgment, common humanity vs. isolation and mindfulness vs. over-identification. Let's look at how this framework can apply to grieving.
1. Meet grief with self-kindness. There is no right way to grieve, no loss that is too small or insignificant. When my 17-year-old self didn't cry, or felt mad, she wasn't doing it wrong. When any of us grieve the loss of a relationship or a beloved pet, those losses aren't less worthy of our grief than that of the person whose spouse or child has died. Grief comes from the end of anything that was important to us. Grief researcher David Kessler says, "The worst grief is your grief." Instead of judging how we are grieving or telling ourselves our loss isn't significant enough to grieve, self-compassion invites us to sit with the discomfort of the loss with the same kindness we would extend to a friend or loved one.
2. Suffering and grief are part of the human condition. Grief isn't a disease that needs to be cured or a brokenness that needs to be fixed. Recognizing that we will all experience grief at many points in our lives can connect us with others rather than pushing us into withdrawal and isolation. While 17-year-old me didn't have the opportunity to find common humanity with others who were grieving, today I work to make sure my peers don't have to go it alone. The Indiana Judges and Lawyers Assistance Program offers a grief and loss peer support group, which I co-facilitate with colleague and fellow JLAP volunteer Jill Carnell. We started this group at the encouragement of another JLAP volunteer, Patty McKinnon, who was also instrumental in forming the JLAP caregiver group when she was caring for her mom who had Alzheimer's disease. Patty describes why these peer support groups have been so important to her: "The only ones who understand how hard it is to be a caregiver or someone who is grieving are those in a similar situation. The nice thing about a support group is you can just listen. And by listening, you realize you are not alone."
3. Be present with grief. Rather than pushing it away, I wonder what it might have been like for 17-year-old Loretta to recognize her grief (even though it didn't look like she thought it was supposed to) and to allow herself to feel whatever emotions arose without judgment. The first and often the hardest part of this mindfulness practice is to notice the emotion. Why am I so angry? Oh, hello there, grief. I see you. Mindfulness also means recognizing that the feelings will wax and wane. There will be times when grief feels overwhelming, like a tidal wave, and when it feels tiny but still uncomfortable, like a pebble inside a shoe. Mindfulness helps us to accept that both conditions will pass and that all we can attend to is the present moment.
The quote at the beginning of this article comes from Marvel's "WandaVision." In this scene, Wanda describes her grief: "It's just like this wave washing over me again and again. It knocks me down, and when I try to stand up, it just comes for me again … and it's just going to drown me." When Vision assures her that it won't, she questions how he knows. His response: "Because it can't all be sorrow, can it? … I've never experienced loss because I've never had a loved one to lose. But what is grief, if not love persevering?"
What I've come to believe is that with self-compassion, I'm able to stand in the waves and notice them without judging them or myself, recognize my fellow humans who are also facing the waves, and persevere to find the love that underlies the grieving. I wish the same for you.•
__________
Loretta Oleksy is a lawyer, social worker and student of the Marvel Cinematic Universe. She is a mindful life and work coach with Thought Kitchen LLC and a JLAP volunteer. Opinions expressed are those of the author.
Please enable JavaScript to view this content.