When Indiana trial courts first started switching to the Odyssey Case Management System in 2007, some courts were still using typewriters.
While the number of courts who worked the old-fashioned way was small, it was the Wild West when it came to case management software — there were at least 23 CMS systems being used statewide.
"Before Odyssey, it was pretty archaic," Clark Circuit Court 4 Judge Vicki Carmichael recalled. "I can remember the paper chronological case summaries on the big docket cards and things like that.

"We had some other kinds of local case management systems, every court seemed to do something different, but you couldn't talk to each other," Carmichael continued. "You didn't know what was going on in another county and sometimes you didn't know what was going on in the next court over because everyone wasn't using the same system."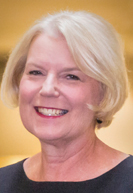 Those frustrating times of not having instant access to court records for clerks, judges and the public in general are virtually over.
As of Dec. 13, 2021, Odyssey was implemented in all 92 Indiana counties following Randolph County's switch. According to Mary DePrez, executive director of the Indiana Office of Court Technology, all trials courts outside of nine that handle juvenile cases, and 13 city and town courts, are now on Odyssey.
"I think we felt very relieved and proud," DePrez said. "It was a monumental accomplishment … ."
Modernizing the courts
Court of Appeals of Indiana Judge Paul Mathias has been involved with the efforts to create a unified CMS for the state's courts since the very beginning.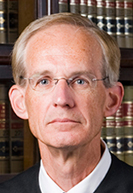 In 1999, Mathias said now-retired Justice Frank Sullivan appointed him as co-lead of the then-newly created Judicial Technology and Automation Committee.
Prior to the creation of JTAC, in the 1990s, the Supreme Court created a project called AIMS, which was an effort to develop standards for individual county courts to use when acquiring a CMS. In 2001, with support from all three branches of government and other stakeholders, the Supreme Court made its first attempt at a unified CMS, which resulted in a contract in 2002 with Computer Associates International Inc.
However, the relationship with the first vendor was terminated in 2005 after it was determined they "couldn't meet the needs of the court."
In June 2007, the Odyssey project got underway when an $11 million contract was signed with Texas-based Tyler Technologies. The 10-month procurement process leading up to choosing Tyler involved more than 150 stakeholders from state and local governments, and by the end of the first year, eight circuit courts in Monroe County and a small claims court in Marion County had the system in place.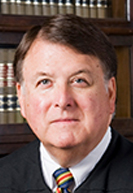 Also in 2007, a Supreme Court order signed by then-Chief Justice Randall Shepard made it a requirement to have a web-based service that could give lawyers and the public access to court filings from across the state: Mycase.in.gov, which was created in-house and is not a Tyler product even though it works with Odyssey.
Incremental steps
Odyssey is a web-based, fully integrated case and financial management system designed for statewide deployment. It allows central configuration while still supporting statewide and county-specific rules. The CMS connects courts to law enforcement agencies, state agencies like the Bureau of Motor Vehicles, courts in other jurisdictions, and lawyers and the public. It also interfaces with other agencies and systems, and the list continues to grow, according to the Supreme Court.
Today, Odyssey sends commercial driver's license violations to the BMV, handles tax warrants and interfaces with the Electronic Citation and Warning System, reducing hundreds of hours once required to enter traffic and ordinance violations into case management systems throughout the state, among other features.
In 2010, the Odyssey product center for Supervision was piloted. Odyssey Supervision pulls case and financial data from the court and clerk side of Odyssey and allows specialty courts and probation officers to enter and track drug screens and medications, reports on case activity, sanctions and administrative hearings, juvenile referrals, contact management, and the ability to add documents to the case such as pre-sentence and pre-dispositional reports.
Adopting Odyssey has never been a mandate by the Supreme Court. By 2012, just one-third of countywide systems were on the unified CMS.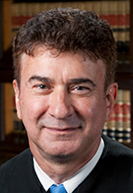 Two years later, another major project enhanced Odyssey's capabilities.
In 2014, a Supreme Court order directed the Division of State Court Administration to begin a statewide electronic filing project, with the goal of having e-filing in every state by the end of 2018. Also that year, Chief Justice Loretta Rush appointed Justice Steven David and Mathias to lead the integrated court technology effort on behalf of the court. Once Sullivan retired in 2012, David "carried a lot of the water" on the "final leg" of the project, according to DePrez and Mathias.
As Odyssey developed, the courts got help from the Indiana General Assembly in making sure the effort received funding outside state and federal grants. Mathias said now-retired Indiana Sen. Luke Kenley of Noblesville played a big part in creating a unified system.
"After Justice David and I worked very hard with Sen. Kenley and others, finally in 2013 or 2015 Odyssey and Court Technology received a line item in the state budget," Mathias said. "Sen. Kenley understood that this should be a service for Hoosiers."
The e-filing rollout started in 2015 and finished in 2019, saving Hoosiers signiciant money and time. This past fiscal year, 7.9 million documents were e-filed statewide, according to the Supreme Court's 2020-2021 annual report.
"To me, e-filing was a huge, huge benefit," Shelby Superior Court 2 Judge David Riggins said. "In fact, today (Jan. 26) I had personal matters but was able to sit down and sign the paperwork I needed to. From a time-management standpoint … it's certainly helpful."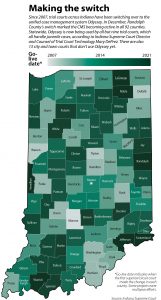 DePrez said she's glad e-filing was done before the start of the COVID-19 pandemic and most all counties were on Odyssey before March 2020.
"With e-filing and Odyssey hand-in-hand, courts and clerks could work remotely," she said. "I don't think they could've done that before without Odyssey."
During the most recent State of the Judiciary address, David, invited to the podium by Rush, said there were about 140,000 electronic filings moving through the system per week. Last fiscal year, he said MyCase had 34 million visits.
A unified system
A firm end date was never set by the Supreme Court for Odyssey, but the project's goal of reaching all 92 counties took longer than expected.
"I think one of the biggest misunderstandings or thoughts were that our vendor would convert the historical data from legacy systems into Odyssey, and we opted to change course after Monroe County and did our data conversions in-house," DePrez said. "… We changed that model and it probably took a little bit longer to deploy to the 400 or little less (courts) out there."
Another significant slowdown, according to Mathias, was due to the reluctance of some clerks and judges to change — despite the Odyssey CMS saving them tens of thousands of dollars per year by offering it for free. Mathias said some counties wouldn't change until either the clerk or judge left office and the new person requested the changeover, or when a court's contract with their CMS provider was up.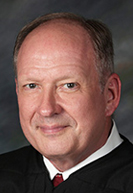 Mathias said he and others that worked on the CMS project would drive around the state and talk to local governments about Odyssey to try to convince them to switch.
With all counties now on Odyssey, and e-filing available 24/7, the amount of time and money saved is significant, according to the Supreme Court. Additionally, Mathias said Odyssey's ability to collect and present data has benefited the state in several ways, especially when it comes to legislation.
"We can look at a piece of information and know that it's the same thing that is reported, the same type of information, from county to county to county," he said. "And from the state General Assembly's standpoint, that's been a monumental improvement, so they can now look at our statistics that are generated uniformly throughout the state and can make wise policy decisions."
Making requests for the 2021-2023 biennial budget, Rush noted the court pays $1 million annually to its Odyssey vendor, $5 million to its electronic filing vendor and $1 million in data storage and server costs, among other expenses. She said $3 million is appropriated to court technology from the General Fund, plus an amount of funding that reflects a residual of the state's filing fees. Additional funding is supplemented by grants and additional Supreme Court funds.
In total, Tyler has been paid $53 million for the Odyssey CMS and Odyssey E-Filing since 2007, according to the Supreme Court. That number does not include staff costs for training and go-live support, help desk support, hardware purchases for counties, and hardware purchases for IOCT to support Odyssey and related applications including MyCase. There were also significant expenses within the Indiana Office of Court Technology for many years.
DePrez said Odyssey will continue to have enchantments to improve functionality moving forward.•
Please enable JavaScript to view this content.