The Midwestern law firm of Plunkett Cooney has moved its Indianapolis office to the corner of University Park.
The firm previously held space in the Capital Center on Illinois Street in downtown Indianapolis, but it was a shared space, which posed some issues.
"We were more isolated because we had to keep our doors closed because of confidential information, and it was less conducive to a team-building spirit for what we wanted," Indianapolis managing partner Pam Paige said.
Paige said that while the firm's previous space was nice, it just didn't work for them when it came to talking with co-workers and confidentiality.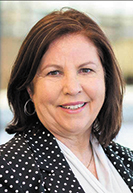 But at University Park, "This building allows us to have the open-door policy with our staff and anyone else who … didn't have a client come in (before), introduce them down the hallway, having this extra space — none of that was available," Paige said.
She added that one of her favorite things about the new space — aside from having their own copy machine — is being close to everyone and being social.
"The favorite thing for me is the sense of where the team would walk down the hallways and see each other," she said. "I know sounds silly, but we meet over the coffee pot, you know? You run into each other."
The firm's new location at 300 North Meridian, Suite 1250, is in the same building as Faegre Drinker Biddle & Reath's downtown Indy location.
"We've already met another law firm on the same floor, and my staff is already connected with them," Paige said. "So it's a good community."
One of Plunkett Cooney's goals is to expand its team, and having a bigger space in Indianapolis is a step in that direction.
With locations all over the Midwest, the firm has resources out of Michigan, Ohio and Chicago. There is also librarian out of Michigan who helps with research.
The new Indianapolis office is home to two attorneys, two paralegals and a legal assistant.•
__________
Has your office moved into new space, undergone a redesign to improve flow and function, or repurposed a space to better serve the legal needs of clients? Tell us about it, and we may profile your transformation in our occasional series, "Open House." Contact Olivia Covington at [email protected].
Please enable JavaScript to view this content.