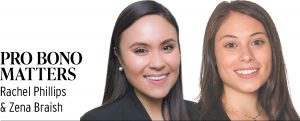 May marks the end of pro bono awards season, when many organizations, schools and firms recognize volunteers for their service. While most lawyers do not volunteer just for the recognition, we know that extrinsic motivators help to encourage and support dedicated volunteers, raise awareness of pro bono service and encourage others to get involved.
One helpful motivating tool is goal-setting. Establishing specific pro bono targets encourages volunteers to continue volunteering on a long-term basis. The Indiana Rules of Professional Conduct make pro bono services an ethical duty, and the Indiana State Bar Association sets an aspirational goal of 50 hours of pro bono work per year. Some firms set their own internal goals to guide their attorneys as well. Other firms, like Faegre Drinker Biddle & Reath, even allow a set number of pro bono hours to count toward its attorneys' billable hour requirement each year. Measures like these not only give volunteers a goal to strive toward, but also integrate pro bono into the culture and values of an organization.
Likewise, recognition of volunteers' hard work helps show that they are appreciated and may even help curb burnout. Every year, schools, bar associations, law firms and other organizations recognize legal professionals who go above and beyond the call to provide or support exceptional pro bono legal services. This time of year, organizations across the state of Indiana are identifying and distinguishing individuals in their organizations who stand out in pro bono work. Some examples of awards recognizing the pro bono work of Indiana legal professionals include, but are not limited to, the Indianapolis Bar Association Pro Bono Awards (typically recognizing outstanding pro bono service by a practicing attorney, law student and law firm), Indiana University Maurer School of Law's Pro Bono Awards (honoring select students for their service) and internal law firm awards like Faegre Drinker's Pro Bono Honor Roll.
The Faegre Drinker executive leadership team recently announced the recipients of the firm's 2022 Pro Bono Awards and Pro Bono Service Moment of the Year Awards. Among its list of impressive awardees, Bianca Eddy, an Indianapolis associate in the Product Liability & Mass Torts practice group, was honored for her dedication to clients, going above and beyond to meet each individual client need. Bianca represented incarcerated individuals in civil rights matters, helped veterans seeking benefits and volunteered at legal clinics throughout the year. She also was a member of the team that won an appeal in a case of first impression related to a new Indiana statute aimed at assisting victims of certain crimes. Bianca stressed the importance of celebrating with teammates: "We celebrated the little wins every step of the way," she said.
Andrew Dettmer, commercial litigation associate with Dinsmore & Shohl LLP, was previously honored for his work helping to fight gerrymandering in Michigan, excessive and abusive solitary confinement in prisons, and co-founding a pro bono clinic in Crawfordsville. "The wonderful thing about pro bono work is that often, you are helping ordinary people who thought their problems could never and would never be solved. The thanks you get from those clients, even if the outcome isn't perfect, is incredibly rewarding," Andrew said.
Finally, seeking out and pursuing cases where volunteers can make a palpable impact and observe the difference their work makes in the community can be a powerful motivator. Bianca hopes her success will open the door for volunteers who want to do similar work: "I hope the more that word gets out that specific communities need help, the more people will want to assist," she said. She also believes the precedent set in her client's case will make it easier for similarly situated victims to succeed in their own petitions.
"After we had succeeded at the trial court level in our claims against the gerrymandered Michigan maps, the U.S. Supreme Court killed our, and many other cases, by ruling that these claims were non-justiciable," Andrew said. He continued, "Despite that, I received a wonderful handwritten 'thank you' note from one of our clients, thanking myself and our team for all of the work we had done to try to make her community better. I still keep that card in my desk as a reminder of the impact we can have, even if we don't ultimately succeed."
Congratulations to all of this season's pro bono volunteer awardees. Your work inspires all of us, and we look forward to seeing the continuing impact of lawyers in the community.•
__________
Rachel Phillips is an associate at Faegre Drinker Biddle & Reath LLP in Indianapolis and Zena Braish is associate counsel at EVERSANA. Opinions expressed are those of the authors.
Please enable JavaScript to view this content.