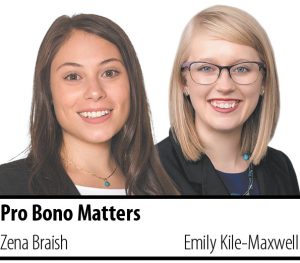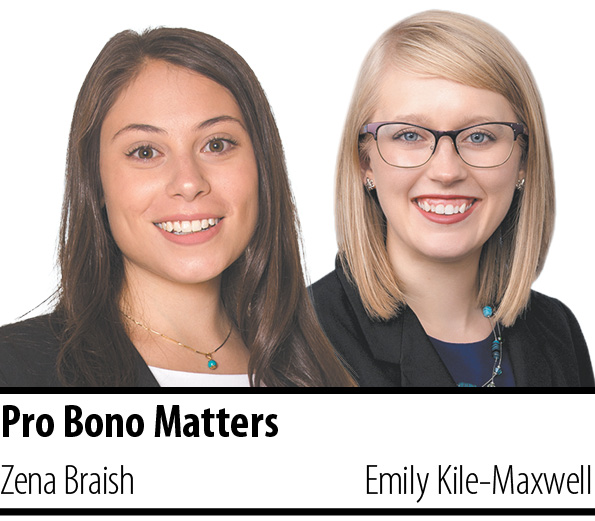 While many things have changed this year, the need for pro bono immigration lawyers has not. Indiana lawyers have a range of opportunities to get involved in immigration law.
Many Indiana lawyers represent asylum seekers through the National Immigrant Justice Center (NIJC). "It's one area we'd love to see more activity in Indiana," said Lisa Koop, associate director of legal services at the NIJC's Goshen office. There is a growing need for attorneys and firms to get involved in pro bono asylum cases.
While asylum cases tend to be resource-intensive and legally complex, naturalization cases, another growing area of pro bono work, offer attorneys an avenue to assist clients in need of immigration services without a lengthy time commitment.
The NIJC provides support for its volunteer attorneys during every step of the process. The organization also provides online training sessions for those who would like to get involved but do not have experience in immigration law.
Other local organizations that handle pro bono immigration cases through volunteer attorneys include Indiana Legal Services, which primarily takes and refers naturalization cases, and the Neighborhood Christian Legal Clinic, which takes and refers both asylum and naturalization cases.
Ever-changing landscape in a pandemic
Immigration proceedings have not been immune to the issues created by the pandemic. "COVID has thrown a wrench into a lot of things, but we've been really impressed with how the pro bono attorneys with whom we partner have taken it in stride," said Koop.
U.S. Citizenship and Immigration Services offices and immigration courts were both closed for a time due to shutdowns. The pandemic has also limited attorneys' ability to meet with their clients, but they've found creative ways to work around this challenge. For example, attorneys are teaching their clients how to download Zoom on their phones in order to draft affidavits, collect evidence and prepare for trial virtually. "It's really a challenging arrangement and yet we continue to win cases," said Koop.
In Indianapolis and Chicago, USCIS interviews have resumed in person, but the offices look a little different. Masks are required, and Plexiglas shields separate attorneys, clients and officers. While conducting interviews under these circumstances is tricky, attorneys have been willing to proceed because delays can be damaging and prejudicial to their clients' cases. Additionally, delays may cause asylum applicants to be separated from their families who reside outside of the country for longer than they otherwise would be, and increased regulations could prevent them from obtaining employment authorizations.
Likewise, immigration courts have reopened for nondetained hearings with safeguards in place. Masks are required and courtrooms are set up for social distancing. Despite this, hearings are still occasionally continued with as little as a few days' notice due to COVID-19. This presents a client counseling challenge.
Koop, who had a trial for an asylum client continued with little notice in October, said, "We were right down to the eve of her trial putting her through trial preparation and revisiting traumatic events and talking about difficult things. You reach a point where your client has put in so much energy that you don't want to be continued, but you want to respect the rules that are in place and be attentive to public safety and to not exacerbate COVID problems. It is something that previously we would have considered unimaginable." The hearing was reset for December 2023.
Travel restrictions between Indiana and Illinois have also posed issues for attorneys. Immigration court proceedings and asylum interviews for Indiana clients are often conducted in Chicago. Because Indiana was placed on Illinois' mandatory quarantine list, questions are arising about whether attorneys may travel to Chicago for these proceedings. Despite repeated calls to courts, USCIS and other formal channels, the NIJC has not been able to get a clear answer on whether legal work for asylum clients meets one of the exceptions to the quarantine rules.
The pandemic has also created new areas of need for pro bono immigration attorneys. ICE detention facilities have not been immune to spikes in COVID-19 infections, and NIJC is currently assisting clients who are particularly vulnerable to the virus in seeking release from detention by filing habeas corpus petitions in federal court.
"COVID is rampant in all detention centers," Koop said.
Brian Casey, a partner in the South Bend office of Barnes & Thornburg LLP and a frequent volunteer for NIJC, has been working on one of NIJC's habeas cases this year. Along with several other attorneys at his firm, Casey has volunteered for Deferred Action for Childhood Arrivals and asylum cases in the past, and he took on his first habeas case in the spring when Koop reached out and informed him of NIJC's urgent need for volunteers for a growing wave of habeas petitions.
Casey represents an Angolan asylum seeker who is currently detained in an ICE detention facility in Texas. Casey and a team of NIJC lawyers filed a habeas petition on her behalf, seeking her release based on her preexisting medical conditions that make her particularly vulnerable should she contract COVID-19 in detention.
Casey acknowledged that habeas litigation can be a complex area of law. "That said, it's not indecipherable, and NIJC, and I'm sure other similar immigration pro bono advocacy groups, are really good at holding your hand," Casey said.
One challenge is that the application of habeas law to ICE detainees is a relatively new and rapidly developing area of law. Courts are currently split on how to treat habeas petitions filed by civil immigration detainees, Casey said. Some courts have held that immigration detainees challenging their detention in an environment that makes them uniquely susceptible to COVID-19 can only seek relief through a civil rights action, such as under 42 U.S.C. § 1983, not through a habeas petition. But individuals detained in federal detention facilities have limited recourse in civil rights actions, as Section 1983 does not apply to the federal government, and courts are reluctant to allow plaintiffs to bring claims against the federal government based on an implied right of action. Those individuals must obtain relief through a habeas petition or not at all.
Unfortunately for Casey's client, the Southern District of Texas held that she was limited to bringing a civil rights action, not a habeas petition, and so denied her habeas petition. Casey has not given up, though. He and the rest of the team working on her behalf have filed a motion for reconsideration that is currently pending.
"Regardless of the ultimate outcome, it is very meaningful work," Casey said. "Given the detainee population, there is infinitely more work than can possibly be done."
"Brian had no habeas experience and really jumped in with both feet and learned the area of the law and has partnered with us in working to get our client out," Koop said. "We haven't prevailed yet and it has been a challenging and eye-opening experience, but his willingness to jump in on this matter and give this woman a shot at potentially getting relief was incredibly impressive."
Future opportunities for pro bono immigration involvement
Koop also expects the pandemic to increase demand for pro bono services in more traditional areas of immigration law, such as naturalization, asylum and DACA cases. Many of NIJC's usual volunteers are working on cases that have been deferred or delayed because of the pandemic. Because their cases are not being resolved, they are not available to take on new cases.
NIJC provides a wealth of training and resource materials on its website for attorneys who are interested in getting involved, Koop said. NIJC has also continued to grow its habeas litigation project, so there are more habeas opportunities for attorneys looking to get involved in those projects, too.•
__________
• Zena Braish and Emily Kile-Maxwell are associates at Faegre Drinker Biddle & Reath LLP in Indianapolis. Opinions expressed are those of the authors. Indiana Lawyer thanks Kristina Coleman for her prior contributions to this column.
Please enable JavaScript to view this content.