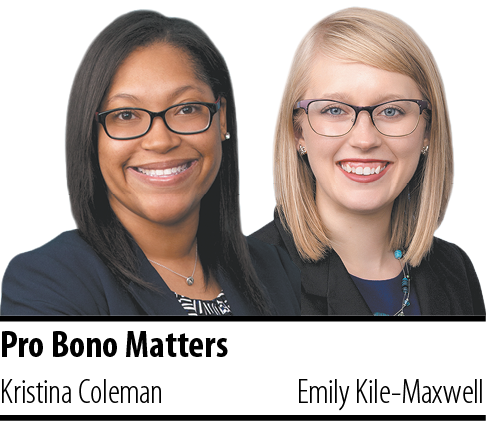 Pro bono and legal aid efforts are not immune to the adjustments needed to serve clients in the midst of the COVID-19 pandemic. Court closures and restrictions on in-person gatherings have forced legal services organizations such as Indiana Legal Services Inc. to get creative about how they can continue to engage volunteer attorneys and provide legal services to those in need. ILS is already starting to plan for the kinds of services it thinks will be most in demand once restrictions are lifted.
Many of ILS' traditional avenues of pro bono service have been upended by the COVID-19 pandemic. Jeff Heck, ILS' pro bono project director, said ILS has been thinking creatively about how to transition some of its pro bono efforts to a virtual format. For example, ILS has been unable to conduct any of its in-person expungement or naturalization clinics. Heck also anticipates that court closures will create a backlog of legal needs in areas such as family law and landlord-tenant law.
"There is bound to be an increase in family law issues, even if COVID-19 doesn't cause them, just because of the fact that 40% of all civil filings are family law filings, and courts have had no hearings for six weeks or so, so the pipeline is plugged up," Heck said.
However, ILS has been taking advantage of this time to train attorneys to provide pro bono legal services so that once courts reopen and ILS is able to continue some of its in-person pro bono programs, there will be attorneys who are already trained. ILS was able to work with the Indiana Commission for Continuing Legal Education to transition its training programs to a virtual format fairly easily. Heck said ILS has already conducted virtual training for lawyers who want to volunteer at naturalization clinics and are asking those attorneys who participated in the training to virtually, with ILS' assistance, help those clients get their citizenship applications filed.
ILS is also transitioning a series of in-person trainings for The Julian Center's new Protection Order Clinic to a virtual format. The pro bono clinic is a collaboration among The Julian Center, ILS and the Center for Victim and Human Rights.
Moreover, ILS has several plans in the works for when court closures and in-person restrictions are lifted. To help address the anticipated family law backlog, ILS is exploring the development of a family law help desk that would be available at the courthouse. This would be similar to Neighborhood Christian Legal Clinic's Project GRACE, which operates a pro se expungement help desk in the basement of the Indianapolis City-County Building. Heck envisions this being a pro bono opportunity requiring only a limited commitment of two to three hours per week, in which pro bono attorneys provide brief advice, answer questions and assist pro se litigants with filling out forms.
In addition, right before the pandemic, ILS was in the midst of setting up an eviction help desk in Warren and Lawrence Townships' Small Claims Courts to address housing issues and ensure the rights of pro se tenants are protected. This initiative started back in January, when Indianapolis Mayor Joe Hogsett joined ILS, Fair Housing Center of Central Indiana and community stakeholders to announce the multifaceted tenant protection and legal assistance initiative. The initiative is aimed at increasing resources for tenants dealing with housing challenges including eviction, substandard housing conditions and retaliatory actions by bad-actor landlords.
The eviction help desk will provide an opportunity for tenants to talk to an attorney before they go into the courtroom. While there is currently a moratorium on evictions and foreclosures, ILS is preparing for the end of the moratorium and exploring the ways technology may be used at the help desk. For instance, Heck envisions tenants having one-on-one Zoom conversations with attorneys to discuss whether they have a valid defense or, if they don't, how they may negotiate an extended move-out date. As with other ILS pro bono opportunities, training will be available.
While it's easy to focus on the negatives that have been associated with the COVID-19 pandemic, Heck sees the technological advancements that have resulted from this pandemic as a glimmer of hope – a ray of sunshine – from a pro bono standpoint. "If we can make this work remotely from Warren Township to downtown Indy, we can do it from Knox County to downtown Indy. Once the technology is in place, the distance won't make a difference – it'll be a good driving force to be able to expand pro bono to some of the areas where historically it has been tough to do."
So here's hoping that some of the technological fixes the legal profession has been using in the short term to stay connected with clients and each other stick around for the long term. Indeed, technology just might be the step forward we need to remedy the pro bono coverage gap in smaller, more rural counties that just don't have a lot of attorneys, but where there is still a need.•
• Kristina Coleman and Emily Kile-Maxwell are associates at Faegre Drinker Biddle & Reath LLP in Indianapolis. Opinions expressed are those of the authors.
Please enable JavaScript to view this content.