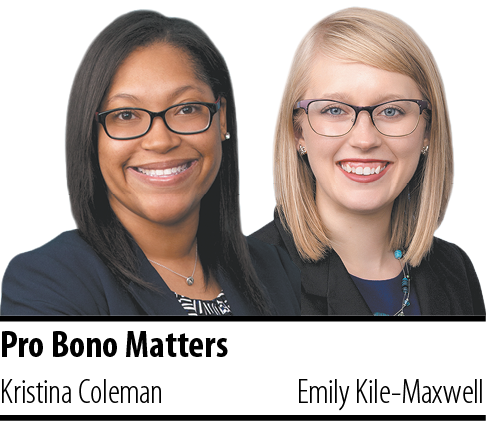 There's a new pro bono organization in town, and it's bringing a relatively large change to Indiana's pro bono system. Pro Bono Indiana was established at the beginning of this year to consolidate the administration of Indiana's pro bono districts while still preserving the autonomy of the local nonprofit programs that have been serving the pro bono districts for years. While the consolidation of Indiana's pro bono system had been considered for quite some time, Indiana is unique in the fact that our pro bono system is actually established by a court rule and, thus, required a change to the Indiana Rules of Professional Conduct to allow this consolidation to occur.
Indiana's pro bono district system was created approximately two decades ago when the Indiana Supreme Court adopted Indiana Professional Conduct Rule 6.5, which was renumbered as Rule 6.6 with the 2004 amendment to the Rules of Professional Conduct. That rule established 14 pro bono districts that were originally aligned with Indiana's 14 judicial districts. The idea behind the enactment of this system was to have locally driven yet statewide pro bono legal services directed toward promoting equal access to justice for all Indiana residents, regardless of economic status. Indiana's pro bono system was eventually reconfigured into 12 pro bono districts.
Since their inception, the volunteer attorney pro bono programs servicing these twelve districts have largely operated in their own silos, delivering and coordinating pro bono services in their respective geographic regions. However, the decentralized nature of Indiana's pro bono programs resulted in some inefficiencies and a desire to provide statewide leadership from the pro bono perspective.
In 2016, the Indiana Supreme Court amended Rule 6.6, thereby creating the Coalition for Court Access — the organization tasked with managing all Supreme Court-related programs designed to provide civil legal aid to persons of limited financial resources. In the ensuing years, the CCA strategized regarding pro bono district consolidation, out of which Pro Bono Indiana was born. As Scott Wylie, interim executive director of Pro Bono Indiana, stated, "The work of the Coalition for Court Access with the support of the Supreme Court and the chief justice is what made this possible. If it were not for the amazing support we have from the court and the chief justice, none of these efficiencies would have occurred."
Over the next year, Pro Bono Indiana will continue merging the local nonprofit programs into a single entity with a single case management system, communication platform, insurance policy and accounting system.
Local attorneys and clients will likely not notice a lot of change to their local pro bono program, other than the fact that the pro bono program will have more time and resources to devote to serving Indiana's low-income and underserved communities.
In addition to the administrative efficiencies resulting from the creation of Pro Bono Indiana, Pro Bono Indiana has also taken over the management and operation of Indiana Free Legal Answers, part of a national virtual legal advice clinic sponsored by the American Bar Association. Volunteer lawyers can register with Indiana Free Legal Answers to help Indiana residents solve everyday legal problems ranging from landlord-tenant issues to bankruptcy problems. Wylie hopes Pro Bono Indiana's statewide operation and sponsorship of Free Legal Answers will result in an increase of volunteer attorneys who spend time answering questions.
Indiana Free Legal Answers is like a virtual version of a walk-in clinic or Talk-to-a-Lawyer events. Hoosiers who meet certain eligibility criteria to qualify for free legal advice are allowed to post up to three legal questions per year on three different topics. Lawyers who are registered to volunteer can select questions to answer, with the opportunity to read the full question before deciding to volunteer to take it from the list and answer it. The volunteer lawyer is given three days to answer the question once he or she takes it from the list and may ask follow-up questions if necessary. Once the lawyer answers the question, the participant can "accept" the answer or send follow-up questions. Users and volunteer lawyers are both informed there is no expectation of long-term representation.
Because Indiana Free Legal Answers is like a walk-in clinic, with no expectation by either the users or the volunteer lawyers that the lawyers will provide ongoing legal services, volunteer lawyers do not need to worry about performing regular conflict checks for every question they answer. Under Indiana Rule of Professional Conduct 6.5, the only conflicts of interest that would preclude a lawyer from answering a question are conflicts that the lawyer actually knows of at the time he or she receives or answers the question.
"It's a really low-stress way to introduce yourself to the needs and the questions that low-income Hoosiers have in the legal arena," Wylie said. "It's very easy to do. Questions range from some that are quite simple and easy to answer, for folks who are newer and feel less confident, all the way to more complex questions that require some specific practice expertise, like bankruptcy."
The Indiana Free Legal Answers platform also allows volunteer attorneys to track their time spent answering questions to make it easy to report their pro bono hours each year with their annual attorney registration.
To find more information about getting involved in your district's local program, visit indianalegalhelp.org or indiana.freelegalanswers.org.•
• Kristina Coleman and Emily Kile-Maxwell are associates at Faegre Drinker Biddle & Reath LLP in Indianapolis. Opinions expressed are those of the authors.
Please enable JavaScript to view this content.