An elected Indiana prosecutor who allegedly failed to disclose to the defense a deal he requested to secure witness testimony against a criminal defendant is facing an attorney discipline complaint.
Putnam County Prosecutor Timothy L. Bookwalter has been charged with professional misconduct by the Indiana Supreme Court Disciplinary Commission. The alleged misconduct is related to Bookwalter's prosecution of a defendant who was convicted last year of nine counts related to a violent 2017 armed robbery that resulted in injury.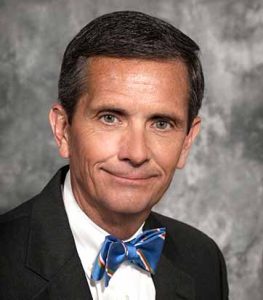 The case involved a predawn armed robbery by four masked men who broke into a couple's home. The husband was knocked unconscious with the butt of a rifle, and he and his wife were locked in a sunroom as the robbers looted their rural Putnam County home.
One defendant, Justin Cherry, was convicted and sentenced in August 2018 to 73 years in prison, according to court records. His convictions were vacated in part due to double jeopardy concerns in a June 21 Indiana Court of Appeals memorandum decision, and records show he was resentenced to a nearly identical term on remand.
A key witness, Michael Hostetter, placed Cherry at the crime scene, and Hostetter also told authorities Cherry had admitted to the Putnam County crime during an unrelated police raid in Marion County, according to the disciplinary complaint. Bookwalter personally intervened with a deputy prosecutor in neighboring Parke County, where Hostetter had been convicted of burglary and sentenced to incarceration in the Indiana Department of Correction, to help get Hostetter's two-year executed sentence modified to home detention, the disciplinary commission alleges.
The deputy prosecutor agreed not to oppose the sentence modification if Hostetter agreed to testify "truthfully at deposition and trial of all co-defendants in Shelby, Putnam, Owen and Parke Counties." On March 6, Bookwalter replied by email that Hostetter "has fully cooperated with us," though at that point the trial against Cherry had not yet begun.
At trial, the commission says, Hostetter was allegedly overheard telling someone in the hallway, "I'm going to f— Justin Cherry up to get out of my cases." Coupled with Hostetter testifying in street clothes, this "gave rise to defense counsel's belief that Hostetter was offered a deal in exchange of his testimony that was not revealed to defense counsel."
At trial, Bookwalter "relented evidence of his (email) exchanges … on behalf of Hostetter's request for home detention," according to the commission. This prompted the judge to issue this jury instruction: "The State of Indiana has a duty to timely disclose any information about witness contact or assistance to the Defendant. The State did not disclose it had contacted the Parke County Prosecutor about Michael Hostetter's request for modification of his sentence. The Defendant was unaware of that communication when Mr. Hostetter testified."
The commission alleges this conduct violates Rule 3.8(d) of the Indiana Rules of Professional Conduct regarding prosecutors' duties to disclose to the defense "all evidence or information known to the prosecutor that tends to negate the guilt of the accused" as well as "all unprivileged mitigating information known to the prosecutor."
Bookwalter is represented by Paganelli Law Group lead counsel James Bell and co-counsel Stephanie Grass. Bell said in a statement Monday, "Mr. Bookwalter and I have received the complaint, we are reviewing it and are currently preparing our answer."
The case is In the Matter of Timothy L Bookwalter, 19S-DI-00574.
Please enable JavaScript to view this content.