Prosecutors are asking for an eight-year prison sentence for former financial executive Kerri Agee of Noblesville, who was found guilty in August of four counts of wire fraud and one count of conspiracy.
It's the latest development in a tangled web of criminal, civil and bankruptcy cases that Agee has been at the center of since the firm she founded, Westfield-based Banc-Serv Partners LLC, imploded in 2018.
At a sentencing hearing scheduled to take place Thursday in U.S. District Court in Indianapolis, prosecutors planned to ask that Agee be sentenced to eight years in prison followed by three years of supervised release. Prosecutors filed their request with the court Thursday afternoon.
Agee was one of five defendants in the Banc-Serv case. All five were found guilty, and their sentencing hearings are scheduled to begin next week.
Jon Bont of Carmel-based Paganelli Law Group is representing Agee in her criminal case, and he is one of the attorneys representing her in her bankruptcy case, along with lead bankruptcy counsel Wendy Brewer, an Indianapolis-based attorney with Louisville law firm Fultz Maddox Dickens PLC. Bont is also representing Agee in a civil suit she filed in 2018 against New York-based Newtek Business Services Corp., which acquired Banc-Serv in 2016.Meanwhile, Agee's personal bankruptcy case is ongoing, but settlements have been reached in two significant matters related to that bankruptcy.
Citing the need to prepare for Agee's sentencing hearing next week, Bont declined to speak with IBJ for this story.
Brewer also declined a request for comment.
IBJ also left phone messages at numbers it believes to be associated with Agee, but those messages were not returned.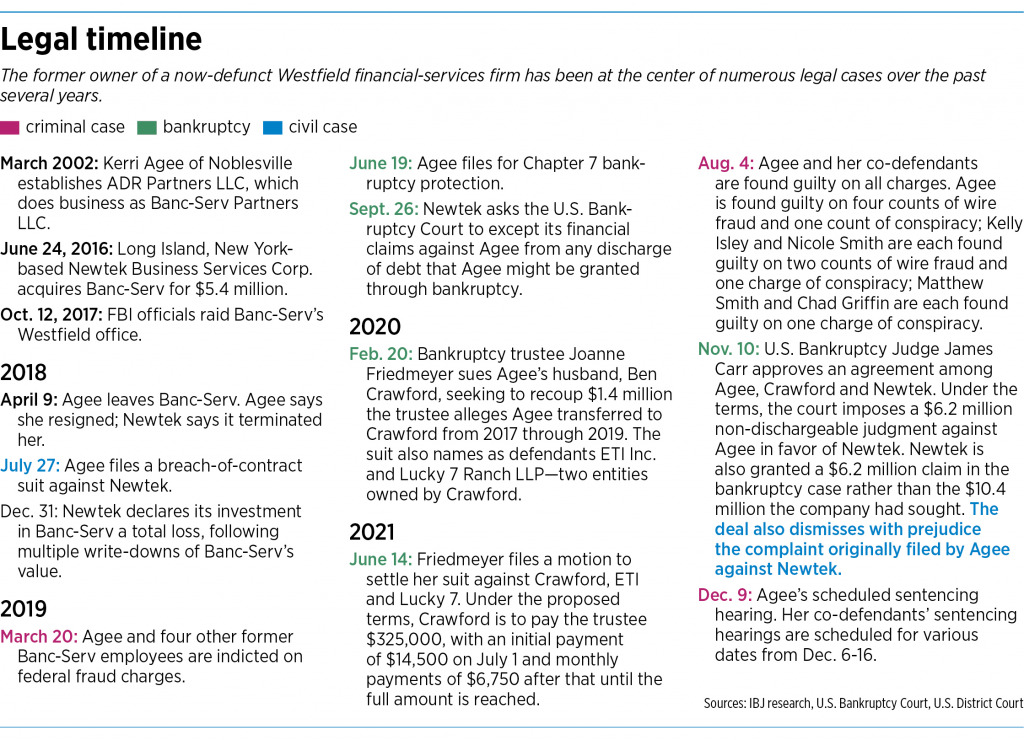 Some background
In 2002, Agee founded Banc-Serv, a company that offered back-office services for banks that participate in the U.S. Small Business Administration's federal lending program. She sold the company to Newtek in June 2016 for $5.4 million.
Agee left Banc-Serv in April 2018, and in July of that year, she filed a breach-of-contract lawsuit against Newtek, claiming that it moved her out of management and refused to pay bonuses and severance to which she was entitled. By the end of that year, Newtek had declared its investment in Banc-Serv a total loss, following multiple write-downs of Banc-Serv's value.
In March 2019, Agee and four other former Banc-Serv employees were indicted on federal fraud charges, following an FBI raid of Banc-Serv's office that had taken place in October 2017. Prosecutors said the five defendants had defrauded the SBA by submitting false information during the loan application process from 2004 to 2017. In doing so, prosecutors said, the defendants secured SBA guarantees for more than $10 million in loans that should not have qualified for them.
Agee filed for Chapter 7 bankruptcy protection in June 2019, and in September of that year, Newtek filed its own legal action asking the bankruptcy court to except its financial claims against Agee from any discharge of debt that she might be granted through the bankruptcy. Newtek said Agee had withheld certain information about Banc-Serv's financial condition, and Newtek would not have purchased the company if it had known.
The Dallas-based attorney representing Newtek did not respond to emails and phone messages seeking comment.
Though Agee is married, her husband, Ben Crawford, is not named as a co-debtor in his wife's bankruptcy case. He became involved when bankruptcy trustee Joanne Friedmeyer sued Crawford in February 2020, seeking to recoup $1.4 million the trustee alleged Agee had transferred to her husband from 2017 to 2019.
Recent developments
The past several months have brought significant developments in both the Newtek and Crawford cases, both of which are proceeding within Agee's bankruptcy case.
In June, Friedmeyer notified the bankruptcy court that she and Crawford had reached a proposed settlement in which Crawford will pay the trustee $325,000 over time, rather than the $1.4 million she had originally requested. Under the settlement terms, if Crawford defaults on these payments, he will become subject to a $500,000 consent judgment.
Crawford's attorney, Sarah Fowler, of the Indianapolis firm Overturf Fowler LLP, said Crawford is making the settlement payments in installments, as the agreement specifies. Crawford's initial payment was for $14,500, with monthly payments of $6,750 after that until the entire settlement is paid.
"He entered into the agreement in good faith, with every intention of making the payments," Fowler said. "He has made the payments as required and intends to continue to do so."
Fowler declined to make other comments about the case and would not answer a question about whether Crawford has the ability to repay the entire $325,000.
She said the bankruptcy court hasn't yet approved the settlement, but under terms of the agreement, Crawford began making payments on July 1. The money is being held in escrow by Fowler's law firm for now. Any objections to the agreement are due to the court by Dec. 15, but Fowler said she does not anticipate such objections.
Indianapolis attorney Jim Young, a partner at Rubin and Levin PC, is representing Friedmeyer in her case against Crawford. Young said he expects the settlement agreement to be approved "any time," though he declined to comment further on the case.
Meanwhile, U.S. Bankruptcy Judge James Carr has approved a settlement in the Newtek case.
Under the terms of that settlement, which Carr approved Nov. 10, Newtek has been granted a $6.2 million claim in Agee's bankruptcy case, rather than the $10.4 million Newtek had sought. The court has also imposed a $6.2 million judgment against Agee and in favor of Newtek. The judgment is non-dischargeable, meaning it will not be affected by any discharge of debt Agee might be granted through bankruptcy.
The Newtek settlement also dismisses with prejudice—meaning it can't be refiled—the civil suit Agee filed against the company in 2018.
The bankruptcy case is still pending. Indianapolis attorney Mark Zuckerburg, who specializes in personal bankruptcy but is not involved in Agee's case, said the dollar amounts involved are unusually high, especially the $6.2 million judgment. "That's a big number."•
Please enable JavaScript to view this content.