Southern Indiana District Court Magistrate Judge Doris Pryor's nomination to the 7th Circuit Court of Appeals has advanced to the full U.S. Senate after the Senate Judiciary Committee voted in her favor Thursday morning, with two Republicans breaking from their party despite the ranking member announcing his opposition to her confirmation.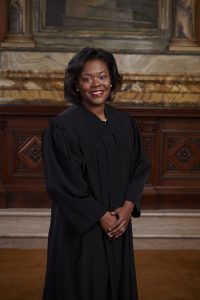 Pryor, the national security chief in the U.S. Attorney's Office for the Southern District of Indiana before joining the U.S. District Court for the Southern District of Indiana, was tapped by the Biden administration to fill the vacancy created on the 7th Circuit by the impending retirement of Judge David Hamilton. If she is confirmed, Pryor will be the first Black woman from Indiana to serve on the Chicago-based appellate court.
Judiciary Committee Chair Sen. Dick Durbin, D-Illinois, summarized Pryor's professional career and highlighted the qualities she would bring to the circuit court.
"She's demonstrated a capacity for even-handed decision making," Durbin said. "This is an exceptional nomination."
Pryor, who received a unanimous qualified rating from the American Bar Association, passed the committee on a 13-9 vote. Two Republicans, Sens. Lindsey Graham of South Carolina and Thom Tillis of North Carolina, joined all the committee Democrats in moving her nomination to the Senate floor.
Speaking before the votes on the nominations began, Tillis announced that although he would be voting in favor of three nominees, he would oppose them once they arrived in the full Senate.
In his opening remarks, Committee Ranking Member Sen. Chuck Grassley singled out four nominees he would be voting against. Pryor was on that list.
The Iowa Republican said he had given a lot of consideration to his vote on Pryor's nomination but remained concerned about her answers to questions about the U.S. Constitution.
During her confirmation hearing in July, Pryor was quired by Sen. Mike Lee, R-Utah, about a 2019 speech she made at her son's elementary school to commemorate Constitution Day. Lee pushed Pryor as to whether her use of the term "living document" indicated that she believed the Constitution's meaning changes over time.
"Despite several attempts, Judge Pryor wouldn't give a firm answer to that question," Grassley said. "I've said before that circuit court nominees need to show that they'll enforce the law and Constitution as written. I don't think her testimony met that standard."
Indiana Sens. Todd Young and Mike Braun, both Republicans, are supporting Pryor's elevation to the 7th Circuit. Durbin called the committee's attention to the cooperation from the two Hoosiers in filling the vacancy and in submitting their blue slips. 
"I want to say that receiving blue slips from two Republican senators, in this case Sens. Young and Braun, is extraordinary in this committee and I hope there'll be more evidence of that kind of cooperation," Durbin said.
When the Senate will vote on Pryor's confirmation is uncertain. The senators are scheduled to recess Aug. 8 and not return until Sept. 6.
Please enable JavaScript to view this content.