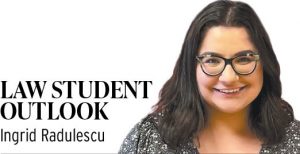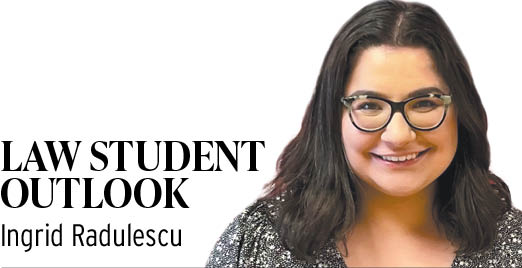 Many law students start law school with ambitions of pursuing public interest work, seeing their future selves in roles such as public defense, legal aid or at a nonprofit. However, that interest dwindles as the realities of practicing in those roles set in. There is a large misconception that pursing public service is a "backup plan" for students who do not end up at law firms. That could not be further from the truth. There are many obstacles to pursuing public interest work: Beyond the sometimes difficult subject matter of public service jobs, the financial concerns, competition, lack of institutionalized resources and notoriously ambitious timelines combine to make this route a taxing one to pursue. That challenge is not exclusive to any one law school, but rather a larger problem within the legal profession. It has created what some scholars have labeled an "access to justice" problem. In other words, while there is a great need for more attorneys, the lawyers being produced by law schools are inaccessible to most Americans, particularly those that live in rural or low-income urban areas. Why does that matter? Because the legal profession is one of service, and law schools are uniquely positioned to serve their communities. This article will preview the public interest landscape at the Indiana University Maurer School of Law and highlight some ways the law school is attempting to remedy this conundrum.
IU Maurer is deliberately building a world-class public interest program. Part of Dean Christiana Ochoa's agenda for IU Maurer includes bolstering and strengthening the public interest programs that already exist at the law school. "It's a matter of storytelling and presentation" Ochoa says. For example, IU Maurer has a growing criminal law program with five renowned faculty teaching groundbreaking seminars — three of whom will be new to IU Maurer in the fall. Other opportunities to gain practical exposure to criminal law include the Bradley Fellows program, the Reentry Clinic, Habeas Litigation Practicum, criminal law-focused externships and the Incarcerated Individuals Legal Assistance Pro Bono Project, with potentially more to come, as hinted at by Dean Ochoa. These programs encourage and inspire law students to serve their communities. Embedded in IU Maurer's J.D. learning outcomes is the goal to generate future lawyers with "a commitment to the rule of law, access to justice, and public service." Those J.D. learning outcomes are created by each law school and therefore are unique to each school. Professor Andrew Hammond, who recently joined the faculty at IU Maurer, admitted that one of his main reasons for joining the law school was because "a lot of faculty are doing research that has real-world impact in the state of Indiana and beyond." While the law school is actively working on creating more resources for students to engage in public service work during law school, it is still difficult to carry those expectations into the future.
Among employed IU Maurer graduates, an average of 23% end up doing public interest work, including government jobs, right after graduation, while an average of 47% go to private firms. Justin Zuschlag, the public interest designated career adviser at IU Maurer, states: "I don't think students realize how big of a pay gap exists between different work environments and, when they look at their own financial situations, they see increased challenges to pursuing public interest work long term." There is much debate over what is allowed to "count" as public interest work. For example, some would argue that judicial clerkships and government work should not be considered public interest work. If that were the case, the average would go down to 7% of students ending up in public interest work right after graduation. While that may seem like pure semantics, it matters when it comes time to award scholarships and distribute funding to students doing those externships during the summer.
Unfortunately, public interest organizations have limited budgets and often do not pay their externs. Newer generations of lawyers and law students are more critical than ever about unpaid labor. Some consider the pursuit of unpaid public interest opportunities to be a privilege because many first-generation or lower income students cannot rely on unpaid work to get them through summers during law school.
A seminal organization within the law school is the Public Interest Law Foundation, otherwise known as "PILF." Many law schools have a PILF or similar organization that acts as the cheerleader for all things public interest. Former PILF President Hadley Smithhisler reasons that "the biggest obstacle to pursing public interest work is money. Law school is extremely expensive, even for students with scholarships. It is a huge financial risk to pursue unpaid public interest work while in school and to take out more loans knowing that post-grad public interest jobs often have much lower salaries than other legal jobs." The IU Maurer PILF chapter recently held its annual fundraiser — and the most beloved event in the law school community — "Singing for Summer Salaries." Each year, IU Maurer professors and staff compete against each other to sing in front of the whole school. This year they raised $20,832 from the event, and the funds directly support law students doing unpaid public interest externships during the summer. Yet that funding is still woefully insufficient to abate the very real financial concerns of public interest-minded students. There is no magic solution for this issue that is seen across all law schools in the United States. It goes without saying that students need more money and better resources to pursue public interest work.
Access to Justice fellow and second-year law student Andrew Parra points out: "I think a lot of people tend to conflate public interest and pro bono. Everyone should aspire to do pro bono, which is providing services to disadvantaged individuals without expectation of compensation. Public interest work is designed to not just benefit your client but also the wider community, whether that is through legal aid, government or a nonprofit." It's just as important for those planning to pursue firm or transactional work in the private sector to engage in pro bono work. If they start doing so in law school, then that tradition and value is more likely to carry into their legal career. By sustaining and building more public interest-orientated opportunities such as pro bono projects, clinics and community service, IU Maurer and other law schools play an important role in the preparation of the next generation of lawyers who are willing to the maintain their public interest aspirations into their future careers.
However, the problems of funding and pay disparities remain. Unless and until a magic wand can be waved, we need to pursue better solutions to closing the access to justice gap and providing more meaningful and financially equitable pathways into public interest legal careers.•
__________
Ingrid Radulescu is a 3L at Indiana University Maurer School of Law. Opinions expressed are those of the author.
Please enable JavaScript to view this content.