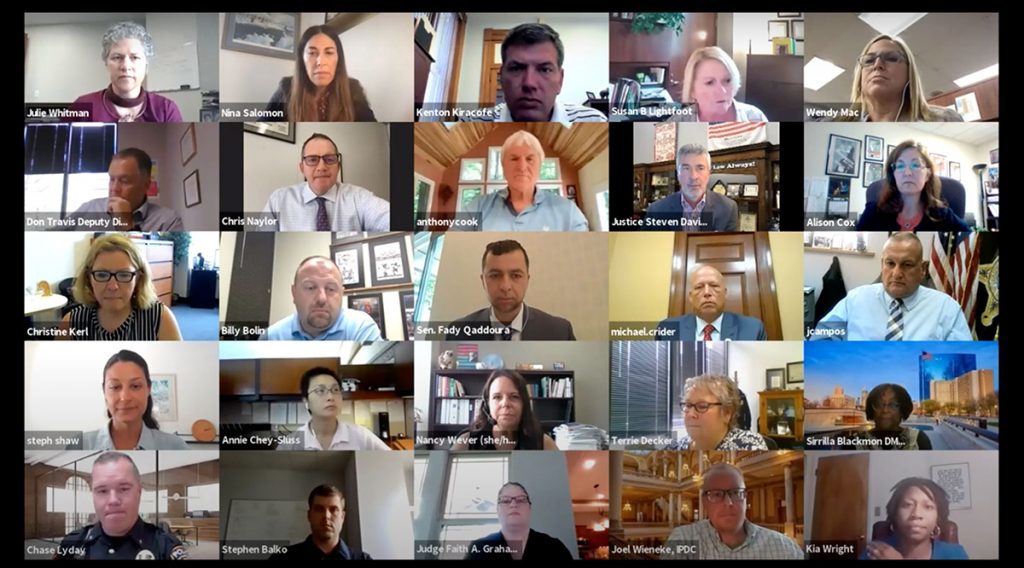 Steps to addressing critical issues facing Indiana's juvenile justice system are already underway with the help of a national nonpartisan organization.
A report from the Council of State Governments Justice Center has identified six areas for reform in Indiana's juvenile justice system as well as six recommendations for improving that system.
Indiana launched a Juvenile Justice Reform Task Force last year to analyze the state's youth justice system and pinpoint places for comprehensive change. Housed under the umbrella of the Commission on Improving the Status of Children in Indiana, the taskforce worked with CSG on a preliminary assessment of the system's health.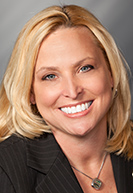 The task force is co-chaired by Sen. Michael Crider, R-Greenfield, and Rep. Wendy McNamara, R-Evansville, who proposed taking a deep review of Indiana's juvenile code and developing legislation to address its needs.
Working groups stemming from the taskforce have since been established, with members digging deep into data to uncover solutions for Indiana's youth.
Initial steps toward reform will begin with CSG presenting its findings to the working groups, as well as information about what other states have done on the same issues, national research and best practices. From there, it's up to the working groups to deliberate on whether there's a need for legislation, administrative policy change or another route for improvement.
The working groups are broken into four categories with individual objectives:
Overall system: How do kids get referred in the first place, where are they coming from and what offenses are leading them into the justice system? Also addresses diversion.
Disposition and out of home placements: How are those decisions being made and is standardization needed?
Services: What services, if any, kids are getting from the departments of Correction and Child Services, and are they being matched with what they need?
Data: How can Indiana strengthen the way it collects data and how can the state make it more consistent and useful?
"I'm hoping that we will use this data to put in place some commonsense policy that is good for kids and the community," said Julie Whitman, executive director of the Children's Commission. "And good for the state and county's budgets, frankly."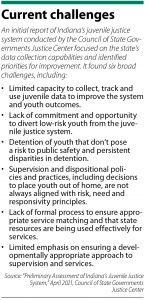 Effective communication
Not devoid of success, the CSG report acknowledged that Indiana has made steps toward improving its juvenile justice system in recent years. It found committed juvenile populations were reduced by more than 60% between 2007 and 2017, while delinquency case filings declined by more than 45% from 2009 to 2018.
The reported noted 32 of Indiana's 92 counties participate in the Juvenile Detentions Alternative Initiative, and 70% of Hoosier youth ages 10 to 17 live in a JDAI county. It also credited the creation of the Children's Commission in 2013, as well as the creation of a dual status statutory framework to support youth involved both in the child welfare and juvenile justice systems.
Most recently, Indiana's juvenile justice reform legislation — Senate Enrolled Act 368 — was signed into law in April. The bill, championed by justice reform advocates and authored by Sens. Karen Tallian, D-Ogden Dunes, and Sue Glick, R-LaGrange, addressed juvenile competency, expunging juvenile records and removing young people pretrial from adult jails, putting Indiana in line with federal requirements.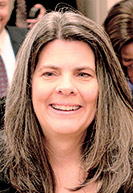 But the assessment also found gaping holes in certain areas of the state's juvenile justice system, beginning with one of the most significant challenges: its hodge-podge data collection.
Specifically, CSG noted Indiana has no unified and coordinated statewide vision for collecting data on its juveniles. It found multiple data systems being used by local jurisdictions, probation and judicial systems, as well as completely different systems used by the Department of Correction and the state.
"None of those systems are talking to one another and there is no unique identifier to follow a young person as they move across the juvenile justice system from point of arrest or referral through the end of the system if they are incarcerated," said Nina Salomon of CSG.
As a result, CSG said, that makes it "difficult to know if the juvenile justice system has improved public safety and achieved positive outcomes for youth."
JauNae Hanger, president of the Children Policy and Law Initiative, said the lack of communication between data collection systems struck her. She said it's critical to share outcomes with other agencies to determine what's most effective for kids.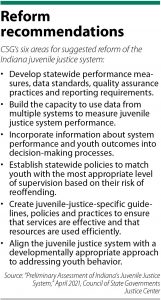 'Ambitious timeframe'
Moving forward, CSG made many recommendations aligning with issues considered in SEA 368.
"Indiana should consider the most appropriate way to balance public safety with the benefits of employing a more developmentally appropriate approach to addressing youth behavior in a number of areas," the assessment says.
Some of those include automatically expunging juvenile records, limiting fines and fees, and keeping juveniles out of adult jails and prisons before trial. CSG also recommends the state establish a minimum age for juvenile court jurisdiction for most, if not all, offenses and for secure detention.
Getting an expungement as a juvenile or limiting fines and fees would have made a significant difference in Del Collins' life. After getting into trouble as a kid, the SEA 368 advocate had a record that still poses a roadblock to more desirable jobs for Collins, even with an adult expungement.
"I think the issues they mentioned in this report are right on," Hanger said. "We have a lot of data at the national level and it's something that we need to look hard at and take a long-term view on what is best for young people."
Hanger said she thinks if the work jumpstarted by the CSG preliminary report continues at this level of quality, good change could happen for Indiana's youth.
"I think it's really important to have that independent facilitation going on where (CSG) can tap into resources that really can help the state move forward without reinventing the whole thing all the time," Hanger said. "I think there is a lot of hope and promise for it."
Justin Ohlemiller, executive director at Stand for Children Indiana, said he is also hopeful. He cited the task force's aggressive timeline and said the momentum to get these findings to the General Assembly in January is encouraging.
"I think it shows there is momentum there, and they did a great job of outlining all of the overarching challenges," he said.
The task force is set to meet again Sept. 15 to begin analyzing the data and developing a reform plan to be adopted by the end of the year.
Whitman said the tight timeframe is meant to allow opportunity shouldchanges be presented during the upcoming legislative session.
"It is an ambitious timeframe," she said. "We will just have to see where we get this year. We'll have to see what the data says."•
Please enable JavaScript to view this content.