Indiana Chief Justice Loretta Rush is set to give her annual State of the Judiciary address on Wednesday, the Supreme Court has announced.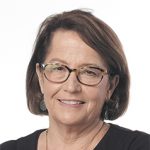 Rush will deliver her annual update on the conditions of Indiana's courts at 2:30 p.m. Jan. 12 in the Indiana House Chamber at the Indiana Statehouse. As required under Article 7 § 3 of the Indiana Constitution, Rush will address Gov. Eric Holcomb and a joint session of the Indiana General Assembly, one day after Holcomb will deliver his State of the State address.
Titled "Indiana Courts: Fulfilling Our Constitutional Responsibilities," the 2022 address will focus on the judiciary's "critical work" to increase public trust, strengthen Hoosier families, improve public safety and modernize courts.
The 2022 address will be held in person. Due to the pandemic, Rush presented her 2021 update virtually in a prerecorded video posted to the Indiana Supreme Court's website.
During last year's address, the chief justice focused on the courts' response to the pandemic and how Indiana's judiciary "adapted and innovated."
A live virtual option will be available to viewers of the 2022 address online at courts.in.gov. Indiana Public Broadcasting Stations will also air the address.
Read more about the 2022 State of the Judiciary address in the Jan. 19 issue of Indiana Lawyer.
Please enable JavaScript to view this content.