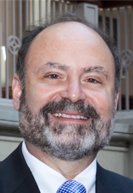 By Ed Schrager
By any measure, 41 years is a long time. So, the fact that my career passed in a flash perhaps speaks to how engaging, compelling and consuming the practice of law is, at least to those of us who view it as more than a job. The practice of law is a calling — and a sacred one, at that. During the past year, as I have reflected on these 41 years, I decided to capture my thoughts in this article.
As a 10-year-old, I was "called" to the law by both Perry Mason and my dad, a solo practitioner in South Bend. Back then, everything about the law seemed big, important and virtually of an entirely different dimension. At that age, my regular staple of reading was comic books (Superman and Archie). Surreptitiously, however, Dad's deposition transcripts also found their way onto my reading list. That a lawyer could ask questions of a witness under oath, and that it was all taken down by a court reporter, was almost as amazing as if my dad had levitated from his big comfortable office chair. Objections were another wonder of the lawyer world. As I was to learn early on in my practice, simply because a question is legitimately objectionable, a lawyer should not necessarily object despite how personally rewarding it may be. Over the years, I never lost my sense of wonderment.
My formative years as a lawyer are reminiscent of a story told by Harry Truman when he arrived in our nation's capital as a young senator. A mentor told him, "Harry, for the first few years you will wonder how you got here and what are you doing among all these other senators. After that, you will wonder, how did they get here and what the hell are they doing?" I remember and honor my mentors: my dad, David Holt, Leonard Opperman and Jack Thar.
The more I learned and experienced, the more it was reinforced that trial practice requires in-depth and minute preparation. Early in my practice, I found it convenient to think I understood the case when, in fact, my knowledge was rudimentary and fleeting. The more the case is learned, the more there is to learn on a subgranular level. The facts must be known by second nature.
When the lawyer's knowledge of the facts is solid, a strong understanding of the law applicable to the case is next on the list. Customarily, there are only a few legal principles in the typical case plus evidentiary issues that arise, all of which should be anticipated through discovery and, therefore, addressed internally before the court proceedings begin. Prepare as you would if you are the opposing lawyer so that you can be ready for cross-examination and legal issues that develop. It never ceased to amaze me when an obvious objection is made, and the opposing lawyer scrambles to check the Rules of Evidence as if it was all a surprise.
Consideration must be given regarding the presiding judge. Just as every umpire has a different strike zone, so too does every judge. I tried cases differently depending on the judge (e.g., this judge is patient and will give leeway or that judge is impatient and is a stickler for the rules). Another judge may be limited in his knowledge of the Rules of Evidence.
There are only 71 rules of evidence while there are 206 bones in the human body. Would you go to an orthopedic surgeon who does not have solid knowledge of all the bones in the body? Consider Evidence Rule 615, which allows an expert to be an exception from the separation of witnesses order. Consider Rules 901 and 902 and the nuanced way these rules interact with Rules 801 and 803. If an upcoming hearing or trial involves a witness with a fuzzy memory, review Rules 612 and 613 before trial. Establishing the need for a witness's memory to be refreshed can be tricky. It is common for lawyers to stumble in laying the appropriate foundation. Be sure that you have a second-nature grasp of the Rules of Evidence.
I am grateful for the breadth and scope of my practice and the many varied cases in which I was involved. At the same time, I know that now is the time to step back. There are areas of the practice that I reflect on with particular fondness:
Legal writing. I loved writing proposed findings and conclusions. Taking several hours or days from a hearing and boiling it down to subtle advocacy in three parts was always so fulfilling. Sometimes requiring 20 drafts, starting with a word soup of facts and law with an order swimming around in my brain and turning it into a polished, presentable piece of advocacy is a quiet, yet important, role of a litigator. Typing away at the proposed findings and conclusions and listening to classical music or blasting Springsteen while shutting out the rest of the world was rewarding and cathartic, likewise with briefs and memoranda. Of course, the best practice is to prepare the proposed findings before the hearing as a means of preparation and to ensure all necessary evidence makes it to the record.
Trial practice. To my very last jury trial, I felt the same goosebumps I felt when the judge swore in the jury during my first trial 40 years earlier. So enjoyable was it to work on a team with other lawyers, paralegals and staff. Although we always put the task at hand at the forefront, we also collectively enjoyed the process and developed a camaraderie. It was great to see young lawyers grow where it was only a matter of time before they would stand up to me and tell me I was off-base (thank you, Kathy Harmon and Jennifer Stevens, my two best associates).
Good, prepared, conscientious judges. It was always a pleasure to appear before judges Felix, Najar, Nation, Proffitt, Carlisle, Osborn, Welch and Loyd (and others, as well). They took their responsibilities seriously and worked hard to fairly dispense justice, irrespective of the type of case or the opposing counsel. My memory is particularly fond of federal judges Dillin, McKinney, Barker, Foster and Sweeney.
The United States Attorney's Office. Over the past 40 years, I had several hundred federal criminal cases. Without exception, the relationships with the assistant U.S. Attorneys were cordial and mutually respectful. A high level of trust existed between that office and myself, and, I believe, other defense lawyers, as well. The pettiness, the sniping, the discovery tricks and the exhausting drama endemic in civil practice simply does not exist in the federal or state criminal bar. I do not recall a cross word or raised voice in my dealings with federal or state prosecutors.
Here is what I will not miss:
Unprepared judges. There seems to be a direct correlation of judges who dress casually for the job and the casual, haphazard way they dispense justice. Just as lawyers wear formal business attire in court, so too should the judges. Golf shirts and knockaround shoes should not be worn in a courtroom by its officers. For most court proceedings, it is the first time a litigant has been in court. A first impression of a casual judicial appearance cannot be unseen. Show me such a judge and I will show you a judge who walks into the court room and asks, "What is this matter about?" without shame or embarrassment.
Deceptive lawyers. Lawyers who deliberately misstate legal authority and do so repeatedly in written filings have no place in our system. Six years ago, the Indiana Court of Appeals in the case of Memory Gardens Management Corp., Inc. v. Liberty Equity Partners, LLC, 43 N.E.3d 609 (Ind. Ct. App. 2015), found procedural and substantive bad faith by the misrepresentation of the facts and legal authority, for which the appellant was strongly sanctioned. The federal court does not tolerate it and I hope the state courts will follow suit.
Discovery manipulations. Some lawyers see it as their jobs to provide as little as possible and posit the most inane and meritless discovery responses. Discovery is an abused area of litigation. I have never understood the role of general objections. Routinely, lawyers object to everything including the definitions section of written discovery submissions when they understand well and good what is sought by way of discovery. Why not consider this: Respond to discovery as if one is proud of their case and confident in their prospects? Years ago, I had a case with John Maley, an outstanding litigator. We proceeded to mediation and John gave me his confidential mediation statement. John's point was: Here is my case; it is a compelling one. We need not hide behind confidentiality, which will not exist if there is a trial.
My parting suggestions are to: develop a reputation for being honest and brutally tough. Communicate in person as much as possible. Deliver on promises and your obligations. Have a short memory and give your client absolutely everything you have. Refrain from speaking ill of your client to opposing counsel. Realize that even though you have been in court a thousand times, it may be the first time for the client. Consider calling the client the evening following the hearing to check on them. There are thousands of lawyers out there. Justify the client's trust in you. Leave it all on the field. Enjoy the best profession in the world.
"And on we go" (David McCullough).•
• Ed Schrager has been rated by Martindale Hubbell as AV since 1999 and was designated as a Super Lawyer every year since 2008. Ed will reside in southwest Florida and in New England during retirement. He can be reached at edward[email protected]. Opinions expressed are those of the author.
Please enable JavaScript to view this content.