The Indiana Department of Correction routinely works with offenders to plan for housing and services, including health care treatment, upon their release.
But what happens if there's no place for an inmate to heal once their time behind bars is up? Senate Bill 63, requested by the department, would address that issue and consider mental health treatment for inmates.
"In instances where new needs arise or circumstances change, SB 63 permits an offender to stay 14 days past their release date if a medical reason exists, and the stay is needed to find a new housing or treatment setting," a DOC spokesperson said in an email.
The bill would address an occasional problem encountered by the DOC, where inmates who have severe mental health issues and who need to be treated immediately upon release might not have a secured spot in a hospital or treatment center because there are no available beds at the time.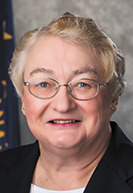 The bill's ultimate goal is to prevent people who need mental health services help from being put out on the street with nowhere to go, said author Sen. Sue Glick, R-LaGrange, during a Senate Corrections and Criminal Law committee hearing.
For its part, the DOC says its goal is "to provide holistic and person-centered transitional care planning for offenders being released." As it reads, SB 63 would allow the DOC to provide these services to offenders, even when special circumstances and issues with the availability of transitional care services arise.
"All they are asking is upon consent by the individual or court order that the DOC be allowed to hold the person up to 14 days past their release date, and that is only for the protection of the incarcerated individual and to provide for a bed to open up at an institution," Glick explained. "It's not an attempt to hold them longer or an extended period of time. It's only to find a placement for them so they are not thrown out in the general population with no protections."
Specifically, the language of the bill states that the DOC may permit an offender committed to the department to remain within a treatment facility operated by the department for no longer than 14 days past their mandatory release date under certain circumstances.
One of those circumstances is if the offender has a serious physical or mental disorder or disability and is being held in the treatment facility operated by the department until they may be placed in a similar treatment setting outside the department. Another is if the department made a good faith effort to timely place the offender in a treatment setting outside the department on or before the offender's mandatory release date. Lastly, the hold would apply if the offender consents to being held in a treatment facility operated by the department beyond their mandatory release date or has been ordered by a court to be committed to a treatment setting outside of the DOC.
"It's a stopgap measure to make sure that a person with a serious mental health issue isn't put out on the street with no place to go in a serious mental or physical state upon their release," Glick said.
Getting help
Treating the mental health issues faced by Hoosier inmates is a critical task statewide. Monroe County prosecuting attorney Erika Oliphant said that the issue is a common theme in criminal cases, and if left unaddressed, could result in offenders returning to the criminal justice system.
"Releasing people straight from incarceration without giving them the tools to succeed would likely lead to recidivism. Having treatment lined up can give them skills or other support that they need to be successful when they are reentering a life that is not in incarceration," Oliphant said.
The prosecutor said she thinks SB 63 is interesting and that it's always a good idea to have a plan in place upon an offender's release.
"I think it's very important for folks who do have these mental health issues who are incarcerated to have treatment lined up so they can work on these issues and avoid getting back into the criminal justice system," she said.
In her work with the Monroe County Mental Health Court, Oliphant said she sees the nexus between criminal behavior and mental health issues. Each participant requires a tailored treatment plan and has a different experience based on his or her specific needs.
"We are finding that we are giving these folks tools to live independently and to avoid coming into contact with the criminal justice system in the future," she said.
Oliphant said she thinks mental health issues are prevalent among Indiana inmates. From her personal experience, she thinks a lot of folks end up without the same tools to take care of themselves and to have positive peer associations as others do if they have prior trauma or undiagnosed, untreated mental health issues.
"But I think a lot of people who are involved in the criminal justice system have some at least untreated or undiagnosed mental health issues that contribute to them getting in trouble," she said.
"Behavioral and physical health issues for offenders being released require individualized transitional health care coordination and planning in order to continue care for those issues," the DOC said. "This legislation can help us ensure that care will continue upon an offender's release."
As of IL deadline, Senate Bill 63 was was scheduled for a Feb. 1 third-reading vote in the Indiana Senate.•
Please enable JavaScript to view this content.