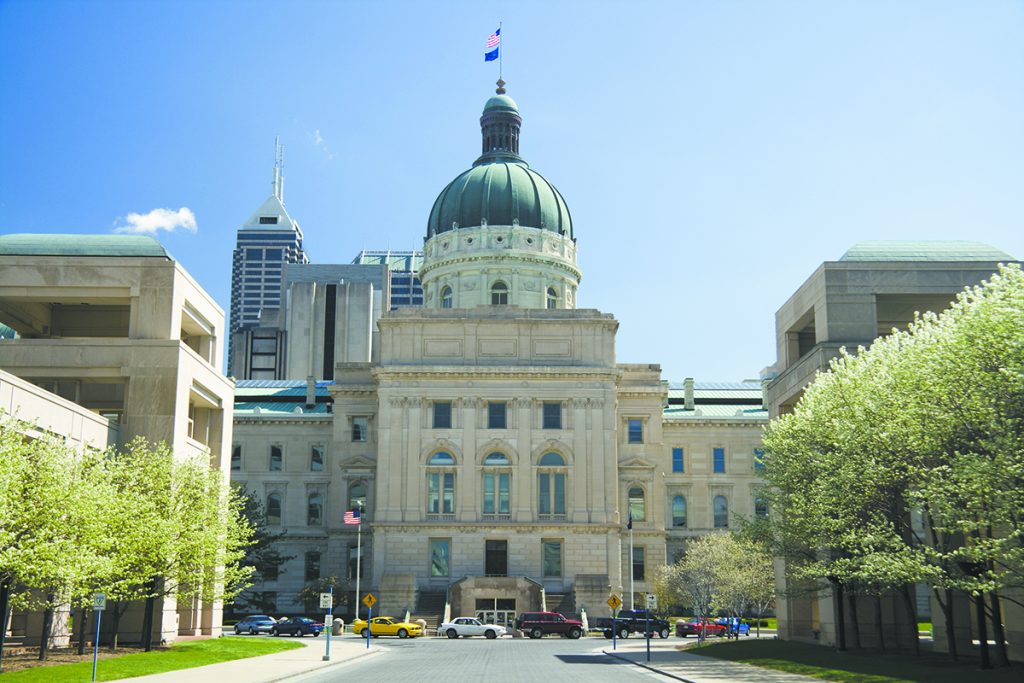 A bill that would have done away with the statute of limitations for certain child sex abuse crimes is making headway in the 2020 Indiana General Assembly. But some advocates are disappointed in how the bill has panned out.
Indiana Senate Bill 109, proposed by Sen. Michael Crider, R-Greenfield, initially aimed to extend the amount of time survivors have to bring criminal charges against their abusers. Under current state law, Hoosiers who were sexually abused as children have until age 31 to criminally prosecute those who harmed them.
An amendment authored by Sen. Mike Young, R-Indianapolis, to SB 109 would ultimately keep the statute of limitations in place, but allow for three exceptions to the rule if one of three things occurs: DNA evidence sufficient to charge the offender is discovered, a recording of the crime is revealed, or a confession is made.
From that point forward, law enforcement would have five years to pursue a criminal prosecution, even if the age 31 statute of limitations has passed. Those exceptions are also offered for survivors of rape, introduced in a 2015 bill authored by Crider known as "Jenny's Law."
As currently proposed, the exceptions in SB 109 would apply to survivors of child molesting, vicarious sexual gratification, child solicitation, child seduction, sexual misconduct with a minor and incest.
During a Senate Corrections and Criminal Law Committee hearing on Jan. 23, Young indicated that eliminating the statute of limitations might pose "difficulties of having someone being able to properly defend themselves with the loss of witnesses, or evidence or an alibi."
Some advocates who testified said they felt blindsided when the amendment was proposed.
"It was extremely upsetting," said Joy Ryder, a survivor and founder of sexual abuse resource provider Out of the Shadows. "I don't know what the fear is in just taking that jump and doing this for victims. Will we take it? Yes. Is it enough? Absolutely not."
Camille Cooper, vice president the Rape, Abuse & Incest National Network, agreed that her organization is also disappointed the statute of limitations was not eliminated.
"We will take what we can get. But I think in its current form it's still prohibited," Cooper said. "It restricts law enforcement's capability to really move forward on those cases that they want an opportunity to completely investigate and to try to follow where the evidence leads them."
Cooper noted that while DNA evidence, recordings or confessions will open the door for prosecution in some cases, there are numerous other ways that sex crime cases can be proven.
"It's just creating this tiny little window for those cases that have that type of evidence," she said.
Without a complete removal of the statute of limitations, Crider agreed that the bill is not as strong as he would like. But, he said, it's still a significant step in the right direction.
"I'm looking for any progress I can make and I understand sometimes you have to make incremental gains," he said. "And while this seems not far, I can tell you that Jenny's Law has been used successfully a number of times to connect cases that were as old as 30 years between the crime and the discovery."
Amendments proposed by Sen. Aaron Freeman, R-Indianapolis, that would add a civil component to the bill were also approved by the full Senate. The amendments would provide that a person who alleges injury resulting from child sexual abuse may seek remedy in civil court up until age 31.
If the injured person is 31 or older, additional time would be permitted to pursue a civil action if either DNA evidence, a confession or a recording is revealed. The action would also be restricted only against the alleged perpetrator and not an entity that the perpetrator may have been affiliated with.
Additionally, the amendments would provide that an action for injury resulting from the sexual abuse of a child that was time-barred before July 1, 2020, would be revived.
Seeking justice
Crider has spent much of his legislative career fighting for survivors, which he says all started after learning about the story behind Jenny's Law.
"When you listen to those stories, it's pretty obvious that this is an incident that people never fully recover from. They never feel safe again," Crider said. "I like trying to take care of people who have been victimized or are vulnerable in some way."
Co-author Sen. Erin Houchin, R-Salem, said in a statement that with the exemption provisions in SB 109, prosecutors and law enforcement could, under certain circumstances, seek justice for victims.
"It is a great step in the right direction, and I know that its passage will be a blessing to victims and a warning to perpetrators," she said.
Courtney Curtis, assistant executive director of the Indiana Prosecuting Attorneys Council, said IPAC is proud to support SB 109.
"As a former sex crimes prosecutor, I have seen firsthand just how long disclosure of sexual abuse crimes can take, especially when the victims are children," Curtis said in a statement to Indiana Lawyer. "Prosecutors want to ensure that law enforcement can investigate these serious crimes whenever they are disclosed, without any sort of arbitrary deadline."
A sliver of hope
Moving forward, Crider said that he thinks SB 109 at least gives people who previously felt hopeless some opportunity for justice in the future.
The senator affirmed that he would continue to pursue a complete elimination of the statute of limitations in the coming years. He said it takes awhile for discussion on certain issues to develop, so it's important to raise people's comfort level around discussion on the issue.
"It's a big conversation and it's the thing that needs to stay at the front of people's minds because it happens way too often," Crider said.
The bill passed through the full Senate on Feb. 3 and now heads to the House of Representatives.
Please enable JavaScript to view this content.