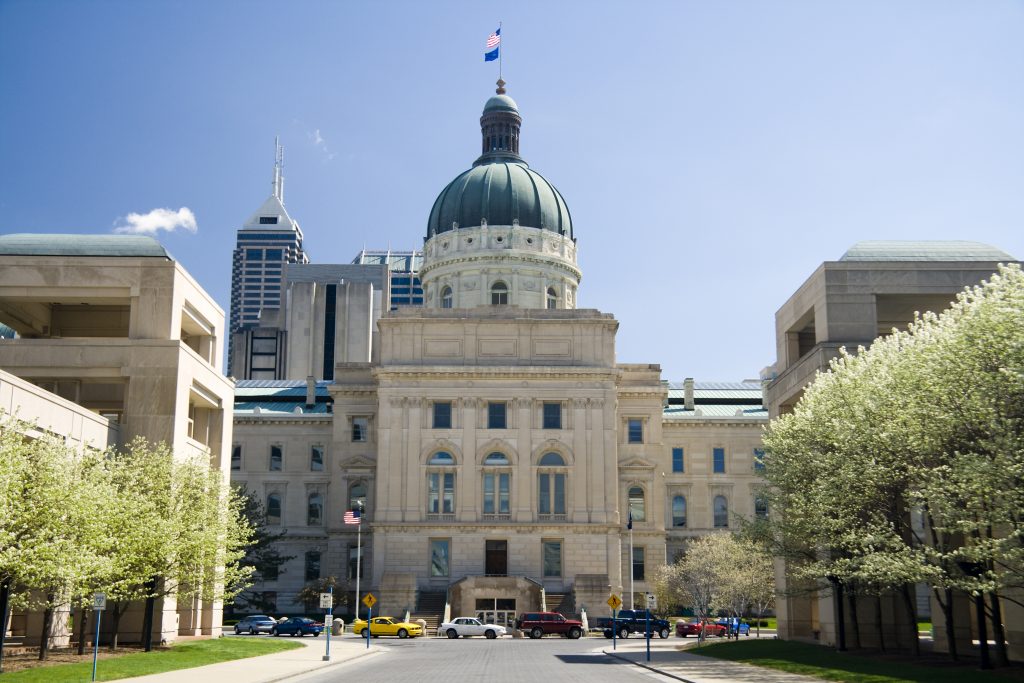 Indiana senators on Monday approved a controversial bill mandating that schools notify parents when a student asks for name or pronoun changes, as well as banning human sexuality instruction to the youngest students.
The chamber also signed off on House edits to several other proposals, sending them to the governor's desk.
Supporters have argued that it's a parent's right to know what their children are up to at school.
"Parents' rights are important, and they need to know what's going on in their child's life at school," the bill's Senate sponsor, Sen. Stacey Donato, R-Logansport, said on the floor Monday. "[House Bill] 1608 is about ensuring schools and parents are working together to keep their kids … successful."
But critics say the bill could put transgender children at risk of harm if they're outed to unsupportive or abusive parents.
Sen. J.D. Ford, D-Indianapolis — the Legislature's first and only out gay lawmaker — contrasted high suicide rates for Indiana's LGBTQ+ teens with the record-high number of anti-transgender proposals filed this session.
"To think what we're doing here doesn't affect these kids is willful ignorance in my opinion," Ford said.
House Bill 1608 would require schools to inform parents — within five business days — if students request to change a name or pronouns for any reason. That includes nicknames.
Senators previously nixed a provision that would have required schools get consent from parents if students submitted such a request.
Senate Pro Tem Rodric Bray told reporters that lawmakers considered acrimonious divorces in removing that language.
The bill also bans schools, school staff and third-party vendors from providing any instruction on "human sexuality" to students in third grade or below.
But sex education typically doesn't begin until the fourth or sixth grades under existing state standards.
A previous version of the legislation would've banned discussion of a list of specific topics, like sexual orientation and gender identity. House lawmakers ditched that, and added a compromise provision allowing teachers to answer questions.
The Senate passed the bill 37-12, with all Democrats opposed. Republican Sens. Ron Alting of Lafayette, Eric Bassler of Washington and Vaneta Becker of Evansville also voted against the measure.
The bill will go back to the House for agreement on the Senate's changes, then head to Gov. Eric Holcomb.
Concurrences on numerous bills
Senate lawmakers also approved House changes to several of their bills. They all now go to Holcomb.
Senate Bill 265 would raise the eligibility threshold for Temporary Assistance for Needy Families, and increase benefits for the first time in decades. Senators O.K.'ed some minor House changes. "I believe TANF is a hand up, not a handout, as it provides job training, child care and transportation along with financial assistance to families in need," said Sen. Jon Ford, R-Terre Haute.
A bill requiring the Indiana Bureau of Motor Vehicles to be more transparent about how it sells Hoosier drivers' data also got the stamp of approval.
That language originated as a House amendment. Senate Bill 290 originally only tasked the BMV with disclosing information on veteran license plate applications to the Department of Veterans Affairs as an effort to ensure veterans received benefits.
Lawmakers advanced Senate Bill 350, barring local governments from regulating behavioral health services that the state either licenses or exempts from licensure — inspired by West Lafayette's unsuccessful fight with a pastor over his anti-gay conversion therapy.
Senators broadened the bill to include all services subject to or exempt from state licensure, but House lawmakers narrowed it once more. That's the change the Senate approved Monday.
The Indiana Capital Chronicle is an independent, not-for-profit news organization that covers state government, policy and elections.
Please enable JavaScript to view this content.