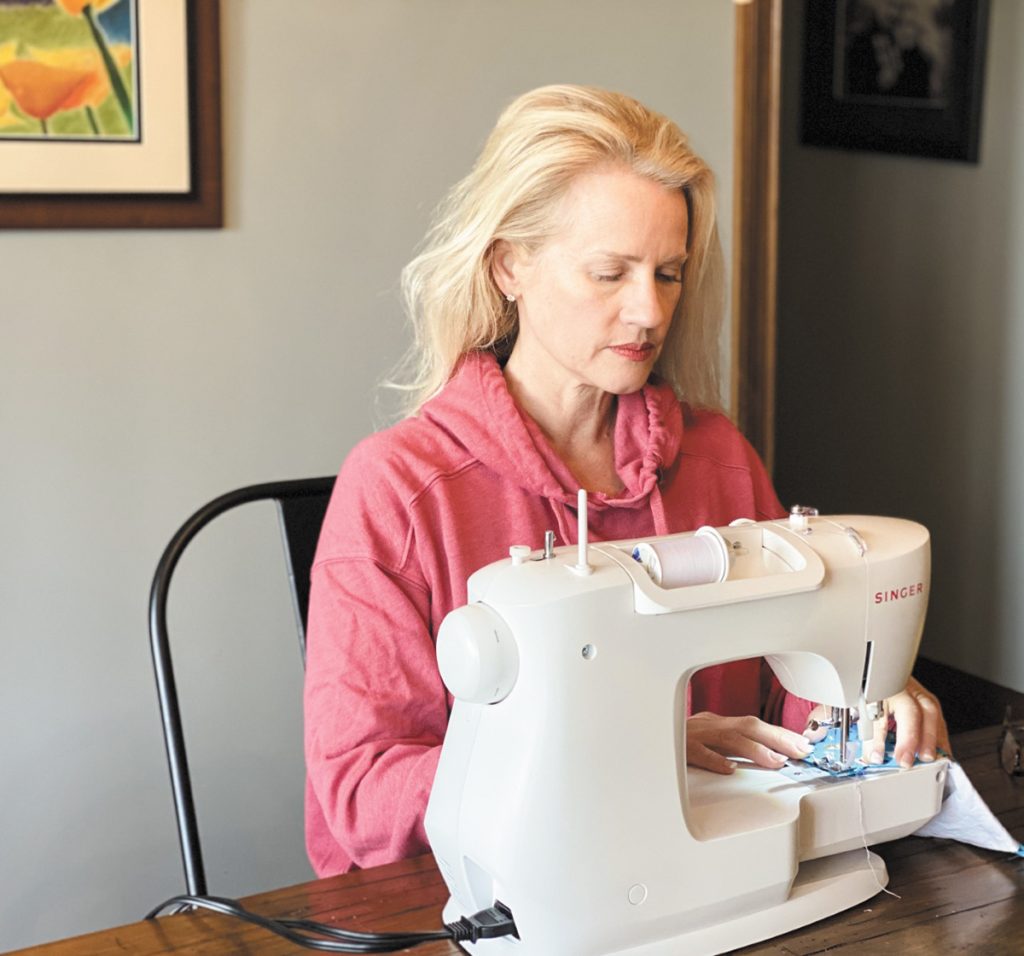 For the past several weekends, a sewing machine has been on Julie Andrews' kitchen table. The Cohen & Malad attorney broke out her old friend, dusted it off and gave the machine a whirl after deciding to sew protective face masks for those on the front lines of tackling the novel coronavirus pandemic.
"I always liked to sew and do small projects. Before I went to law school, I made my kids' pajamas and Halloween costumes and small things like that," Andrews recalled. "I saw that a friend of mine was making masks, and it totally inspired me that that was what I needed to do."
Andrews has family members who work as nurses on hospital floors dedicated to COVID-19 patients. After hearing that their supplies were running low and considering the extreme exposure they face, Andrews resolved to make the masks herself.
Getting creative
First, Andrews joined a Facebook group for mask makers where she found instructions on the appropriate materials to use, as well as how to make masks that would be approved by the Centers for Disease Control and Prevention.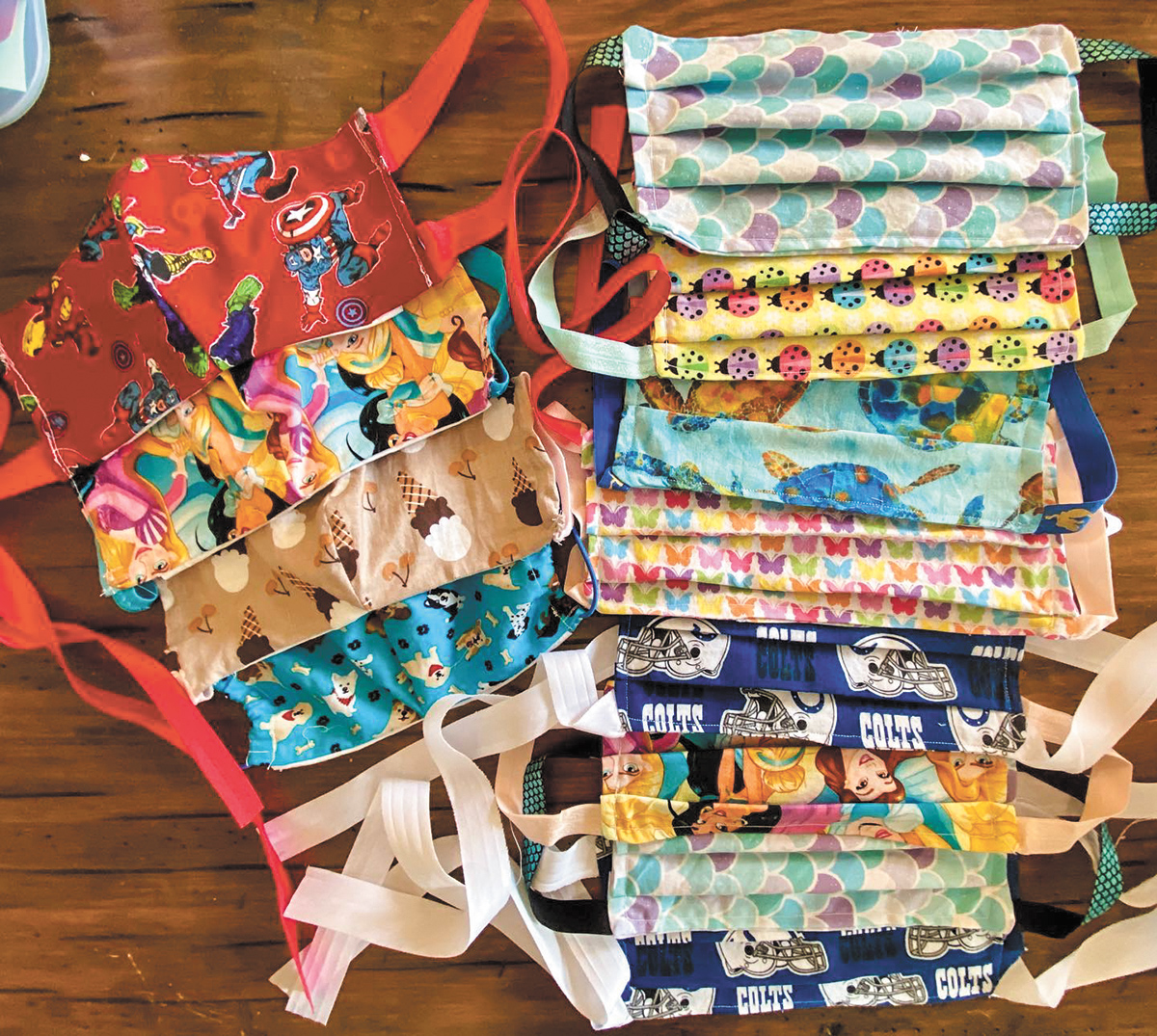 All of the masks Andrews sews are made from cotton fabric and are one of two types: a mask with a pocket on the back for filter inserts, or a traditional rectangular-shaped mask made of two layers of cotton. Andrews' fiance has joined her at-home mask-making team by cutting patterns and dissembling heating and cooling filters to insert into the filter pockets.
"We're taking the wire and cardboard off and cutting two layers. The filter is virus-rated protection," Andrews said.
For straps, each mask is held together with elastic. But because so many people have taken up making masks from home, she says it's been tricky finding elastic in stores. An alternative is to use hair ties.
"I guess desperate times call for desperate measures," Andrews laughed. "But I think it's fun. I've been picking out fun patterns and matching them up. One I did was a mermaid pattern, and the elastic I have is shimmery, like a mermaid."
To make the masks more cheerful, Andrews said she's using colorful fabrics and a variety of patterns, including Disney princesses, superheroes, and furry friends like cats and dogs.
"I've got turtles, the Colts, panda bears, ice cream cones, hearts. It's fun stuff, it's nothing serious for sure," she said.
Helping hands
When she eventually created a post on social media about her rekindled hobby and mask-making endeavors, Andrews was shocked at the response she received.
"All of a sudden people were flooding my inbox asking for them because they had been exposed," Andrews said. "I was a little surprised at how many people reached out asking for them. You read about how supplies are low or people don't have protection at all, and I guess it drove it home to me to see all of the requests."
One person asking for a mask, Andrews said, is a home health care nurse who has no personal protective equipment to keep her safe on the job. Another has requested masks for her 90-year-old parents who are in the high-risk category for COVID-19.
"I have a friend who works for the Marion County Health Department in an outreach program who helps pick up homeless or people that are more exposed and transports them to be tested," Andrews said. "If they are testing positive, she has to transport them back. She doesn't have any personal protection equipment. So she asked for one."
Although she's trying her best to send out masks to the people who request them, Andrews is making sure to get the masks in the hands of people who most need them and who are significantly at risk.
Community impact
Sewing masks has been stress-relieving, Andrews said. For her, the best way to deal with a crisis is to give back or do something that feels good. Andrews considers mask making her way of giving back to her community during the current health crisis.
"There's nothing else really I can do other than stay at home, practice law and help people that are in bad situations during a bad time, and make masks," she said.
Andrews isn't the only Hoosier attorney helping out local communities during the "new normal." Matthew Schantz of Frost Brown Todd, for instance, has been doing his part by delivering groceries to people in his community who can't afford to leave their homes during the pandemic.
"Pre-pandemic, my wife and I have served at the Grace Care Center in Noblesville," Schantz said. "The care center has a food pantry where normally our friends can come through and pick up the groceries they need. … In this pandemic time, people can't come to the grocery store."
To resolve that roadblock, Schantz and other volunteers have started taking online grocery orders at the care center, filling shopping carts and personally taking the goods to the customers.
"We just drive up, put them on their doorstep, knock, go back to the car and wave," he said. "For the people hit hardest by this, they don't have a job. They don't have the gas money to drive to the care center to even pick up groceries. It's not even possible."
Fort Wayne attorney Doug Johnston, of Tourkow Crell Rosenblatt & Johnston, said his firm was able to contribute to its local health care community after coincidentally ordering hundreds of hand sanitizer bottles for their firm before the COVID-19 pandemic took off.
"I got a call from the hospitals and visiting nurses that said they were critically low," Johnston said of the hand sanitizers. "We bundled up a 100 or so of those and I delivered them to a local doctor and make distributions as needed."
Johnston said it felt appropriate to give the supplies to frontline responders. Within the CDC's guidelines for social distancing, the attorney said his firm is still handing out more bottles of hand sanitizer individually.
For Andrews, it's hard to make masks during the week because her practice keeps her busy, but weekends are dedicated to sitting behind the sewing machine.
She's not sure how long she'll keep up the assembly, but she's enjoyed doing her part.
"Maybe until I run out of material," she laughed.•
Please enable JavaScript to view this content.