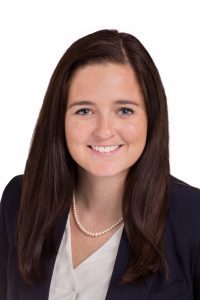 One-hundred and sixty-seven days. This was the small amount of time that passed between the July 2019 Indiana bar exam takers' swearing in ceremony on Oct. 2, 2019, until Executive Order 20-04 was issued on March 16, 2020, due to the "novel coronavirus." The last two years have proven to be a unique challenge for the legal profession, especially young lawyers. Our first mediations, depositions, pretrial conferences and a myriad of other hearings were held by Zoom in our living rooms or home offices, and not in person under the pomp and circumstance of being in a courtroom. It was an arduous time to learn the ins and outs of practicing law, but due to the flexibility and success of remote work, it appears at least some aspects of virtual meetings and events are here to stay. 
I wish I could go back and give advice to my younger self in the early period of the pandemic. However, the advice I would have loved to pass on to my spring 2020 self is very similar to advice that may help new lawyers just starting their careers in 2022. So much has changed, but so much has remained the same how integral technology and virtual communication now is to the practice of law. 
The set up
On March 17, 2020, I received an email from my firm stating we would be working from home for the next two weeks. I had just taken the Kentucky bar exam in February and was still awaiting my results. A little over five weeks later, I was still in my makeshift home office when I opened the results. Four weeks after receiving the results I was sworn in to practice law in the Commonwealth of Kentucky in my kitchen via Zoom — a stark comparison to being sworn in to the state of Indiana, where I actually wore heels, not slippers, and did not have any worries about my dog crashing the ceremony. We were only supposed to be remote for two weeks. I do, however, recognize that I was extremely lucky to take the last "normal" bar exams. 
Associates who took the bar exam and entered the practice of law after March 2020 ("pandemic lawyers") have dealt with an unprecedented slew of challenges and obstacles. These new lawyers had to study for the bar exam during a very tumultuous and unsettling time in history and had to live with the fear of waiting for the email deciding when/if they would even be able to take the bar exam. Pandemic lawyers then had to take the bar exam in complete isolation in their own homes, hoping their Wi-Fi or computer would make it through the hours of rigorous testing without having technical difficulties. Some pandemic lawyers started work without ever going into the office or meeting their co-workers in person. Networking events were switched to Zoom instead of meeting in person and building connections face to face. Young associates have dealt with a multitude of hurdles and challenges thrown their way, which only highlight their determination to succeed as attorneys. 
It is astonishing to think about the time that has passed since then, and the changes the legal profession has undergone since we all were sent home for "just the next two weeks" in March 2020. 
Lessons learned along the way
Having those precious five months of in-person practice, I was able to see the stark differences in practicing while in the office versus practicing alone in a makeshift home office. First and foremost, walking through a full law firm and being able to pop in and ask questions is a valuable part of a young lawyer's experience. When I began working from home, it was very solitary and I tried to figure out issues on my own that I would have asked about before. This resulted in a lot of time wasted spinning my wheels. I needed the essence of being in person again and found there are ways to seek out mentorship while being remote. While remote work in essence takes this away, there are still ways to engage in this type of mentorship while being remote. Specifically, I found it helpful when reaching out to other attorneys in my office to send a quick message asking about the other's availability to discuss certain assignments or cases. Think of this as checking to see if their office door is open.
When you graduate law school, it is typically stressed how important it is to get involved in bar associations and other organizations. I wish I had been there to tell myself to sign up for everything and engage in as many small group activities as possible. Networking events and CLE presentations used to be a great time to mingle with other young lawyers or more experienced lawyers in your area of practice. I had very little time for these in-person events; however, I have now realized the best way to still maintain a level of camaraderie is to get involved in any mentorship or small networking group opportunities. While these meetings still take place over Zoom, it is much easier to form connections and build relationships in a smaller setting. 
Lastly, what I wish I had known when I started practicing is that it is OK to lean on co-workers and other young lawyers to assist with the myriad of issues presented by being a new lawyer, whether pandemic-created or not. Those of us who have navigated the last two years practicing law are more than willing to provide additional assistance and support to all new lawyers. We have been there and probably dealt with similar hardships. Moreover, it is important as young lawyers to remember that everyone else has had to learn a whole new way of working over the last two years, as well. While it may be nerve-wracking to call someone whom you have never met in person, I have found grace is given because everyone has been in this together and everyone understands the challenges young lawyers are facing. 
With the ever-changing landscape of professional life, especially the practice of law, I am sure this same article could be written this time next year and identify a multitude of different pieces of advice from unknown obstacles. That is the beauty of practicing law, though; it is ever-changing and ever-challenging, but clearing the hurdles along the way to our achievements is ever-rewarding.•
Christine Sims is an attorney in the New Albany office of Kightlinger & Gray. Opinions expressed are those of the author.
Please enable JavaScript to view this content.