After a short stint in practice in Barnes & Thornburg's Indianapolis office followed by real estate endeavors in the Carmel area, Scott Burton was ready for a lifestyle change.
An experience with Napa Valley wine altered his course, prompting the entrepreneur to open Indiana's only locally owned California winery. Burton opened Peace Water Winery nearly 10 years ago, growing it into three tasting rooms in Carmel, Indianapolis and Fishers.
"It's always an activity where you see people together, smiling and having good time," Burton said. "We've loved doing it and it's been challenging at times."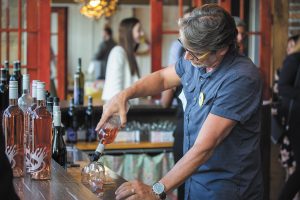 The road to opening a winery wasn't smooth. Peace Water handcrafts its wines in the heart of Napa Valley, which Burton said caused some confusion with federal regulators on how to classify his unique business model.
"The idea that we were producing our wine in California but applying for an Indiana farm winery permit was foreign to the (Alcohol and Tobacco Tax and Trade Bureau) at the time," he said. "No matter how much back and forth, I kept reading the statute and saying, 'I think we still qualify.'"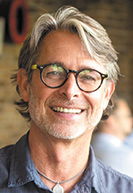 Attorneys on Sept. 2 gathered at the Mass Ave. tasting room in the Circle City to learn more about the complexities of entering the alcohol business and the logistics of opening a winery in Indiana.
Lighthearted chatter filled the colorful venue while lawyers mingled before the Indianapolis Bar Association's CLE event began. Titled "Napa Know-How: Learn About Wine Law and Winemaking," attendees learned about a handful of topics relating to wine, including the history of alcohol law and changes in local legislation.
The event's featured speaker was hospitality and beverage/alcohol lawyer N. Davey Neal of Clark Quinn Moses Scott & Grahn. Neal led the group through a summarized history of alcohol in America, looking back to what led to the prohibition of alcohol in 1920, what happened during that period and what happened after the 18th Amendment was repealed in 1933.
"The repeal of Prohibition set the stage for the next 90 years up to today," he said.
The history of alcohol dates back thousands of years, Neal said, with the intoxicating beverage originally serving as a cultural and religious part of many communities. As people realized they could make the formula stronger and more enjoyable for recreation, business mentalities began to take shape.
In the United States, fees and tariffs were eventually placed on licenses for saloons in 1805. At that point, Americans consumed excess amounts of alcohol each year.
"It wasn't until the early- to middle-1800s that alcohol became what we know it as today," Neal said, noting that because of stronger distilling methods, alcohol-related deaths and assaults skyrocketed.
By 1850, a third of the federal government was funded by liquor excess taxes. In 1851, the first attempt to pass Prohibition took place in Maine with problems. Thousands of Irishmen stormed the mayor's home in protest, a black market sprung up and bootlegging began.
Despite the repeal of the 18th Amendment ending lengthy 14-year period of Prohibition, wine didn't become a major force in American culture until the 1970s.
"Wine was just an afterthought," Neal explained. "After repeal, U.S. wine production took seven years to get 100 million gallons produced. It took another 25 years to get to 200 million gallons produced. But in the 1970s, it jumped to 300 million and then four years later, 400 million, and then half a million in 1981."
The question, he asked, is "Why the sudden jump in wine production?"
"Americans found they could get quality wine in the U.S. for less money and perhaps with less pretension (compared to France). So you see a massive growth of the wine industry in the 1970s and early 1980s."
In 1987, the American wine industry took a hit during the stock market crash and didn't recover at an upward trend again until 2006 when wine production crossed the 700-million-gallon mark.
The major jump in the early 2000s is attributable to the "sideways effect" stemming from California.
"Everyone wanted to go to Napa Valley," Neal said.
Most recently, the U.S. in 2014 became the largest wine-consuming country in the world and produced more than 1 billion gallons of wine in 2020
Indiana will soon approve its 150th farm winery. But it's not easy work, Neal warned. Burton's success with Peace Water has taken years of development and intentionality.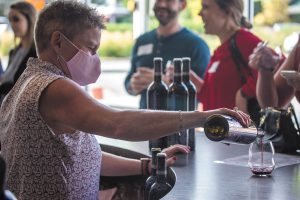 "Many wineries and vineyards don't enjoy this kind of success and longevity. It has nothing to do with a lack of passion, but everything to do with not preparing for the long-term regulatory, administrative and commercial costs associated with becoming a space like this," Neal said.
Mandatory permits must be kept in order, Neal said. America has a three-tier system for its alcohol beverage industry. Permits are characterized as one-, two- or three-way permits, meaning businesses may sell beer only, or beer and wine only, or beer, wine and liquor.
"In Indianapolis, a three-way permit is going for $50,000 to $55,000. A two-way is $25,000 to $30,000," said Neal, who explained that a large part of his practice involves brokering permits from owner to owner.
"In places with a much higher population density issue, like Fort Wayne or Bloomington, those permits can get up to six figures without a sweat," he said. "But you can get a wine permit for $500."
Despite the strange treatment wine seems to get in relation to its brothers beer and liquor, Neal said wine is well-loved, regardless. •
Please enable JavaScript to view this content.