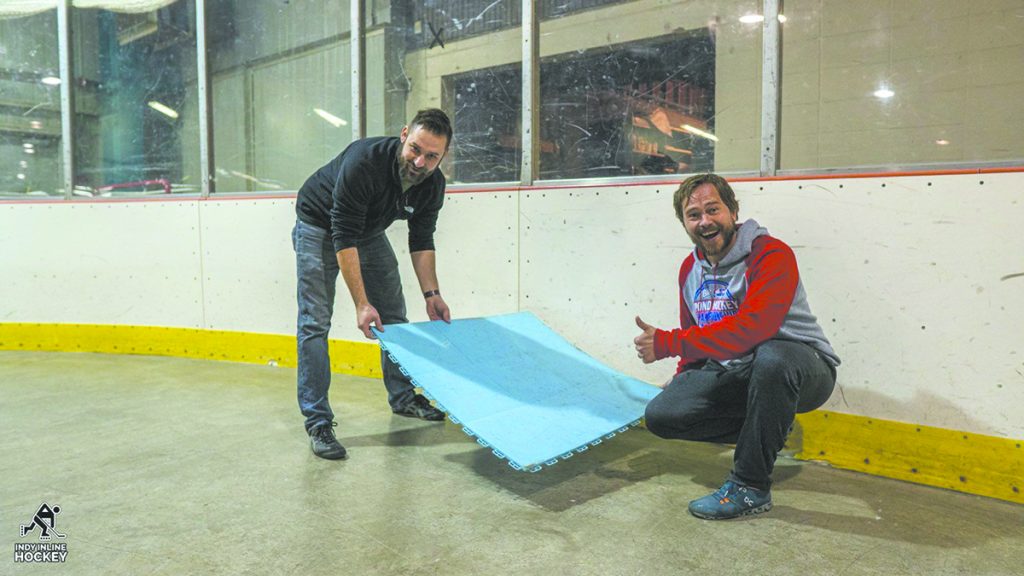 The league started in a parking lot underneath Interstate 65 when, as Indiana University Robert H. McKinney School of Law students, Ryan Spahr and Leontiy Korolev took a break from their studies by pulling on a pair of inline skates and trying to slap a plastic ball into a cooler.
Both had grown up playing street and roller hockey, where the thrill of slicing the defense and launching a shot at the net took root. The rise of video games and likely the strength of football and basketball youth leagues have pushed roller hockey to the sidelines, but Spahr and Korolev kept playing wherever and whenever they could.
From their days in the parking lot, the two nurtured a dream of starting a league that has since become a reality with the formation of Indy Inline Hockey. Now, on Wednesday evenings, an eclectic group of men lace up their skates, put on helmets and suit up in gear that was partially described as "pajama pants over a girdle and shin guards." They glide around the rink, chasing a puck and trying to deceive the goalie.
The league has three seasons, teams of four players plus a goalie, captains and a culture that emphasizes friendship over fierce competition. Each season begins with a draft that follows a process concocted by Spahr and Korolev.
"It's complicated as you might expect with lawyers running it," Spahr quipped.
What exactly happens is cloaked in secrecy. However, according to the few details dropped in conversations, the location of the draft changes each time, and the team captains are not instructed where, exactly, to go until the last minute. A roster of the players is handed out the day before, but how the captains go about choosing and trading was not divulged, although beer drinking was mentioned several times as being part of the routine.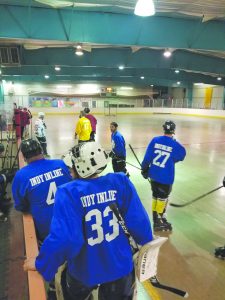 Korolev described draft night in one word: awesome.
Like just about everything else in the spring of 2020, Indy Inline Hockey has been put on hiatus because of the coronavirus. The teams were able to display their skills in a few contests before the risks of falling ill put them on the bench for an undetermined time.
Still, Spahr and Korolev are committed to returning to the floor once the all-clear is given, and they are looking to continue with the league's long-term goal of doing more than tallying wins and losses. The organization is working to broaden its impact by holding charity benefits, such as its annual ironman tournament to raise money for the Leukemia and Lymphoma Society, as well as launching a youth program to teach the next generation the sport.
Korolev explained Indy Inline Hockey wants to "contribute to something bigger."
Camaraderie
Attorneys founded the league, but the players run the gamut from physicians to truck drivers and retail workers. Tyler Watkins, musician and recording studio owner, is among the guys who come to play every week like clockwork.
He spent 10 years touring as a bassist with Margot & the Nuclear So and So's then returned to Indiana and settled in Indianapolis. Persistent Google searching finally pulled up Indy Inline, where he has happily been able to again indulge in his childhood love of roller hockey.
Watkins explained the league has filled a void in his life, along with providing him a way to exercise and the opportunity to meet people outside of the music business.
"It's a good gateway to hanging out with people who have other jobs, like lawyers and doctors," he said. "It's refreshing to get different perspectives on everyday events and life in general. It's nice."
Camaraderie is the most important element of the league as underscored by its first rule of "don't be an a…hole." Players who regularly trash talk, pull dirty tricks, and exhibit abusive behavior should look for another roller hockey league, because Indy Inline is not interested in sacrificing friendships for the sake of a game. Indeed, after the final buzzer sounds on Wednesdays, the players gather their equipment and head to a nearby restaurant or pub for conversation and a late dinner.
That culture is a comfort to Korolev, who is a staff attorney with the Center for Victims and Human Rights in Indianapolis. Inline hockey provides the temporary escape he needs from his work that often has him representing clients who are inspiring but have gruesome and painful stories to tell.
"I like it because when I'm out there, my mind just shuts off," Korolev said of his time playing in the hockey rink. "It becomes very instinctual and provides a break from what I do."
Bowl game trophy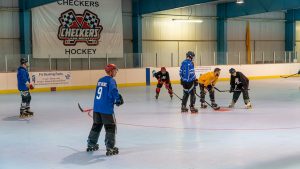 Spahr, a solo practitioner, is often referred to as the heart of the league. His enthusiasm for roller hockey and his teammates, coupled with the energy he brings to the endeavor, are unmatched. Indeed, his LinkedIn page even includes an entry about his work in co-founding and being the commissioner of Indy Inline Hockey.
In the fall of 2019, he again enlisted his legal skills to refurbish the indoor rink at Ellenberger Park on Indianapolis' east side. He had long wanted a better surface than the slick, hazardous concrete, so when the ice rink in Carmel was planning to discard its more pliable material floor, Spahr moved quickly to score a win.
He entered into an agreement with Indianapolis Parks and Recreation Department that allowed him and Korolev to purchase the old floor and install it in the park's indoor rink. A moving truck transported the 16 pallets of flooring titles to Ellenberger, and about 25 guys spent 15 hours cutting and laying the new floor.
Joseph Mulvey, also a solo practitioner, used words like "coefficient" and "friction" when explaining the differences in skating and stopping on ice compared to concrete and sport court. The gist being the sport court is safer and an easier surface on which to play compared to concrete.
Mulvey has been sparring with Spahr and Korolev since he, too, was a student at IU McKinney.
He readily touts his accomplishment that during his tenure playing with Indy Inline, he has never led a team to the Toilet Bowl Trophy. Every season ends with a championship for the top two teams and the Toilet Bowl for the two worst teams. The team that loses the bowl game is awarded a toilet seat with the team captain's photo on it.
"I'm proud to say I never have had to take possession of it as a captain," Mulvey said of the bowl trophy. "My photo has not been on it."
Spahr did not mention the season-ending bowl game but instead highlighted why he prefers roller to ice hockey. The former, he said, has none of the violent bodily collisions and requires more cerebral acuity and finesse.
"It's the thinking man's hockey," he said.•
Please enable JavaScript to view this content.