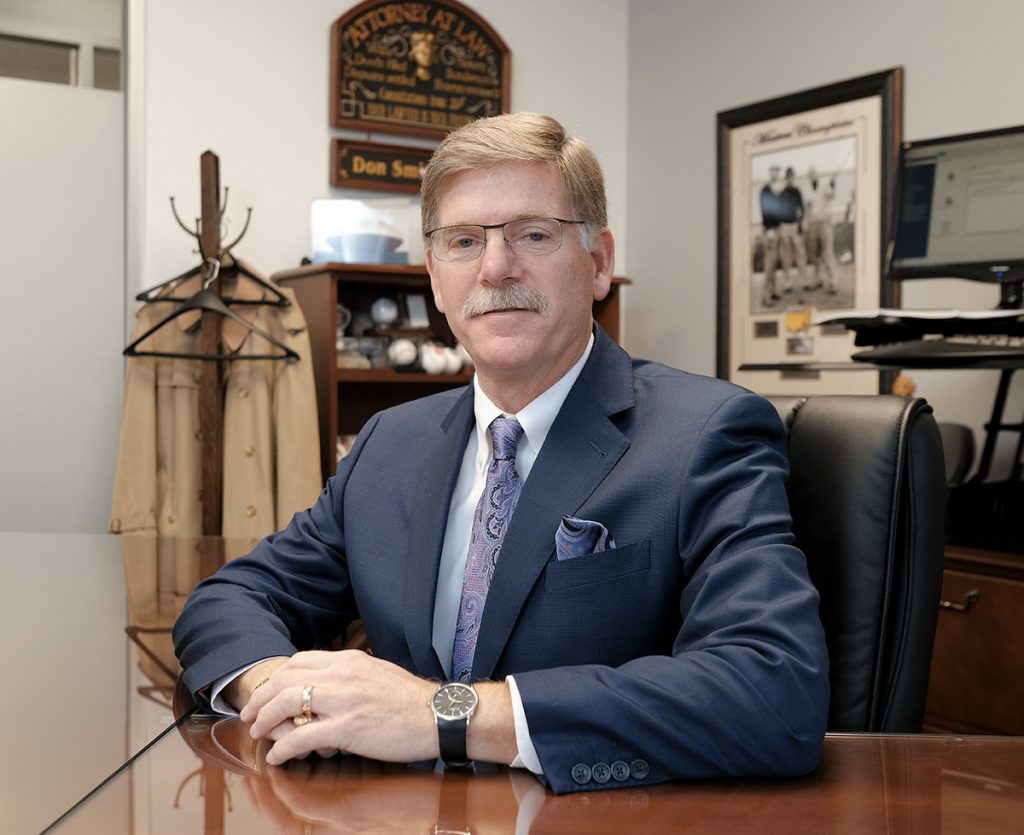 Indianapolis attorney Donald Smith knows the Defense Trial Counsel of Indiana has value. His goal during his year as the organization's president is to show others that value, too.
Smith, an attorney with Riley Bennett Egloff, became DTCI president Nov. 21. He came into DTCI through the Worker's Compensation and Employment Law Sections, and since then he has found invaluable networking and educational opportunities.
"We do a really good job of holding on to our members, so when someone joins DTCI, they see the value of continuing to be part of it," Smith said. "For us to sustain and grow our membership, we really need to show potential members the value of joining DTCI."
Smith recently sat down with Indiana Lawyer to discuss his year as DTCI president.
How did you become involved with DTCI?
One of my partners, Mary Reeder, was president of DTCI several years ago, and she suggested that I get more involved in it. I initially got involved in both the Employment Law Section and the Worker's Compensation Section, but the Worker's Comp Section in those days was probably the more active of the two. So I became the chairman of the Worker's Comp Section, then was nominated to be on the board of directors and then started moving my way up to my current position.
What are your goals as president?
I would say, first and foremost, what we need to show boils down to one word, and that word is "value." Employers are becoming more cautious about paying for memberships. Attorneys and paralegals have to be selective about where they invest their membership dollars. As a result, we need to show the value of being a DTCI member. My goal for 2020 is to demonstrate the value of being a part of our organization. So, I will be ringing the bell of "value."
What does that "bell" sound like?
There are so many different activities at DTCI, and I think one of our greatest assets is the fact that we have so many different sections. We also have, in the past year or so, really tried to have more of a focus on diversity and inclusion. We now have a Diversity Committee. Our Women in the Law Committee is very active. We have a Young Lawyers Committee, and it is very active. So I think our future is bright.
What do you think are the biggest values DTCI offers?
I would say the educational aspect is number one. My background was in the sections, and the educational opportunities are fantastic. There is also the networking aspect. One of the things that is unique to DTCI is that DTCI is statewide, but then there is a larger group called the Defense Research Institute, which is international now, as well. DRI provides us a lot of guidance, and as a result of that, it provides opportunities to expand what we can offer.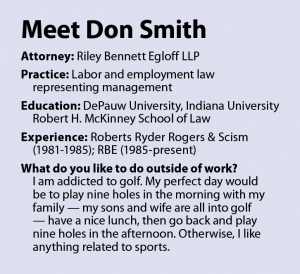 What's been the benefit of DTCI to your career?
More than anything else it has been the connections I have made. The focus of my practice is a narrow area of the law, but DTCI has put me in contact with people around the state of Indiana who I would not have had contact with otherwise because our practices do not coincide. It has allowed me to network with people outside my area of law and outside my city. If someone from Fort Wayne, for example, needs a labor and employment lawyer in Indianapolis, they are more likely to call someone they have known through DTCI. Developing more of a statewide practice is an example of why I believe DTCI has benefited my career.
Do you have a game plan for promoting DTCI's value?
More than anything else, my game plan is to follow my predecessors. We have had fantastic leaders of DTCI, and because of that, we already have a great structure. For instance, we have our annual meeting with fantastic programs associated with it. The sections have brought in really good speakers. We actually have some national speakers through DRI. Beyond that, I plan this year to focus on our sections to make sure they are active because involvement in the sections was my entrée to DTCI. I think the sections are where we are the strongest, and I want to make sure that we continue with that.
What advice do you have for young defense lawyers on building a successful career?
Looking back, I wish I would have gotten involved in DTCI and DRI earlier on. Something that is special about these groups is that you can go to a seminar and you can learn tactical things that sometimes speakers may not be willing to share if they are speaking to a "combined audience."
As an example, our Worker's Comp Section meetings involve open discussions about issues that we are facing in our defense practices. I have learned so much that way.
How will you reach attorneys in other parts of the state?
On our board of directors, we make sure we have representatives from throughout the state. We conduct our annual meeting in different places each year. I will suggest to our section chairs that they consider holding meetings and seminars throughout the state so we have more of a presence from north to south and east to west.
What's your leadership style?
My style of leadership is to know what is going on throughout the organization, but I expect people who are in leadership positions — such as the section chairs — to make decisions at the appropriate level. I will be a resource for them as much as possible, but my style is one of delegation, which I believe fosters ownership and responsibility. I am not a micromanager, but the overall decisions that are being made must fit within what we have decided are in the best interests of our members and our organization. That is the way I have succeeded as an attorney. There is no way I could handle what I plan to do this year without great partners and associates. Their assistance will allow me to do some of the things I want to do as president, such as being more involved in the various sections.•
Please enable JavaScript to view this content.