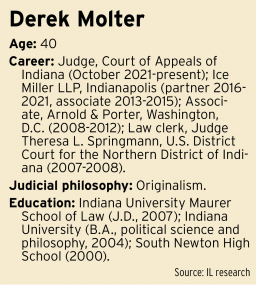 Humble, caring and collaborative is how soon-to-be Indiana Supreme Court Justice Derek Molter was described by colleagues and friends.
On June 10, at the Indiana Statehouse, Gov. Eric Holcomb announced that Molter, currently the most junior judge on the Court of Appeals of Indiana, will join the state's highest bench as the 111th justice. A date for Molter's robing ceremony had not been announced at Indiana Lawyer deadline.
Molter was selected to succeed longtime Justice Steven David.
David, who will retire this fall after more than 12 years on the bench, said the appointment is an incredible opportunity Molter has been given — and that he has earned.
"We are all confident that he will do well," David said of his successor.
'Total package'
Getting the phone call confirming that he would be the newest Indiana Supreme Court justice filled Molter with "pride and excitement."
"It was great," he said during the June 10 announcement.
Molter is continuing a family legal legacy that began in the early 20th century when his great-great-aunt Agnes made history as Indiana's first appointed woman prosecutor. His grandfather also joined the legal profession, followed by Molter's father, who has served as judge of the Newton Superior Court since 1986.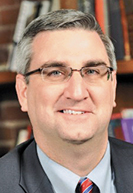 For his part, the newly tapped justice joined the Court of Appeals of Indiana in October 2021. He was selected by Holcomb to fill an open spot on the lower appellate bench created by the retirement of Judge James Kirsch in September 2021.
Molter was then selected for the high court position from a trio of finalists that also included Grant Superior Court Judge Dana J. Kenworthy and Justin P. Forkner, chief administrative officer in the Indiana Office of Judicial Administration.
The seven-member Indiana Judicial Nominating Commission interviewed Molter in February and April, along with 18 other candidates vying for the open justice position.
Molter received his law degree from Indiana University Maurer School of Law in 2007 and served as a judicial law clerk for now-Senior Judge Theresa Springmann of the U.S. District Court for the Northern District of Indiana.
After a stint at Arnold & Porter LLP in Washington, D.C., he returned to Indiana and joined Ice Miller in 2013. There, Molter represented clients in state and federal courts on a range of matters including contract and employment disputes, tort claims, constitutional and statutory interpretation and regulatory matters.
"We are thrilled for Justice Molter and wish him all the best on the state's highest court," said Michael Millikan, chief managing partner at Ice Miller.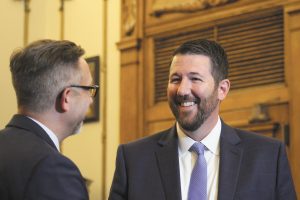 Molter said his judicial philosophy falls under the originalism approach, interpreting the Constitution "consistent with the understanding of that text at the time it was enacted or ratified."
"The virtue of that philosophy is that it anchors the court to ensure that it's exercising its judicial role," Molter said. "Under our separation of powers, that's the only role the judges are here to perform. They're not here to perform the legislative role."
During the June 10 announcement, Holcomb cited Molter's "profound respect" for the Indiana Constitution and the rule of law, as well as his devotion to the cause of justice "both inside and outside the courtroom."
"He displays always, in his everyday life and in his professional duties, the highest level and standard of integrity," Holcomb said.
The governor went on to praise Molter for being a "forward-thinker" and someone who has "long-term vision" for Indiana and the state's judiciary.
During his time on the Court of Appeals, Molter remained active as an officer in the Appellate Section of the Indiana State Bar Association and as a member of the Indianapolis, Newton County and 7th Circuit bar associations. He also serves on the board of directors for the Indianapolis Legal Aid Society.
Frost Brown Todd LLC member Maggie Smith has served alongside Molter on the state bar's Appellate Section and as opposing and co-counsel. In her experience, she said Molter has proven that he doesn't do anything halfway.
"He kind of represents a bit of a lost breed," Smith said. "Sometimes in the legal world, you get people who are top 1% in their skills but they aren't necessarily a people person. Or you get someone who is an amazing people person, but they are just run of the mill in their legal skills. Derek brings both of those."
Smith said Molter brings the "total package to the court," likening his judicial potential to that of former Indiana Chief Justice Randall Shepard.
"Part of the reason why this state is so stable is because we had 25 years of an amazing justice in Justice Shepard," Smith said. "And I think we will find the same in Derek."
'Face of justice'
Addressing her new colleague during the announcement, current Indiana Chief Justice Loretta Rush said Molter would become a face of justice in Indiana along with the four other justices on the state's court of last resort.
"Time and time again, you just rise. And we expect you to do nothing but that," Rush said. "We are counting on you stepping up."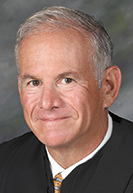 Court of Appeals Chief Judge Cale Bradford issued warm wishes to his outgoing colleague, saying Hoosiers will be well-served with Molter as a Supreme Court justice. Molter's humility, energy and intellect will take him far, the chief judge added.
"He's very thoughtful in the way he approaches the law and willing to practice and lend to the discussions on how to make the courts, the state and communities a better place," Bradford said. "I hate to lose him, but he will be a wonderful justice. It's all for the greater good."
Court of Appeals Judge Elizabeth Tavitas echoed Bradford's sentiments, saying Molter's calm demeanor, demonstrated respect for the law, and affability and congeniality will serve him well.
"We have great camaraderie on the Court of Appeals and Judge Molter has been a part of that," she said.
Diversity discussions
Molter is Holcomb's second appointment to the Supreme Court, following his selection of Justice Christopher Goff in 2017.
The governor had faced some pressure to appoint a minority and/or a woman to the high court, given that the current justices are all white and only one is a woman. But the trio of finalists were all white, although one woman was among them.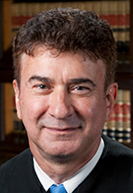 When asked how Molter's selection advances the need for greater diversity in Indiana's legal system, Holcomb said the JNC presented him with "three options," and the appointment was about who would best fulfill David's legacy and lead the court into the future.
The governor noted there would be more opportunities to appoint diverse candidates to Indiana's judiciary soon with the creation of two appellate court vacancies that will be left by Molter's departure and this summer's retirement of Judge Edward Najam.
For his part, Molter said he looks forward to joining the Supreme Court's efforts toward advancing diversity, equity and inclusion as a core part of the high court's mission.
As for the legacy he'll leave, Molter looked to his predecessor.
"What I must try to do is follow in the footsteps of Justice David's most important examples," Molter said, pointing to the bracelet that David wears daily on his wrist. "That bracelet says, 'The rule of law always.' I hope to honor his service by ensuring my own service owns up to his creed."•
Please enable JavaScript to view this content.