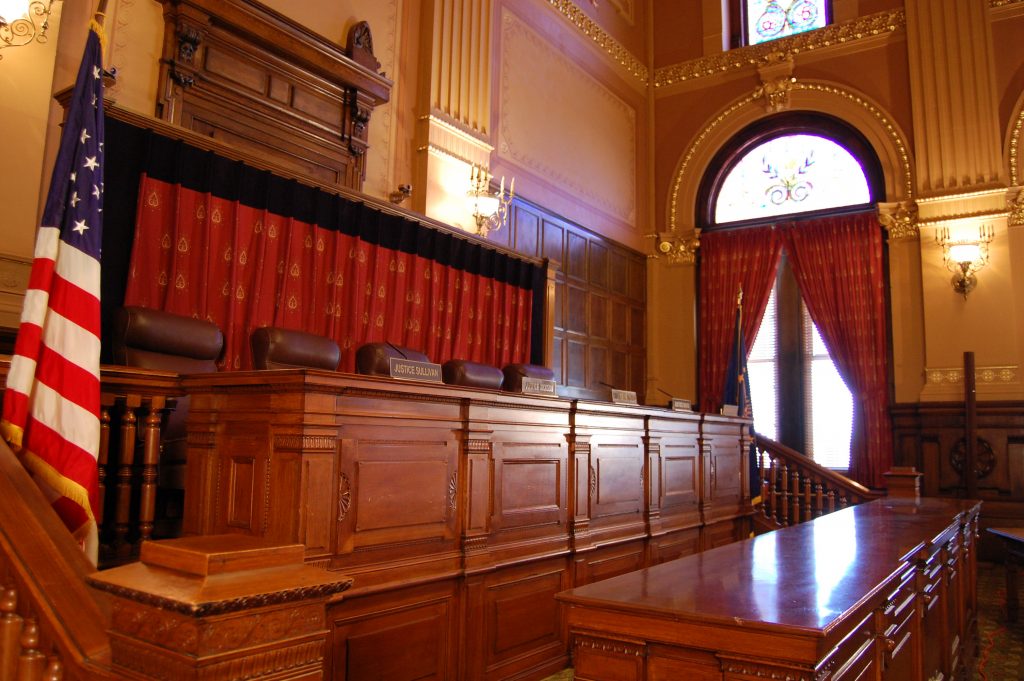 A split Indiana Supreme Court denied transfer in an adoption case after hearing oral arguments in March.
Justice Geoffrey Slaughter and Justice Christopher Goff voted to deny transfer.
Chief Justice Loretta Rush wrote a dissenting opinion, with Justice Mark Massa joining, in the case In the Matter of the Adoption of A.E.; C.L.F., v. C.M. and M.B., 21A-AD-02766.
Justice Derek Molter did not participate, evenly dividing the high court and deeming transfer denied.
The case was affirmed by the Court of Appeals of Indiana in July 2022, when the COA found that the Hamilton Superior Court did not abuse its discretion in denying a grandmother's motion to intervene in an adoption case involving her grandchild.
C.L.F., the grandmother, petitioned to adopt her grandchild, A.E., in Harrison Circuit Court, but foster parents C.M. and M.B. also filed a petition to adopt the child in Hamilton Superior Court.
The Hamilton Superior Court granted the foster parents' petition. The grandmother filed a motion to intervene and correct error.
The trial court denied both motions.
Rush noted in her dissent that the grandmother was already taking care of A.E.'s half-sister when she filed for adoption and was unaware of the foster parents being granted adoption of A.E. in a different court.
"The first conclusion is legally flawed, and the second conclusion ignores a host of extraordinary circumstances, including an unmistakable jurisdictional priority problem," Rush wrote. "By denying transfer, we pass up important opportunities to both clarify the law and provide necessary guidance to our trial courts regarding when post-judgment intervention may be permissible upon notice of a jurisdictional priority problem."
Rush's first point was that transfer was warranted to clarify that a party does not need to satisfy common-law standing requirements to request permissive intervention under Trial Rule 24(B)(2).
"But Grandmother was not required to demonstrate common-law standing to request permissive intervention under Rule 24(B)(2); the panel's contrary conclusion significantly departs from accepted law. Transfer is warranted for that reason alone. Ind. Appellate Rule 57(H)(6). Yet transfer is also warranted to provide meaningful guidance on an important legal issue that is likely to recur," she wrote.
The second point Rush made in her dissent is that transfer was warranted to clarify when a jurisdictional priority problem presents "extraordinary circumstances," compelling post-judgment intervention.
"Yet, while I would find the Court of Appeals erred by concluding that the trial court did not abuse its discretion in denying Grandmother's motion, I would not find she is entitled to reversal," Rush wrote. "During oral argument, Grandmother conceded she does not wish to disturb Child's placement with Adoptive Parents but rather seeks intervention to pursue the 'entry of a specific post adoption sibling contact order.' Having relinquished her interest in adopting Child, I cannot conclude that the trial court's error affected her substantial rights."
Please enable JavaScript to view this content.