Bench cards offer judges additional guidance and instruction on a variety of topics, and judicial officers presiding over family law matters now have access to an extra resource concerning alcohol consumption.
The National Council of Juvenile and Family Court Judges, which guides judicial officers in making decisions, released a bench card in October regarding alcohol use disorder.
A spokesperson for the Indiana Supreme Court told Indiana Lawyer that the justices promote the new AUD bench card to Indiana's trial court judges.
The AUD bench card includes information about and common misconceptions of the disease, as well as practical guidance for all parties involved in a case where parental alcohol misuse could potentially impact the well-being of a child.
According to a June 2021 report, 10.5% of American minors live with a parent who misuses alcohol and 14.5 million people ages 12 and older had AUD in 2019, according to The National Institute on Alcohol Abuse and Alcoholism.
The complex and nuanced role alcohol can play in family matters was exacerbated by recent pandemic-induced stress and isolation, the national institute said, posing a potential risk to children and families. That complexity prompted a partnership between NCJFCJ and Soberlink, a remote alcohol monitoring company, to create the AUD bench card.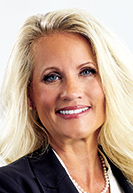 Family law practitioner Julie Andrews of Cohen & Malad said she's excited about the AUD bench card and intrigued by portions that address monitoring related to parenting time. In her experience, the Indiana trial court judges Andrews appears before are "very in tune" with the types of substance and alcohol abuse involved in family law cases.
"Having a bench card that tells judges what to look for and how to manage the issue will be helpful," she said.
Grant Superior Court 2 Judge Dana Kenworthy said she doesn't see a specific need for an AUD bench card but noted AUD is a common issue seen by courts. In the past year, she's seen an increase in issues related to alcohol misuse in family law cases coupled with an increase in the severity and frequency of mental health issues.
Kenworthy agreed that having the resource will be helpful in some respects, including offering judges a brief summary of substance use disorders and the effects of addiction on the brain.
"The questions for consideration by the judge are also helpful because they provide a framework for analyzing the evidence in the case," she said. However, Kenworthy said she's skeptical about the bench card's sections concerning monitoring alcohol use and its break down of risk levels.
A key component of the bench card is its risk chart, an applied reference guide that judges can use to determine the risk level for a child based on the specific circumstances of a parent's alcohol use and "practical solutions for how to manage each level of risk."
"Our goal with this bench card is to educate judges, litigants, and law professionals who may not be familiar with AUD in order to help them make the best decisions possible," Joey Orduna Hastings, NCJFCJ CEO, said in a statement.
The bench card breaks down differences between an addiction and an AUD and also provides a list of common alcohol addiction myths, such as, "Full abstinence from alcohol is the only way to manage and AUD" and, "People need to want treatment for it to work."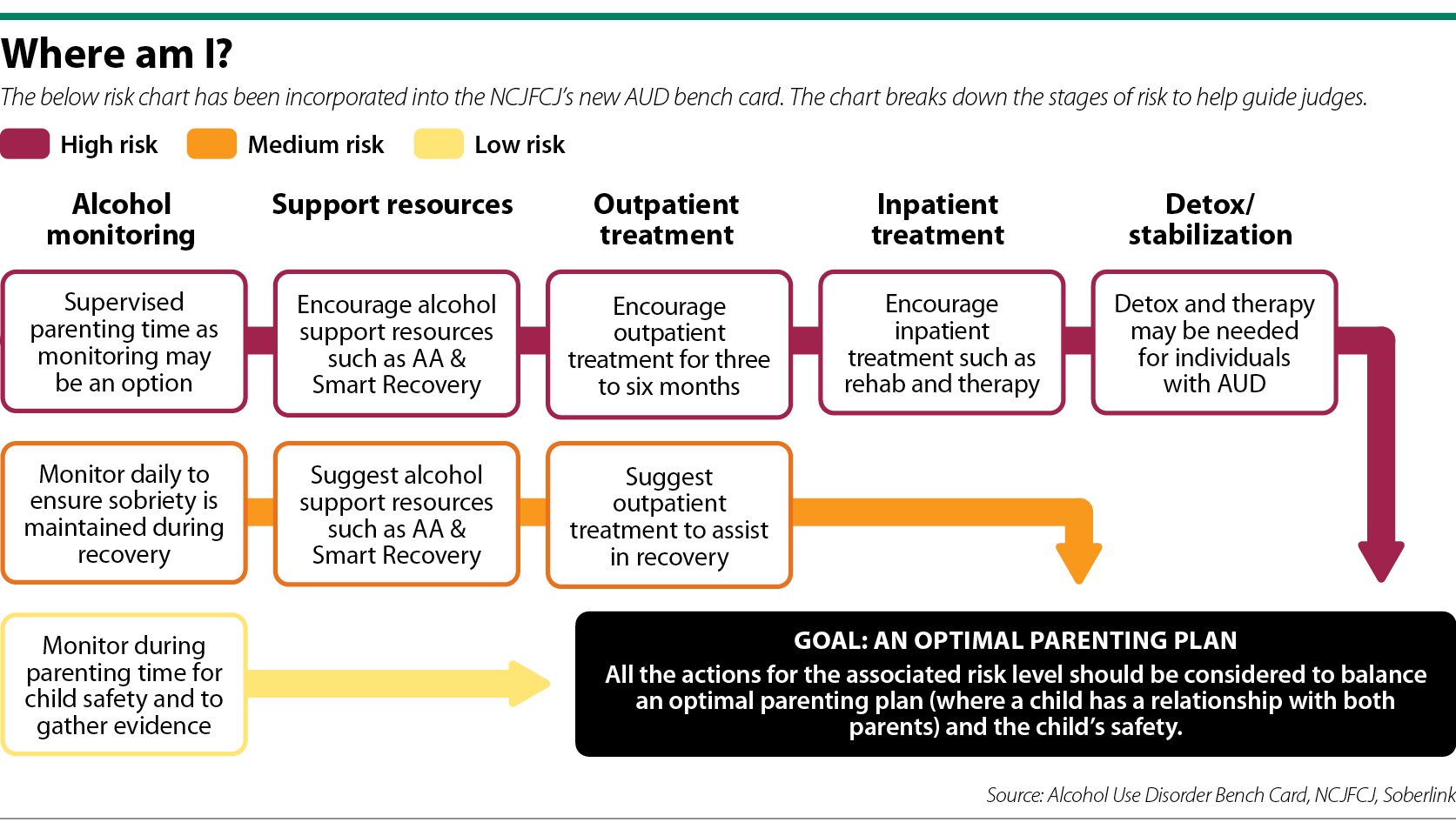 Posing problems
Tippecanoe Superior Court 3 Judge Faith Graham, who serves as a NCJFCJ board director, described the numerous challenges that judges face in dealing with AUD, particularly the numerous considerations regarding parents when substance abuse is involved.
"We don't want kids to languish forever, we want them to have permanency and stability," Graham said. "You have to balance the substance use and how it impacts the parenting."
There are a multitude of factors to consider on a case-by-case basis, she said. For example, is the child 2 years old or 12? If a report is made to the Department of Child Services, do they screen it and investigate? What kind of time does a parent need to overcome an addiction?
"Some of these parents need multiple attempts at treatment and some need a lot longer to be sober and not relapse. That's a lot of work to do," Graham said. "It's a constant balancing act taking all of those things into consideration."
Another struggle can be vetting the legitimacy of alcohol-related reports, she said. It can take time to contact resources to find out how accurate a report may be.
"Then, upon investigation, you find out there was a dispute between parents and that information was not as accurate as you thought," she said. "There could be things labeled problematic if you're drinking every single weekend, but it doesn't become a child safety issue if there is another sober caregiver present."
Some considerations could be, "How long have they been drinking and what quantity? Have there been attempts to stop and how successful were they? How long have they been able to remain sober?
"It seems very complex," Graham said, noting the AUD bench card can be especially important for judges who are new to the bench.
Bloomington family law attorney Kara Reagan added that new judges often don't have much training on mental health disorders or addictions, including AUD.
"Even beyond that basic familiarity that it exists, I think it's important for judges to know that its not one size fits all," Reagan said.
While she said she thinks the bench card could be useful, Regan said she is grappling with other longer-term questions.
"What is our end goal with sobriety? The kind (of sobriety) that says, 'I won't drink when I have the kids' or, 'I won't drink ever?' And I think the answer on that depends on the case," she said.
Another question she said she'd like answered is, "How can the parties keep kids safe in the meantime while parents being treated?"
"And at what point do we begin to rely on that sobriety?" she asked.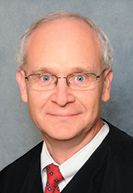 Blurred lines
A complexity the AUD bench card aims to clarify is the muddled line between alcohol use and misuse. Although a legal substance, alcohol consumption can place great difficulty on the judiciary because the standard for what is or is not appropriate is soft, said Indianapolis attorney Rob Shive.
"I hear all the time, 'She's an alcoholic, etc.', but what does that actually mean? Does that mean she's been diagnosed, there's a pattern? Or in your opinion they drink too much?" Shive said.
He said he likes the bench card's break down of risk, which could help aid attorneys in explaining to clients where they may truly be on the spectrum.
Dearborn Circuit Court Judge James Humphrey said he appreciates the potential questions provided for judges to look at and consider when presiding over a case regarding the relationship between the parent's alcohol consumption and the child's well-being and safety.
"It appears to be a good checklist in the heat of battle," he said.•
Please enable JavaScript to view this content.