Traveling thousands of miles from home wasn't something Yohsuke Nakamura thought twice about.
When the Japanese Ministry of Justice told Nakamura to travel to Notre Dame Law School to conduct research and learn about head trauma cases, the Japanese prosecutor simply packed up and went.
During his time in South Bend, Nakamura has attended lectures on criminal law, evidence, legal research and bankruptcy law. He's also interviewed multiple American prosecutors and judges as part of his research, "How to Establish Efficient Medical Findings in Child Abuse Cases Where Abusive Head Trauma is an Issue." He'll also continue his research when he returns to his home country.
But Nakamura isn't the first Japanese lawyer to visit the northern Indiana law school. Since 1975, with the exception of a break for COVID, the law school has hosted a judge from the Supreme Court of Japan and a prosecutor from the Ministry of Justice through the Overseas Training Program for Judges.
Nakamura is the second prosecutor to visit Notre Dame Law since the program resumed post-COVID.
"In addition to bringing the results of these surveys back to Japan, it is important for me personally to bring back with me the experiences I gained during my study abroad," Nakamura said.
Learning opportunities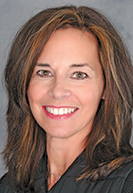 Court of Appeals of Indiana Judge Elizabeth Tavitas sits on the board of the Notre Dame Law Association.
In that capacity, she had the opportunity to meet with Nakamura and discuss his research.
Tavitas explained that in Japan, there is more difficulty in prosecuting head trauma cases. That's the impetus behind Nakamura's stay in South Bend.
"They do not have as high of a success rate in Japan, according to (Nakamura)," Tavitas said. "They want to learn from the United States system of justice on how to better prosecute those accused of abuse in head trauma cases."
A 1985 and 1990 graduate of Notre Dame, Tavitas helped Nakamura by connecting him to other prosecutors and judges. In turn, he taught her about the Japanese legal system.
"I thought it was fascinating, number one, that they would send someone to the United States to learn," the judge said. She said she was also surprised to learn there isn't any mechanism to force physicians to come to court to testify in head trauma cases, even if they are subpoenaed.
And as a former deputy prosecutor, Tavitas said she was interested to learn that being a prosecutor in Japan, like Nakamura is, is a big deal.
"There's not as many as there are in the United States, and they're highly regarded," she explained. "They will transfer him to different parts of Japan. He and his family have to get up and move."
Tavitas' time with Nakamura has given her the bug to learn more about the Japanese legal system, she said.
"I hope to go to Japan and visit him — it sparked an interest in learning more about the Japanese legal system for me, and I hope to do that someday," the judge said. "I enjoy going to different countries. When I travel around the world, I will just drop in at a court. I've done that in several countries and try to talk to judges and learn what I can in a short visit and I just find it fascinating, so I hope to continue to do that."
Different systems
For Nakamura, the most fascinating part of the American legal system is plea bargaining.
"In Japan, even if a suspect confesses to a crime, a criminal trial is always held, and a judge renders a verdict," he explained. "I feel that the American plea-bargaining system is a very reasonable system.
"However, the risk of false convictions must also be taken into consideration," he added. "I wonder how many people would accept an innocent charge if they were told by the prosecutor that they would get a reduced charge if they confessed?"
But, Nakamura added, "I don't think we are talking about whether Japan or the U.S. is better, because of the difference in systems."
Judge Aya Iwatani of the Supreme Court of Japan has also been studying at Notre Dame alongside Nakamura. She was unavailable to comment.
The "study abroad" experience has given Nakamura and Iwatani the opportunity to connect.
"Coincidentally, she is the same age as me, and the same year I passed the bar exam. She and I attend the same classes, so we studied together," Nakamura said. "When we are in Japan, we cannot talk casually because we are in different positions, but while we are in the U.S., we share our experiences and knowledge with each other as fellow Japanese lawyers. My family and my girlfriend sometimes have dinner together or go on trips together (with Iwatani), and we get along very well."
The Japanese prosecutor said he has enjoyed his time in South Bend.
"Not only does it have a great campus and library, but it is also blessed with a pleasant climate," Nakamura said. "However, the best thing about Notre Dame is the human connections. Professors, university staff and students are all very kind and generous. They do not treat me, a Japanese student, lightly, but with kindness and politeness."•
Please enable JavaScript to view this content.